Posted on
Wed, Jan 25, 2012 : 12:04 p.m.
Michigan women's basketball team hosts surging Penn State on Thursday
By Rich Rezler
The Michigan women's basketball team has won three straight games since a 15-point loss at Penn State on Jan. 12.
Up next: A rematch with the No. 18 Nittany Lions.
Penn State's current four-game win streak started with that 78-63 win over the Wolverines, helping the preseason Big Ten preseason favorites get back on track.
The teams meet at 7 p.m. Thursday at the Crisler Center.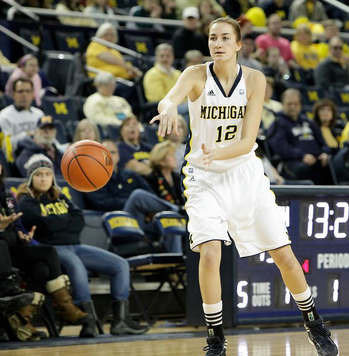 Chris Asadian | AnnArbor.com
"Last time we played them, their defense intimidated us a little bit. We didn't play very well, obviously," Michigan coach Kevin Borseth said in a press conference on Tuesday. "In our minds, we thought we could have played better.
"This time around we've got to be a little more aware offensively of some of the things they do defensively, coming after us as well as being able to defend that transition game."
The Nittany Lions (15-4, 5-2) are 3-0 on the road in Big Ten play for the first time in seven seasons and Michigan (16-4, 5-2) is 8-0 at home this year.
Junior center Rachel Sheffer, who averages a team-best 13.1 points, thinks playing in front of a home crowd changes the dynamic of their visit to the Bryce Jordan Center.
"First of all, homecourt advantage is always nice. I really think our energy will be different," she said. "Our last couple of games, we had really good energy and really good cohesiveness on the court with each other."
Penn State's 1-2 start in Big Ten play was the talk of the conference. After Sunday's win against Iowa, coach Coquese Washington said she was never too concerned. They've battled back to a three-way tie for third place with Michigan and Nebraska, two games behind league-leading Purdue (17-3, 7-0).
"We are a pretty confident team. Even when we struggle and lose a game, we do not lose our confidence," she said. "We try not to get too high with the highs or too low with the lows. We just worry about playing each game at a time.
"We understand that there are 16 conference games and you cannot get too bothered by one loss or too gleeful over one win. It is a long season."
The Nittany Lions are led by sophomore guard Maggie Lucas, who averages 19.6 points, including a 22-point game against the Wolverines. Borseth is also impressed by point guard Alex Bentley, who he called "faster than greased lightning."
"They are really good. They are a really hard matchup for us. They have some unbelievable speed," Borseth said. "Their point guard is lightning quick and strong, and we couldn't control her last game.
"They have some forces around the basket, they are big and talented, so we are going to have to play a perfect game to beat them."
Of course slowing down the Penn State offense is fruitless if the Wolverines can't score some points of their own. They hit just 34 percent (23-of-67) of their shots in State College, Pa. Junior guard Kate Thompson came off the bench to lead Michigan with 18 points in that game.
"I think we've got to hit shots. The game comes down to who has the most points, and in the last Penn State game we struggled with making shots," said senior Nya Jordan, who joined the starting lineup at the start of Big Ten play.
"So I think it will be a much better game if we can get off our shots early so we don't hit a drought."
Rich Rezler is a sports producer for AnnArbor.com. Contact him at richrezler@annarbor.com or 734-623-2553.