Posted on
Sun, Feb 26, 2012 : 5:01 p.m.
Michigan women's basketball team limps to finish line with 79-71 loss at Iowa
By AnnArbor.com Staff
Updated 7:24 p.m.
A late-season swoon by the Michigan women's basketball team continued Sunday when the Wolverines lost their regular season finale, 79-71, to Iowa.
Once 16-4 and on the verge of a national ranking, the Wolverines lost six of their final nine regular season games.
Iowa (19-10, 11-5 Big Ten) extended a 45-35 halftime lead to as many as 14 points early in the second half in front of 6,287 at Carver-Hawkeye Arena in Iowa City before Michigan (19-10, 8-8) started chipping away.
The Wolverines got within 62-55 after a layup by freshman guard Brenae Harris with 8:56 remaining, but Iowa's Melissa Dixon and Kalli Hansen hit back-to-back 3-pointers to push the Hawkeyes' lead back to 13 points.
Dixon, a freshman, made 6 of 15 attempts from 3-point range on her way to a game-high 22 points. Fellow freshman Samantha Logic turned in a triple-double with 13 points, 13 rebounds and 11 assists for the Hawkeyes, who have won eight straight and beaten Michigan twice in a 10-day span.
"It's been fun," Iowa coach Lisa Bluder told HawkeyeSports.com. "We had a pretty tough January schedule. At the end of January our coaches are thinking, `Hey, we can do this. We can make the run.' You don't want to tell anybody, because they are going to laugh at you at that point. But I think this team always believed it."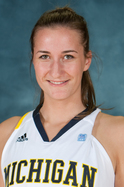 Michigan would get back within seven points, 76-69, after a
Sam Arnold
3-pointer with 43 seconds remaining. Iowa made 3-of-4 free-throw attempts down the stretch to seal the win.
Kate Thompson led Michigan with 14 points while Arnold, Carmen Reynolds and Rachel Sheffer scored 13 points apiece.
The loss assures the Wolverines a No. 7 seed in the Big Ten Tournament. They'll face the No. 10 seed at 11:30 a.m. Thursday at Bankers Life Fieldhouse in Indianapolis.
It also preserves the 1999-2000 Wolverines' place in Michigan women's basketball history.
That team - led by All-Big Ten performer Stacey Thomas and coached by Sue Guevera - remains the only squad to win 20 games during a regular season. It finished 21-6 during the regular season and 22-8 overall after splitting two Big Ten Tournament games and losing to Stanford in the opening-round of the NCAA Tournament.
The 1989-90 (20-10) and 2009-10 (21-14) are the only other 20-win teams in program history, but both won their 20th game during the postseason.