Posted on
Thu, Mar 1, 2012 : 1:45 p.m.
Michigan women's basketball team tops Illinois in Big Ten tournament opener, 68-53
By AnnArbor.com Staff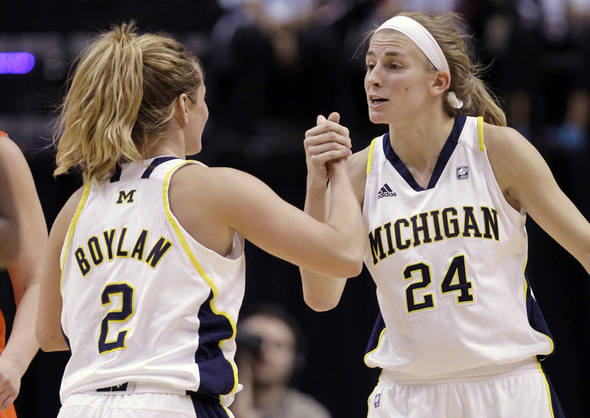 AP Photo
Senior guard Courtney Boylan scored 17 points to lead the Michigan women's basketball team to a 68-53 win against Illinois in the first round of the Big Ten Tournament.
The Wolverines took a big first-half lead and held off any hopes of an Illini comeback attempt with a strong second-half shooting performance at Bankers Life Fieldhouse in Indianapolis on Thursday.
Michigan (20-10) won its 20th game for the fourth time in program history and took a big step toward securing its first NCAA Tournament bid in 11 years. Up next is a Friday quarterfinal against No. 2 seed Ohio State (11:30 a.m., BTN), a team Michigan upset 73-62 on Jan. 7 in Ann Arbor.
After trailing by as many as 16 points in the first half, Illinois threatened to get back into the game early in the second half. Michigan seemed to have an answer for every run, however.
The No. 7-seed Wolverines made 12 of 22 shots in the second half, including 4 of 6 from 3-point range.
Related content: Photo gallery
The closest the No. 10 Illini (11-19) got in the second half was eight points after a three-point play by Karisma Penn with 15:40 left to play.
Kate Thompson responded with a 3-pointer for the Wolverines that pushed the lead back to 39-28, however, and Illinois wouldn't get back within 10 points.
Penn, the Illini's leading scorer, was limited to 10 points in 25 minutes because of foul trouble. She still managed game-high totals of 11 rebounds and three blocks.
Thompson came off the bench to score 13 points for Michigan, including a quick five-point burst late in the first half that put the Wolverines ahead 27-11.
The junior guard hit a 3-pointer from the corner, stole the ensuing in-bounds pass and drove for a layup with 3:44 left before halftime. The Wolverines would lead 29-16 at halftime.
That was the end of a 15-3 Michigan run during which Illinois went more than 10 minutes without making a shot from the floor.
Adrienne Godbold led Illinois with 12 points and six rebounds. Michigan center Rachel Sheffer scored 12 points, helping the Wolverines earn a 28-18 advantage in points in the paint.
Michigan gained revenge for last season, when last-seeded Illinois upset the No. 3 Wolverines in a quarterfinal.

Video highlights from the Big Ten Network:

This video has been removed from our site after 30 days as required by our digital use agreement with the Associated Press.
The Associated Press contributed to this report.