Posted on
Sun, Feb 19, 2012 : 2:05 p.m.
Michigan women's basketball team wins at Indiana, U-M softball gets 4th straight shutout
By AnnArbor.com Staff
Junior center Rachel Sheffer had game-high totals of 18 points and 13 rebounds to lead the Michigan women's basketball team to a 61-48 win at Indiana on Sunday.
Senior guard Courtney Boylan added 14 points and five assists for the Wolverines, who won at Assembly Hall for the first time since 2003.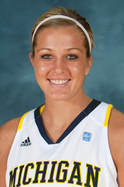 Indiana, playing without injured leading scorer Jasmine McGhee, got 17 points from Aulani Sinclair.
Michigan (19-8, 8-6) built a double-digit lead early in the second half, but the last-place Hoosiers (5-22, 0-14) wouldn't let the Wolverines pull away.
After Michigan took its largest lead, 48-32 on a pair of Jenny Ryan free throws with 11:32 left to play, Sinlair answered with back-to-back 3-pointers to cut the lead to 10.
The Wolverines, who lost a 14-point second-half lead to Iowa on Thursday, kept the margin between 9 and 13 points over the final 10 minutes.
The Wolverines forced 19 Indiana turnovers and held a 21-5 advantage in points off turnovers.
Michigan is one win shy of becoming just the fourth team in program history to win 20 games in a season. Only one other team - the 1999-2000 squad that finished with a school record 22 wins - accomplished the feat during the regular season.
The Wolverines close the regular season against two of the top four teams in the Big Ten standings, hosting Purdue on Thursday and traveling to Iowa next Sunday.
SOFTBALL
Michigan 4, Wright State 0: The Wolverines (8-1) got their fourth straight shutout, this one from Stephanie Speierman. The junior allowed five hits and struck out nine. Haylie Wagner had a two-run double in Michigan's four-run fifth inning. (Details)
BASEBALL
Michigan 14, West Virginia 3: Winning pitcher Ben Ballantine allowed three hits and one earned run through seven innings. John Lorenz kick-started the Wolverines (2-1) with a three-run home run in the first inning and added a two-run single in the seventh inning. Will Drake batted twice in the Wolverines' six-run fifth inning, driving in Patrick Biondi (who led off with a triple) with a single for the first run and drawing a bases-loaded walk for the final run. (Details)
Eastern Michigan vs. Dayton: Game canceled due to rain in Spartansburg, S.C.
MEN'S GOLF
Puerto Rico Classic: Michigan shot a 306, tying them for 14th place after the first day of the 15-team tournament. Matt Thompson shot a 71 to lead the Wolverines. Alabama leads the pack with a 12-under par 276. (Details)