Posted on
Sat, Jan 21, 2012 : 6:29 p.m.
Nightmarish start keeps Michigan basketball team winless on the road, and more notes
By Nick Baumgardner
FAYETTEVILLE, Ark. -- After 10 minutes of play Saturday, the Michigan basketball team was left scrambling for a reset button.
Unfortunately for the Wolverines, this wasn't a video game.
Arkansas blew No. 20 Michigan's doors off during the game's opening 10:11, hitting its first 11 shots, eventually leading to a 20-point lead that proved a bit too much for the Wolverines to overcome.
Afterward, Michigan players said the Razorbacks' hot start was in part due to their defense, but was also a result of the home team's flat refusal to miss a shot.
"It was a little bit of both," Michigan senior guard Zack Novak said. "There were some possessions where they hit some really tough, great shots and there were other possessions we didn't mark as well as we could have.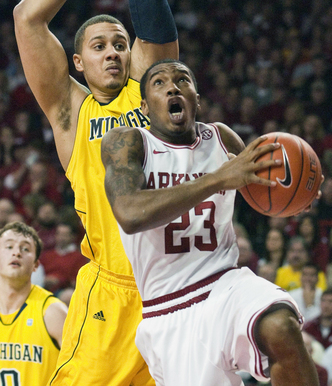 AP Photo
"But they really played a good game, and shot scorching numbers."
Michigan was already up against it Saturday before the ball was even tipped. Arkansas hosted its first sellout of the year, drawing a season-best crowd of 19,050. (Game story)
The student section was full and fans were fired up moments before the game began as the Arkansas football program trotted out a large number of recruits to take in the game from the stands, including Missouri native Dorial Green-Beckham, the nation's top prospect.
Legendary Arkansas coach Nolan Richardson was also on hand, feeding to the intense pre-game environment. And from there, things would only get worse for Michigan.
Arkansas jumped out to a 6-0 lead less than two minutes into the game, and after a dunk from Devonta Abron and a deep triple from Julysses Nobles, the Wolverines found themselves in an early 11-2 hole.
Michigan never found a way to stop the bleeding, as Michael Sanchez and B.J. Young found ways to score inside, while Hunter Mickelson and Rashad Madden were hitting from outside.
Nothing was falling short, everything bounced in favor of the home team, and when Mickelson buried an 18-foot fall-away that looked like a prayer before it left his hands -- the Razorbacks found themselves with a 29-10 lead before the third media timeout.
Arkansas finished the first half 17-for-26 from the floor for 46 points -- the most the Wolverines have allowed in an opening frame all season.
"We couldn't have come out with a better start," Arkansas coach Mike Anderson said. "You're not going to shoot the ball like that all night long, you hope too, though."
On the road at Indiana earlier this season, Michigan found itself in a similar situation with the host Hoosiers feeding off a strong crowd to hit five first-half 3-pointers while shooting better than 55 percent from the floor during the opening half.
Michigan fought back on that night, and did again on Saturday, limiting Arkansas to just 20 second-half points on 7-of-22 shooting.
But it wasn't enough.
"We have to come out more aggressive in the first half," Michigan sophomore Tim Hardaway Jr. said. "We held them to 20 points in the second half, which means we're playing really great defense and we out-scored them.
"But we have to turn that around in the first half."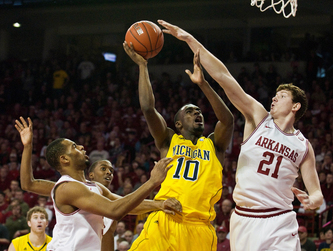 AP Photo
Hardaway not flustered with recent slump
Hardaway, Michigan's leading scorer, suffered his third-straight sluggish shooting performance Saturday at Arkansas.
The 6-foot-6 sophomore went 3-for-8 from the floor, finishing with nine points in 37 minutes of action.
Against Michigan State earlier in the week, Hardaway was limited to 10 points on 3-of-9 shooting, and at Iowa last weekend, he scored nine points on 2-of-13 shooting.
Is he worried?
"I'm just trying to make the smart plays and not force anything," said Hardaway, who averages 15.1 points per game. "(On Saturday), I took an open 3-pointer if I had it and if I had an open lane I tried to drive it or kick it out.
"I trust my teammates. We've got Trey Burke, one of the best scorers in the country, we've got him and Zack and Stu (Douglass), so I'm not worried."

Inspired night for Morgan

With forward Evan Smotrycz providing just four points and three rebounds in 15 minutes, sophomore forward Jordan Morgan was once again Michigan's lone inside scoring presence Saturday.
And he responded quite well.
Morgan finished with 16 points and six rebounds, going 7-of-11 from the floor in 25 minutes of work. The 16 points tied a season-high and the 11 field goal attempts were just one shy of a season best.
"Jordan was really playing well," Michigan coach John Beilein said. "And we encouraged him, he's got to run the floor, run the floor, run the floor. With their pressure, you could get (easy baskets) if he ran the floor."

Douglass starts, but struggles to score

Beilein opted to start Douglass in place of Smotrycz for a second-straight game.
Douglass, who played superior defense while dropping in nine points earlier in the week against Michigan State, struggled at Arkansas.
The senior co-captain went 2-of-10 from the floor, 1-of-8 from behind the 3-point line, for five points.
He did distribute the ball, though, handing out five assists against just one turnover in 31 minutes.

Glad you came?

Before departing for Arkansas on Friday, Beilein didn't seem thrilled with the reality that his team was about to play a non-league game on the road against an SEC opponent in January.
Beilein said the game had to be played in January rather than December due to conflicting exam schedules.
In the end, Beilein wasn't bitter -- saying the contest will go down as a good road lesson for his club.
"We have to do this," Beilein said. "There just wasn't enough days to get this extra game in."
Beilein said Arkansas will visit Michigan next season for an early to mid-December game at the Crisler Center.
"We're trying to create this atmosphere like we've done with national TV games," Beilein said. "Like we did with Kansas, UCLA, Duke and Connecticut.
"This is no different. It was a great atmosphere to play in."

Odds and ends

Michigan is now 0-2 all-time against Arkansas in Fayetteville. ... Michigan out-rebounded Arkansas 35-29, marking just the second time all season the Wolverines have out-rebounded an opponent, but lost anyway. ... The game had no ties or lead changes for the entire 40 minutes.
Nick Baumgardner covers Michigan basketball for AnnArbor.com. He can be reached at 734-623-2514, by email at nickbaumgardner@annarbor.com and followed on Twitter @nickbaumgardner.
Want to stay connected to Wolverine basketball in your Facebook newsfeed? "Like" AnnArbor.com's Michigan Basketball News & Views.