Posted on
Mon, Jan 2, 2012 : 1:17 p.m.
No longer a surprise, 'fearless' Trey Burke the real deal for Michigan basketball team
By Nick Baumgardner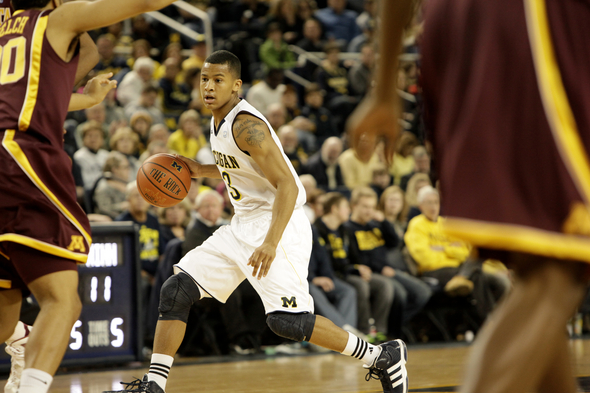 Chris Asadian | AnnArbor.com
Related article: Trey Burke earns two Big Ten honors.
Believe it or not, Trey Burke does get nervous.
In the moments leading up to a game, the Michigan basketball team's freshman sensation tends to act more his age, fighting through jitters and mentally preparing his 19-year-old mind to lead a college basketball team.
The whole process merely lasts a few minutes. Because once the lineups are read, the anthem is sung and the handshakes are over — he has a job to do, and no more time to be a kid.
"This is the Big Ten, and every night you're playing against pros," Burke said. "But we do this every day. We take it one day at a time."
Where does this attitude come from? How does a teenager who was wandering the halls of a high school 12 months ago continue to carry himself this way?
Easy.
"He's fearless," Michigan senior guard Stu Douglass says. "Nothing surprises us any more."
Entering the season, Burke was bombarded with questions about how he planned on replacing the NBA-departed Darius Morris as Michigan's point guard and floor leader.
Now, the questions have changed.
Instead of, "how can you pull this off," Burke now is routinely asked, "how did you do that?"
He's on pace for 150 regular-season assists, which would surpass the Michigan freshman performances of former Michigan guards Jalen Rose, Gary Grant, Antoine Joubert, Eric Turner, Daniel Horton, Manny Harris and Darius Morris.
His 14 points per game are just behind Indiana forward Cody Zeller, who leads all Big Ten freshman with 14.2 points per game.
Burke, who scored a career-high 27 points in Michigan's 61-56 victory against Minnesota on Sunday — has answered just about everything that's been thrown his way. And he's been able to do so with a level of calm that takes some college players an entire career to achieve.
Burke? He's gotten there in roughly two months.
"His poise is really good," Michigan coach John Beilein said. "There are times he gets flustered and disappointed with himself, but it's very brief and he moves on.
"He's one of the rare guys, because usually that's an acquired trait."
Beilein has said in the past that part of Burke's advanced court-vision and overall basketball IQ comes from his on-court training as a youth player.
He was mentored by his father and AAU coach, Benji Burke, as well as famed Northland (Ohio) High School basketball coach Satch Sullinger, the father of current Ohio State star Jared Sullinger.
His high school team rarely lost, going 97-5 with one state title in his four years, and he was routinely pitted against high-level talent on the AAU circuit.
"He's been pretty successful at the high school level, and there weren't a lot of times where frustration set in, (he could) do what he wanted to do," Beilein said. "Now all of a sudden, everybody's two to three years older, and he's still getting that done.
"That's really been very atypical of a freshman."
But Burke says there's more to his confidence-level than his past experience with his father and prep coach.
A well-taught youngster seemingly groomed for college success, Burke says his performance would have been much more difficult to re-enact had he chose a different environment to play in.
"These guys make me comfortable, really," Burke said, referring to his Michigan teammates. "I think it's something natural, but playing with guys like these, they make me really comfortable. They trust me, just like I trust them.
"Having teammates like this and having captains like Stu and Zack (Novak), really make me comfortable. And together, I know we can get the job done."
There are still questions left to be answered by Burke.
Will he be able to lead Michigan to wins on the road in the Big Ten? Will he hit any type of freshman wall? And can he keep up this performance without a true backup behind him?
Time will offer those answers, but Burke seems ready to address them without fear.
"We just sit there and smirk whenever he hits a tough shot," Douglass said. "If you ever see Trey get down, it's rare.
"Confidence is the best part of his game, and we completely trust him."
He's unflappable, he talks like a coach and he plays like a veteran. The Trey Burke era at Michigan is officially under way.
Sit back and enjoy.
Nick Baumgardner covers Michigan basketball for AnnArbor.com. He can be reached at 734-623-2514, by email at nickbaumgardner@annarbor.com and followed on Twitter @nickbaumgardner.
Want to stay connected to Wolverine basketball in your Facebook newsfeed? "Like" AnnArbor.com's Michigan Basketball News & Views.