Posted on
Tue, Mar 13, 2012 : 10:25 a.m.
An upset brewing? National writers think D.J. Cooper could help Ohio stun Michigan basketball team
By Nick Baumgardner
The Michigan basketball team may be the higher seed Friday in Nashville, Tenn., but the 13th-seeded Ohio Bobcats certainly aren't being ignored.
Ohio has already been picked as an upset to watch by several national outlets, including ESPN.com and Yahoo.com, thanks in large part to the ability of point guard D.J. Cooper.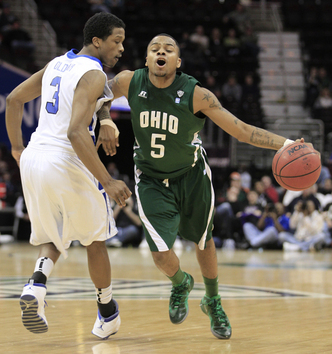 AP Photo
ESPN.com college basketball writer Myron Medcalf listed Cooper as one of his 10 mid-major stars with the ability to ruin a bracket, and possibly Michigan's season.
"An efficient distributor (5.7 apg). He's a game-changing defender (2.4 spg). And he's experienced," Medcalf wrote. "Two years ago, the Bobcats played in the NCAA tournament. Cooper was only a freshman then, but those early experiences helped him and the other youngsters on that team prepare for tough matchups away from home."
Medcalf went on to note that he doesn't believe the Wolverines will fall to the Bobcats on Friday, but several other scribes do.
The ESPN "Giant Killers Blog" listed Ohio beating Michigan as its fifth-most likely upset early on, giving the Bobcats a 22.4 percent chance. Long Beach State knocking off New Mexico State was No. 1 at 41 percent.
On "The Dagger," a Yahoo! Sports blog, writer Graham Watson lists Ohio as one of her "Four Cinderellas to consider" this March.
Watson writes: "Earlier this year, Ohio nearly upset No. 7 Louisville, but fell 59-54. Of all the Cinderella teams, Ohio might have the easiest shot to the Sweet 16. And wouldn't it be great for Ohio to get a measure of revenge against Michigan, which uses the Bobcats' name (in a demeaning way) to refer to Ohio State?"
Michigan is currently listed as a six-point favorite in the game, and during his weekly radio show Monday, Michigan coach John Beilein said his team will be fully aware of all the upset predictions.
Will it fuel them? He's not sure. But he knows they'll hear plenty about it.
"Our kids will find out what the pundits say," Beilein said. "There's no question about that. But it's all part of it. We have to understand that when we go into this thing, there's going to be doubters.
"I just like our attitude going into this, we've got a very good approach to what it takes to advance in this tournament."
Nick Baumgardner covers Michigan basketball for AnnArbor.com. He can be reached at 734-623-2514, by email at nickbaumgardner@annarbor.com and followed on Twitter @nickbaumgardner.
Want to stay connected to Wolverine basketball in your Facebook newsfeed? "Like" AnnArbor.com's Michigan Basketball News & Views.