Posted on
Tue, Jan 31, 2012 : 5:57 a.m.
B1G Hoops Rankings: Ohio State head and shoulders above the rest at midway point
By Nick Baumgardner
The Big Ten season is halfway over.
And, as of now, it looks a lot like it has over the past two seasons -- with Ohio State leading the way.
The Buckeyes have flexed their muscles of late, winning four straight games by double-digit totals following a loss earlier this month at Illinois.
But this thing's not a done deal yet. Six teams are less than two and a half games back of league-leading Ohio State.
Here are this week's rankings: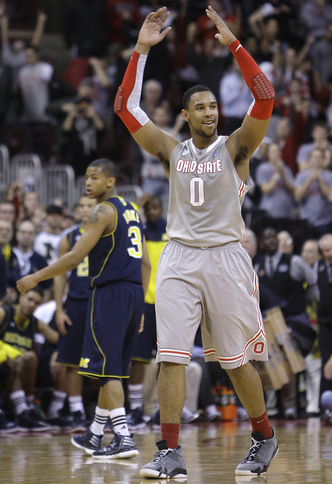 AP Photo
Driver's seat
No. 3 Ohio State (19-3, 7-2)
Last week: W 78-54 vs. Penn State, W 64-49 vs. No. 20 Michigan

Up next: at No. 19 Wisconsin (Saturday)

Ohio State hits the Big Ten's halfway point in first place. And, if the Buckeyes' previous four victories say anything about the future, they won't be leaving their perch for some time. Ohio State has more talent than anyone else in the conference, by a wide margin as well. If the Buckeyes don't win the league, they'll have no one to blame but themselves.

Contenders

No. 9 Michigan State (17-4, 6-2)
Last week: W 68-52 vs. Minnesota

Up next: at Illinois (tonight), vs. No. 23 Michigan (Sunday)

Michigan State played just once last week and, sort of by default, moves up to the front of the contender list. However, the Spartans don't have an easy week with games at Illinois and at home against Michigan. Sweep this week, and Michigan State takes an iron grip on the league's No. 2 spot.
No. 23 Michigan (16-6, 6-3)

Last week: W 66-64 at Purdue, L 65-49 at No. 4 Ohio State

Up next: vs. No. 20 Indiana (Wednesday), at No. 9 Michigan State (Sunday)

I just can't bury Michigan for losing by 15 at Ohio State. Because, well, that happens to most teams. The Wolverines got sketchy efforts from several rotation players, yet still had a chance to pull within five points in the game's closing minutes. Michigan fell out of a first-place tie, but a strong week against two more ranked opponents gets the Wolverines right back in the mix.
No. 19 Wisconsin (17-5, 6-3)

Last week: W 57-50 vs. No. 16 Indiana

Up next: at Penn State (tonight), vs. No. 3 Ohio State (Saturday)

OK, so, it's safe to say the Badgers are back. Wisconsin started Big Ten play 1-3, but have since won five in a row. Bo Ryan's bunch is back to playing lock-down defense and Jordan Taylor is starting to look like himself again. However, how "back" the Badgers are will depend on how things shake out against Ohio State this weekend in Madison.
No. 20 Indiana (17-5, 5-5)

Last week: L 57-50 at Wisconsin, W 103-89 vs. Iowa

Up next: at No. 23 Michigan (Wednesday), at Purdue (Saturday)

Indiana hit the century mark at home against Iowa this weekend, but the Hoosiers also gave up 89 points in the process. Indiana remains the top scoring offense in the Big Ten (79.5 ppg), however, the Hoosiers are third-worst when it comes to scoring defense. It's been a lingering issue all season, and if allowed to continue, it will come back to haunt the Hoosiers at a bad, bad time this season.

On the fringe

Purdue (15-7, 5-4)

Last week: L 66-64 vs. Michigan, W 58-56 at Northwestern

Up next: vs. No. 20 Indiana (Saturday)

Thanks to a big-time shot by Robbie Hummel, Purdue avoided a three-game losing skid just in time for its first rivalry matchup with Indiana. The Boilermakers have been up and down this season, but a home win over the hated Hoosiers could give Purdue the shot of life it's been looking for down the stretch.
Minnesota (16-6, 4-5)

Last week: L 68-52 at No. 10 Michigan State, W 77-72 (OT) vs. Illinois

Up next: at Iowa (Wednesday), at Nebraska (Sunday)

Tubby Smith continues to be a Coach of the Year dark horse for his work without Trevor Mbakwe. The Golden Gophers were over-matched against Michigan State, but bounced back for revenge against Illinois. I would, in no way, want any part of this team in the Big Ten Tournament or beyond.
Illinois (15-6, 4-4)

Last week: L 77-72 (OT) at Minnesota

Up next: vs. No. 9 Michigan State (tonight), vs. Northwestern (Saturday)

Illinois fans are restless, and Bruce Weber is hearing it. The Illini have dropped three straight, and the pressure appears to be building for Weber in Champaign. He can ease a good deal of that by beating Michigan State tonight.

Outside looking in

Northwestern (12-8, 2-6)

Last week: L 58-56 vs. Purdue

Up next: vs. Nebraska (Thursday), at Illinois (Sunday)

The Wildcats are free-falling. Northwestern has now dropped three straight, and five of its last six. Bill Carmody's bunch was right there at home against Purdue, but couldn't hang on. Northwestern's NCAA Tournament hopes now appear to be on life-support now. The Wildcats need a run, and fast.
Nebraska (11-9, 3-6)

Last week: W 79-73 at Iowa

Up next: at Northwestern (Thursday), vs. Minnesota (Sunday)

Nebraska has gone 3-2 since starting league play 0-4, a nice rebound, considering where the Cornhuskers were. Long story short, though, Nebraska just has no firepower -- scoring only 61.7 points per game.
Iowa (11-11, 3-6)

Last week: L 79-73 vs. Nebraska, L 103-89 at Indiana

Up next: vs. Minnesota (Wednesday), vs. Penn State (Saturday)

Fran McCaffery said his team lacked toughness last week. It also lacked defense. Iowa can't be giving up 79 points against paltry Nebraska before allowing Indiana to hit the century mark. Inexcusable.
Penn State (10-11, 2-6)

Last week: L 78-54 at No. 4 Ohio State

Up next: vs. No. 19 Wisconsin (tonight), at Iowa (Saturday)

Penn State continues to be the sole resident of the Big Ten's basement. The good news? The Nittany Lions had a week off to think about it.
Nick Baumgardner covers Michigan basketball for AnnArbor.com. He can be reached at 734-623-2514, by email at nickbaumgardner@annarbor.com and followed on Twitter @nickbaumgardner.
Want to stay connected to Wolverine basketball in your Facebook newsfeed? "Like" AnnArbor.com's Michigan Basketball News & Views.