Posted on
Sun, Jan 29, 2012 : 3:12 p.m.
Ohio State outmuscles Michigan basketball team in second half for 64-49 victory
By Nick Baumgardner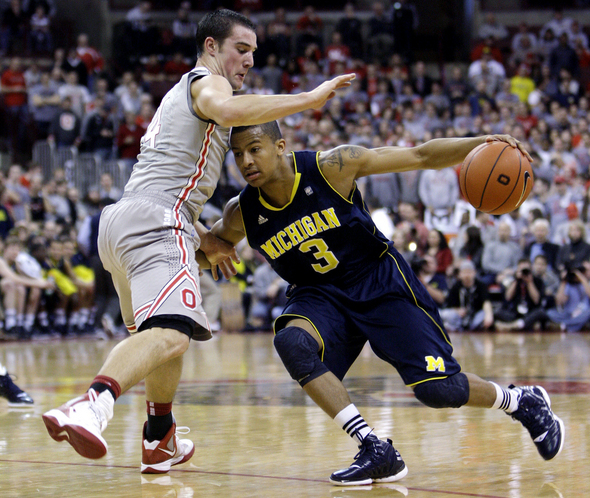 AP Photo
COLUMBUS, Ohio — The Michigan basketball team entered Columbus on Sunday looking to stay in first place in the Big Ten Conference.
The homestanding Buckeyes wanted no part of letting it go.
No. 4 Ohio State battered 20th-ranked Michigan inside throughout the final 20 minutes and used a 14-2 second-half run to pull away from the Wolverines, 64-49, at Value City Arena.
"They were physical with our whole team," Michigan senior captain Zack Novak said. "We didn't make hits (in the paint), we didn't play like we needed to."
Michigan (16-6, 6-3 Big Ten) falls to third place in the Big Ten, with Ohio State (19-3, 7-2) sitting alone in first and Michigan State (17-4, 6-2) in second.
OHIO STATE 64, MICHIGAN 49

Nick Baumgardner's recap:
TOO STRONG
First place was on the line and sticking with a theme over the past two seasons, Ohio State refused to give it up. The Buckeyes (19-3, 7-2) bruised Michigan (16-6, 6-3) in the paint, grabbing 14 offensive rebounds, scoring 16 second-chance points and 30 points in the paint. Lenzelle Smith Jr. finished with a game-high 17 points and 12 rebounds, eight of them on the offensive glass. It was Ohio State's 38th-straight home win, and sixth consecutive win over Michigan.
FREE THROW DIFFERENTIAL
With three minutes to play, the foul shooting numbers read: Ohio State 13-for-16, Michigan 0-for-0. The Wolverines didn't attempt a free throw until Tim Hardaway Jr. was given a pair of charity shots with 2:33 left to play. Ohio State finished 15-for-18, Michigan 3-for-4. Fouls were relatively even, though, Michigan had 16, Ohio State 13.
BURKE'S HOMECOMING
Freshman point guard Trey Burke received a mixture of boos and cheers when he was announced in front of his hometown Columbus crowd. He finished the day with 13 points, five assists and five turnovers in 39 minutes. Ohio State point guard Aaron Craft ended his night with seven points, four assists and two turnovers.
QUOTE
"We'll be looking forward to that. But, like I've said before, we circle every date on the calendar."
— Michigan coach John Beilein on the team's rematch with Ohio State in Ann Arbor on Feb. 18.
RELATED CONTENT
Notebook: Michigan goes 37 minutes without a free throw, and more notes
Trey Burke hears boos and cheers in his Columbus homecoming
Photo gallery
Boxscore
|
Top 25 scores
|
Big Ten scores
Ohio State has won 38 consecutive home games, and it has beaten Michigan six times in a row.
The Wolverines got 15 points and five rebounds from Tim Hardaway Jr., but had no answer inside against the bulked-up Buckeyes.
For the game, Ohio State out-rebounded Michigan 38-29. The Buckeyes grabbed 14 offensive rebounds on the afternoon, and outscored Michigan 20-12 in the paint after halftime. In addition, OSU held a 16-7 edge in second-chance points.
Ohio State also out-shot Michigan at the foul line 18-4, with the Wolverines not getting a free throw attempt until the 2:34 mark of the second half.
"Defensively, I thought we had a great strategy," Michigan coach John Beilein said. "Their offensive rebounding (hurt us).
"Had we stood in there (a few times) and taken a charge instead of backing away, or hitting someone legally and boxed out, it could've made a huge difference in this game."
Michigan freshman point guard Trey Burke, a Columbus native, ended his homecoming trip with 13 points, five assists and five turnovers.
Lenzelle Smith Jr. paced four Buckeyes in double figures with 17 points and 12 boards, while Deshaun Thomas finished with 12 points and five boards for first-place Ohio State.
"It beats second (place), I do know that," Ohio State coach Thad Matta said. "It's such a long season, and we've got to keep the focus on us."
Michigan matched Ohio State punch for punch over the first 20 minutes, leading by as many as five and holding a 19-15 edge after a Blake McLimans 3-pointer with five minutes to go before halftime.
The Buckeyes did take a lead into the locker rooms, though, as a late William Buford triple made it 24-21 OSU at the break.
Ohio State began to stretch its legs early in the second after a pair of free throws from Smith finished an 8-0 run to give the Buckeyes their largest lead of 34-26.
Michigan had an answer, scoring seven straight in less than two minutes, pulling within one after a Burke triple made it 34-33 with 15:40 to go.
From there, though, it was all Ohio State.
The Buckeyes pounded the ball inside, using offensive rebounds and second chances to rattle off a 14-2 charge, opening their largest lead of the game at 48-35 with 10:50 left.
Michigan was able to whittle the lead to seven after an inside bucket from Jordan Morgan with 5:40 to go. The Wolverines had a chance to cut it to five a possession later, but Morgan was stripped on a putback attempt, resulting in an inside hoop from Thomas, followed by a breakout dunk from Sullinger to push the lead back to 11.
The Wolverines got no closer.
"We could've kept them off the boards better than that," Burke said. "They had about 14 offensive rebounds, Lenzelle Smith was on the boards and got to the free throw line.
"We didn't box out like we know how to."
Michigan finished the game 19-of-53 shooting with 13 turnovers, while the Buckeyes shot 23-of-54 with 11 turnovers.
Sullinger was limited to five first-half points, but finished the game with 13 points and five rebounds.
Morgan finished with eight points and five rebounds for Michigan.
The Wolverines' short stay in first place is now over, but all is far from lost.
Michigan will look to get even with Indiana at Crisler Center on Wednesday (6:30 p.m., Big Ten Network) before traveling to East Lansing for a return game against Michigan State (1:05 p.m., CBS) on Sunday.
From there, the Wolverines welcome Ohio State back to Ann Arbor for a primetime matchup on Feb. 18.
"We'll be looking forward to that," Beilein said of the return game against OSU. "But, like I've said before, we circle every date on the calendar."
Nick Baumgardner covers Michigan basketball for AnnArbor.com. He can be reached at 734-623-2514, by email at nickbaumgardner@annarbor.com and followed on Twitter @nickbaumgardner.
Want to stay connected to Wolverine basketball in your Facebook newsfeed? "Like" AnnArbor.com's Michigan Basketball News & Views.