Posted on
Sun, Mar 18, 2012 : 10:14 p.m.
Ohio U. wins again and the Big Ten (minus Michigan) will be well represented in Sweet 16
By Rich Rezler
Want to find a silver lining in this NCAA tournament for the Michigan basketball team? Its strength of schedule is going to shoot through the roof.
Ohio, which upset the No. 4-seeded Wolverines 65-60 on Friday night, became one of the mid-major darlings of this March Madness by beating South Florida, 62-56, on Sunday.
All but two of the 16 teams in the regional semifinals will be from power conferences. The lone exceptions are Ohio and Xavier.
The Bobcats join a group of four Big Ten teams to advance to the Sweet 16.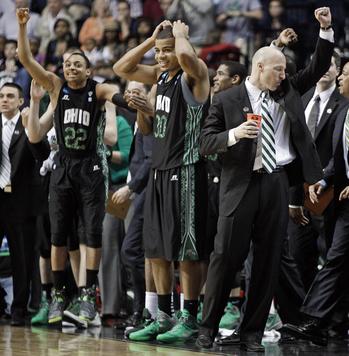 Associated Press
Michigan State, Ohio State, Indiana and Wisconsin advanced while No. 10 seed Purdue nearly missed on an upset bid to join them, losing 63-60 to No. 2 seed Kansas on Sunday night.
After Kansas took a three-point lead with 2.5 seconds left, Purdue sharpshooter Ryne Smith managed to get off a decent look at a long, potential tying 3-pointer. It hit off the backboard, clanked off the rim and finally fell away.
"It stinks," Purdue coach Matt Painter said. "It stinks to lose."
The No. 13-seeded Bobcats (29-7) will play No. 1 seed North Carolina in St. Louis on Friday in their first trip to the round of 16 since they lost to Michigan in the regional finals in 1964.
"I do think our guys have a chip on their shoulder," said Ohio coach John Groce. "I think our guys look forward to playing on the big stage against quality competition."
Ohio trailed by two when Walter Offutt (21 points) swished a 3-pointer, launching a 10-0 run for the Bobcats. A pair of free throws by D.J. Cooper (19 points) made it 54-46 with 3:28 left.
The Bobcats had a 59-53 lead when Toarlyn Fitzpatrick connected for South Florida's first 3-pointer of the half. But Cooper went 3 for 4 from the line while the Bulls missed three shots in the final 36 seconds.
"This is amazing," Offutt said. "It's one thing to talk about it and one thing to actually do it. This has been unreal, but let's just continue the run."
Also on Sunday, No. 1 seed Michigan State beat No. 9 Saint Louis 65-61 to advance to the Sweet 16 for the 10th time in Tom Izzo's time in East Lansing. Keith Appling scored 19 points, including a key 3-pointer with a little over one minute remaining. (Find complete Spartans' coverage from our partners at MLive.com.)
According to STATS, this will be the first time since 2003 that 14 teams from the six major conferences have made the Sweet 16. The Big Ten will make up one-quarter of those teams.
The conference's other representatives advanced on Saturday. Ohio State beat Gonzaga, 73-66; Indiana topped VCU, 63-61; and Wisconsin eliminated Vanderbilt, 60-57.
The Associated Press contributed to this report.