Posted on
Wed, Mar 7, 2012 : 5:59 a.m.
B1G Tournament: Will Indiana surprise? Will Michigan State overcome? Will Michigan win it?
By Nick Baumgardner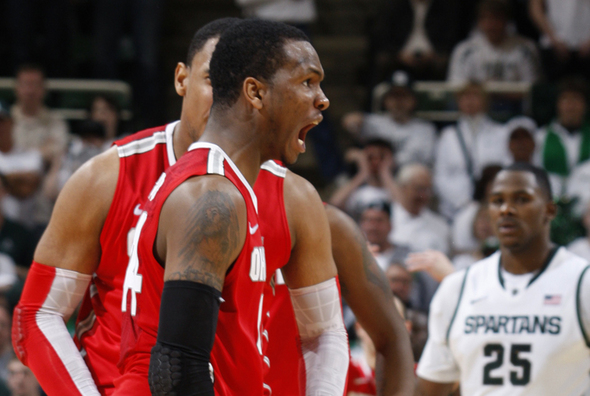 AP Photo
The Big Ten has been a bit intense this season.
With the regular season now over, the league remains No. 1 nationally in terms of overall RPI and continues to pace the rest of the college basketball world in the well-read Sagarin Ratings.
At the moment, the Big Ten is likely to see six teams advance to the NCAA Tournament, possibly seven, and if something crazy happens, maybe one more.
But first, the Big Ten Tournament. For the top portion of the league, the games aren't of the utmost importance at this point. But for a team like Northwestern or Illinois, they're do or die.
The event kicks off Thursday at Bankers Life Fieldhouse in Indianapolis.
Here's how I see it all going down:
First Round
No. 8 Iowa vs. No. 9 Illinois
11:30 a.m. Thursday (BTN)

Illinois seemed to get itself back on track late last month when it snapped a six-game skid against Iowa. But the Illini then turned around and dropped two straight to end the season.
Iowa is young, energetic and playing for a fiery coach (Fran McCaffery) with nowhere to go but up. Right now, that seems to be the polar opposite of Illinois.
Prediction: Iowa


No. 5 Indiana vs. No. 12 Penn State
25 minutes after Iowa/Illinois (BTN)

Penn State has had a rough go this season, despite Tim Frazier's success. And, judging by his passion and dedication alone, it appears Pat Chambers is the right man for the rebuilding job in State College.
But Indiana is red hot right now, and this game's being played in Indianapolis. Sorry, Nittany Lions, you never stood a chance.
Prediction: Indiana


No. 7 Northwestern vs. No. 10 Minnesota
5:30 p.m. Thursday (ESPN2)

Northwestern is still fighting for its postseason life, and in order to punch an NCAA Tournament ticket, I believe the Wildcats are going to have to at least make the tournament semifinals.
Minnesota, meanwhile, is beyond done. This is a tale of two contrasting styles, and one that might end with Northwestern putting on a backdoor clinic.
Prediction: Northwestern


No. 6 Purdue vs. No. 11 Nebraska
25 minutes after Northwestern/Minnesota (ESPN2)

Purdue is tough to figure out. If we see the Boilermakers that upset Michigan in the Crisler Center last month, we could be seeing the tournament's possible dark horse. But if we see the Purdue team that Indiana ran over twice, it's a different story.
Against Nebraska, it won't matter. Purdue should win easily.
Prediction: Purdue

Quarterfinals
No. 1 Michigan State. vs. No. 8 Iowa
Noon Friday (ESPN)

Tom Izzo normally doesn't put a whole lot of stock into conference tournaments, but after calling the season-ending loss to Ohio State the "toughest" he's ever gone through, expect that to change.
The Spartans lost Branden Dawson to an ACL injury, but they'll likely be hopping mad come Friday afternoon. With, or without, Dawson, expect MSU to punish Iowa here.
Prediction: Michigan State


No. 4 Wisconsin vs. No. 5 Indiana
25 minutes after MSU/Iowa (ESPN)

Wisconsin got by Indiana by seven this season in the Kohl Center, but Bankers Life Fieldhouse is a long way away from Madison, Wisc.
By contrast, it's only an hour or so from Bloomington, Ind. I'm not saying that the home-ish setting means everything, but for a team as hot as Indiana, with a re-charged fanbase, it means an awful lot. I'll take the Hoosiers to keep moving.
Prediction: Indiana


No. 2 Michigan vs. No. 7 Northwestern
6:30 p.m. Friday (BTN)

Arguably the two toughest teams to prepare for in a tournament setting, Michigan and Northwestern have met twice, with both games going to overtime.
And, both times, Michigan survived the Wildcats' best shot.
This will be another do-or-die tilt for Northwestern, but in the end, I just think Michigan's better. The Wildcats have been oh-so-close so many times this season, and I think that just might be their destiny at this point. Close, but not close enough.
Prediction: Michigan


No. 3 Ohio State vs. No. 6 Purdue
25 minutes after Michigan/Northwestern (BTN)

Purdue gave Ohio State a fight in Columbus last month, but did so with a full hand. The Boilermakers have since kicked guard Kelsey Barlow off the team, thinning out an already scant roster.
Ohio State, meanwhile, looked like it remembered how much talent it possesses during the second half against MSU. The Buckeyes, on paper, have more weapons from anyone -- and certainly enough to power through Purdue.
Prediction: Ohio State

Semifinals
No. 1 Michigan State vs. No. 5 Indiana
1:40 p.m. Saturday (CBS)

Indiana started Michigan State's late-season tumble last week with a thumping in Bloomington, and that was when the Spartans had a healthy Dawson at their disposal.
The Hoosiers are as hot as anyone in the league right now and, again, they're playing in their own backyard. The Spartans' bigs will have trouble keeping up with Cody Zeller, and without Dawson, no one will be able to keep Victor Oladipo in check.
MSU will eventually go further in the NCAA Tournament than Indiana, but not in the Big Ten Tournament.
Prediction: Indiana


No. 2 Michigan vs. No. 3 Ohio State
25 minutes after MSU/Indiana (CBS)

The Wolverines and Buckeyes split the season series, with Ohio State controlling the matchup in Columbus, and Michigan narrowly moving by OSU in Ann Arbor.
No one can take Michigan's win over Ohio State away, but this time around, the team won't be backed by a super-charged home crowd. It'll be neutral, all the way.
And in a neutral setting, Jared Sullinger and Deshaun Thomas will again be difficult matchups, too difficult to overcome. Michigan still nabs a No. 3 seed, and sets itself up for a strong NCAA Tournament run, but Ohio State moves on.
Prediction: Ohio State


Championship game

No. 3 Ohio State vs. No. 5 Indiana
3:30 p.m. Sunday (CBS)

At this point, the entire state of Indiana will likely be in a frenzy. But the Hoosiers' legs may well be noodles.
Playing four games in four days in a league as physical and hotly contested in the Big Ten is a tall order, even if players are 18-22-year-old kids. Eventually, that type of physical toll starts to show.
And against a team as deep as Ohio State, it may be deadly. Indiana will eventually hit a wall, and Ohio State's physical depth will be too much to overcome.
Prediction: Ohio State

Nick Baumgardner covers Michigan basketball for AnnArbor.com. He can be reached at 734-623-2514, by email at nickbaumgardner@annarbor.com and followed on Twitter @nickbaumgardner.
Want to stay connected to Wolverine basketball in your Facebook newsfeed? "Like" AnnArbor.com's Michigan Basketball News & Views.