Posted on
Sat, Feb 20, 2010 : 7:40 p.m.
Penn State upsets Michigan basketball team, 55-51, to snap Wolverines' 2-game winning streak
By Michael Rothstein
The Michigan basketball players sat in front of their lockers, shoulders slumped, heads down, disappointment obvious, frustration palpable.
Penn State entered Crisler Arena on Saturday as the worst team in the Big Ten, a team guaranteed to finish under .500 for the year, one that before Wednesday hadn't won in 2010. And yet here the Wolverines were, minutes off a 55-51 loss to the Nittany Lions, stunned.
Any momentum Michigan (13-13 overall, 6-8 Big Ten) had from winning back-to-back road games at Minnesota and Iowa - gone. Confidence - shattered. The season - considering Michigan has to play three of the Big Ten's top teams in the final four games of the regular season - could finish below .500.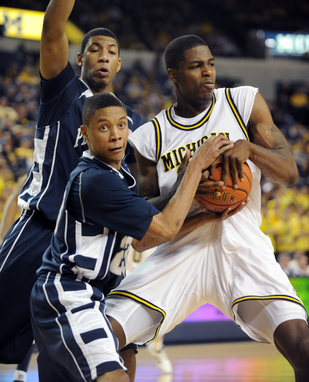 Meanwhile, it put Michigan's season back into a funk.
"Very irritating," junior guard Manny Harris said. "We are all disappointed, still fight like we've been doing, but it's a very disappointing loss."
Saturday, though, was the epitome of Michigan's season. The Nittany Lions scored just four points in the last 7 minutes, 53 seconds and won.
The Wolverines couldn't do anything right. Michigan shot 21.4 percent from the 3-point line - lowlighted by a 1-of-12 performance in the second half that erased the positive feelings of two straight games shooting over 50 percent from the 3-point line.
Sophomore guards Stu Douglass, Zack Novak and Laval Lucas-Perry combined to shoot 2-of-17 from the 3-point line.
As has Michigan's theme this season, the defense returned to the woes of December and early January, when Michigan couldn't stop anyone. The Nittany Lions (10-16, 2-12) had five straight layups in the first half, most of which were open by Big Ten standards.
In every way, this was a meltdown for a Michigan team fighting to try and salvage a year.
In many ways, Saturday was a step back. Senior forward DeShawn Sims, who has had a good Big Ten season, was limited to 10 points. Michigan received only one point from its bench.
And much like the beginning of the year, the Wolverines needed Harris to bail them out. The junior guard scored Michigan's last seven points and cut the Penn State lead to two, 53-51, with 4:07 left for the last of his 20 points.
But then Michigan didn't score the rest of the way.
"When we haven't shot well, we are a distracted team and that's what happens," Michigan coach John Beilein said. "Now you're thinking about the missed shot and not thinking about getting the loose ball. They really care, but you've got to let it roll off you and move on to the next play."
Moving on to the next play might be the least of the Wolverines' worries. Michigan's locker room had the same feel to it after the team had lost to Michigan State, 57-56, on a missed buzzer beater by Sims.
After beating Iowa, the Wolverines were then blown out of their next two games against Northwestern and Wisconsin.
And Michigan was put in this position again by Penn State junior guard Talor Battle, who had 14 points and a game-high 11 rebounds. He also had the assist on the game-clinching bucket, when almost every Michigan player collapsed on him as he drove the lane.
One of the best point guards in the conference, he found forward Jeff Brooks on the right baseline and he made the contested 15-footer to set up the final margin.
"Everybody at Michigan thought I was going to shoot the ball," Battle said. "I was relentless. I continued, they cut me off one way and drove down the middle and got my man beat and I seen DeShawn step up, and I didn't want to take a running shot."
When he found Brooks and he made the shot, it sent the fans in Crisler Arena heading for the exit. It left Beilein frustrated, lamenting how what could have been a six-point win in his estimation fell into a four-point loss.
In reality, though, none of this is surprising. This is what Michigan is this season - an inconsistent team unable to string together more than two good performances and wins in a row. A team that was supposed to shoot well but hasn't.
A team that plays well on defense. Sometimes.
And in every way, Michigan's loss to Penn State summed up how the Wolverines have gone this year.
"This is a perfect example, isn't it? Perfect example," Beilein said. We just have to continue to work at it, and you know it is just great fertilizer for the future."
Box score | Big Ten standings
Michael Rothstein covers University of Michigan basketball for AnnArbor.com. He can be reached at (734) 623-2558, by e-mail at michaelrothstein@annarbor.com or follow along on Twitter @mikerothstein