Posted on
Wed, Jan 25, 2012 : 1:01 p.m.
Roadblock lifted: Michigan basketball team in position as Big Ten contender
By Nick Baumgardner
WEST LAFAYETTE, Ind. — There are two schools of thought on whether or not the Michigan basketball team's visit to Purdue on Tuesday night was a "must win" scenario.
The first says, no, it's January. There's no such thing as a must-win game this early.
The second, though, sounds a bit different.
If the Wolverines were serious about contending for a Big Ten championship this season, then beating the Boilermakers on the road Tuesday was something that needed to happen.
"This was a game, regardless of where we were at, we had to win," Michigan senior guard Zack Novak said after the 66-64 victory. "That's a huge win."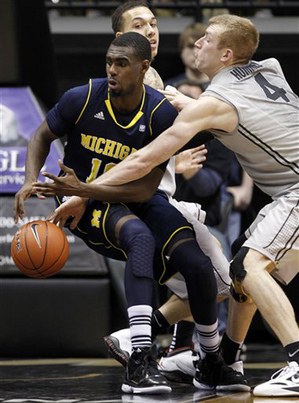 Associated Press
Novak's right, for more than one reason.
Entering the game, Michigan was winless on the road this season. For the past few weeks, coach John Beilein and players had been peppered with questions about what's wrong with the group away from home, if the team had a different mindset on the road and when, exactly, was this skid going to stop?
Each time, coach and players brushed it off. It wasn't a big deal, they weren't worried, wins will come.
It finally came Tuesday, and though they wouldn't talk about it during the slide, the Wolverines admitted road aggravation was starting to creep in.
"It was very frustrating," Michigan sophomore forward Tim Hardaway Jr. said. "That played a big factor in this game.
"We really just didn't want to leave here with that same taste in our mouth."
Winning on the road wasn't something the Michigan program needed to take a step forward, Beilein's gotten the Wolverines beyond that in the grand scheme of things.
But for this group, the 2011-12 team, it was necessary. Because, simply, you can't win a Big Ten title unless you beat people in their own house.
"This was huge for us," Michigan senior guard Stu Douglass said. "It was a big statement for us, because we've got a lot of road tests (left).
"We've got to get used to this kind of stuff."
A loss Tuesday wouldn't have just worsened Michigan's frustration away from home, it would've made the Wolverines' footing in the Big Ten race much less firm.
The Wolverines became the first team to five league wins last week against Michigan State, and now are the first to six.
Regardless of what happens elsewhere, Michigan will travel to Columbus on Sunday as a first-place team, and likely will be fighting to get a leg-up on Big Ten defending champion Ohio State on national television.
From there, Michigan's next road test comes against fellow contender Michigan State — and a win in East Lansing on Super Bowl Sunday can clinch a second straight sweep, and give the Wolverines an outright tiebreak against the Spartans for league standing purposes.
"This was big," Novak said. "We've traditionally been a pretty big road team, but now this group has learned what you need to do at the end of games to will one out.
"And now, we can just do it again."
Championship teams don't have to win every road game they play, but they need to win the ones they're supposed to.
Michigan was supposed to beat Purdue on Tuesday, and it came through. Are the Wolverines a legit Big Ten championship contender?
They're 16-5, 6-2 in league play and currently in first place with 10 games remaining.
As of right now, I say, why not?
Nick Baumgardner covers Michigan basketball for AnnArbor.com. He can be reached at 734-623-2514, by email at nickbaumgardner@annarbor.com and followed on Twitter @nickbaumgardner.
Want to stay connected to Wolverine basketball in your Facebook newsfeed? "Like" AnnArbor.com's Michigan Basketball News & Views.