Posted on
Thu, Feb 2, 2012 : 12:59 p.m.
Skid stoppers: Michigan basketball team bounces back again, remains in Big Ten hunt
By Nick Baumgardner
Zack Novak had seen this story before.
And more often than not, it ended poorly for the Michigan basketball team.
"A game like this, we would've lost last year," Novak said. "When it got tight, it would've stayed between up three, down three and then it would've gotten into the last minute.
"And we would've lost it."
But during the process of nearly blowing a 20-point home lead against Indiana on Wednesday, a funny thing happened to the Wolverines.
They forgot about last year and just won the game.
"We lost a bunch of games by a couple points last year, and you've got to learn how to win those games," Novak said. "And I think we have."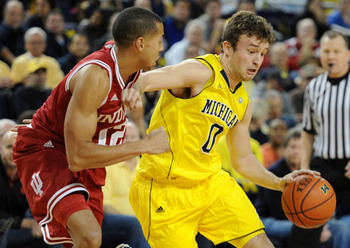 Angela J. Cesere | AnnArbor.com
Make no mistake, the current Michigan basketball team is in no way a veteran club when it comes to age.
Novak and fellow captain Stu Douglass are the team's only two rotation seniors. Trey Burke's a freshman, Tim Hardaway Jr.'s is just 19 and both Jordan Morgan and Evan Smotrycz are sophomores.
But with game experience, Michigan is anything but green. A roster full of talent that's already seen plenty of highs and lows over the past two seasons, John Beilein's team — now 6-0 when playing after a loss — suddenly looks all grown up.
"We were really young at the start of last year, and we had an extremely difficult schedule," Beilein said. "And now, we're a year older. Except for Trey, we're a year older and we understand how this works.
"I can't say we didn't get it last year, we just weren't ready to win some of those games last year."
They sure look ready now.
On Sunday in Columbus, the Wolverines were humbled. Michigan hung around with Ohio State for the game's first 20 minutes, but looked completely over-matched down the stretch as the Buckeyes got rebound after rebound and putback after putback.
It wasn't exactly a feel-good performance, and a 15-point loss to a rival can often be enough to send a team into a dip for a week or two. It happened last season, when a blowout loss at Wisconsin created a hangover that resulted in a six-game losing skid to open Big Ten play.
This season, though, there's been no losing streak.
Not one.
"We've all been hungry since the Duke (loss in the 2011 NCAA Tournament)," Douglass said. "We've all matured and we made that stretch at the end (of last season), and we know what it takes now."
Against Indiana, Michigan started hot, but lost its stride late. But rather than panic and tank, the suddenly grown up Wolverines fought through it.
Michigan started getting stops, Hardaway shot his way out of the troubles he'd had earlier in the night and Burke remained calm at the foul line in the game's final minutes.
As a result, Michigan's loss at Ohio State doesn't look so bad anymore. Michigan (17-6, 7-3 Big Ten) is less than a game behind the Buckeyes for first place in the Big Ten, and, Ohio State still has to visit Crisler Center on Feb. 18.
Additionally, as of Thursday morning, Jerry Palm of CollegeRPI.com had Michigan slotted with the 14th-best RPI mark in America.
So, barring a disaster, this year's club shouldn't have to engage in a full-on scramble to find its way into the NCAA Tournament.
Nothing's etched in stone yet, and the Wolverines have plenty of work to do. But Beilein's bunch is growing up.
And for now, he's just enjoying the ride.
"They're really good kids who get that there's a process involved in becoming a really good team," Beilein said. "They know who they are. They know we're not going to always dominate people, they know we're not going to play 31 great games.
"You have to be able to bounce back after playing a great team like Ohio. You have to do it. And we did it, and hopefully we can continue to do it."
Nick Baumgardner covers Michigan basketball for AnnArbor.com. He can be reached at 734-623-2514, by email at nickbaumgardner@annarbor.com and followed on Twitter @nickbaumgardner.
Want to stay connected to Wolverine basketball in your Facebook newsfeed? "Like" AnnArbor.com's Michigan Basketball News & Views.