Posted on
Thu, Feb 16, 2012 : 5:59 a.m.
The 4 most important players for the Big Ten basketball title contenders
By Nick Baumgardner
It's pretty clear who the four remaining players are in terms of the Big Ten basketball championship race.
Michigan State, Ohio State, Michigan and Wisconsin all still have a shot.
But which player on each squad most holds the key to his team's success down the stretch?
Here's a look: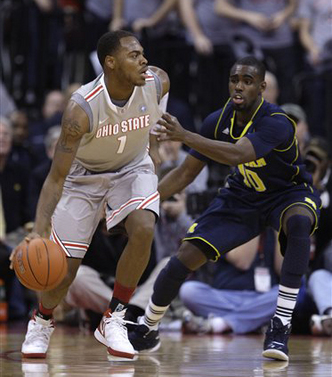 AP Photo
Ohio State:
Deshaun Thomas
In two of Ohio State's three Big Ten losses this season, Deshaun Thomas was awful.
The sophomore forward went 2-of-12 from the floor and 0-for-5 from 3-point range in a 10-point loss to Michigan State last week, and had five points and four fouls during a setback at Indiana in December.
Jared Sullinger is the team's best player and William Buford (who also struggled against MSU) has been criticized for inconsistency over the years, but Thomas is the guy who has the ability to make Ohio State elite.
If he's playing within the flow of the offense and not simply rushing shots for the sake of doing so, the Buckeyes are incredibly tough.
No one else in the Big Ten can match Ohio State's big three when it's all humming together. Sullinger is going to get his, and as a senior, I'm inclined to believe Buford will be locked in down the stretch.
Leaving Thomas to answer the bell and push the Buckeyes toward that third straight league crown.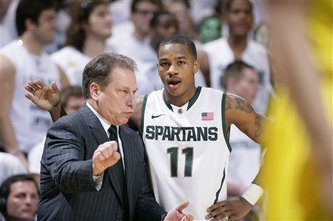 AP Photo
Michigan State:
Keith Appling
Michigan State has all the bulk in the world inside with Adreian Payne and Derrick Nix, and freshman Branden Dawson is a tenacious wing defender and rebounder for his size.
The Spartans also have one of the best seniors in the country in Draymond Green, a player of the year candidate who has done damage both inside and out this season.
But if MSU is going to pull away and win this thing, Keith Appling has to be at his best.
The sophomore point guard was out-played by Trey Burke in Ann Arbor, and went 1-for-11 when MSU dropped an ugly one-point game at Illinois.
When Appling's been an offensive threat this season, Michigan State is extremely tough to handle.
He had 25 points, seven assists and six rebounds when the Spartans slammed Indiana in East Lansing earlier this year, and he went for 14 points (despite coughing the ball up seven times) in a win over Ohio State.
When the Spartans got revenge over Michigan earlier this month, Appling wasn't incredible, but he did play within the offense -- netting 10 points on 3-of-5 shooting, and grabbing three steals.
Overall, Appling's done an admirable job of moving from the two guard to the point position this year. He doesn't need to do everything for the Spartans. But he can't be absent, either.
With Appling playing his best, Michigan State truly becomes an elite club.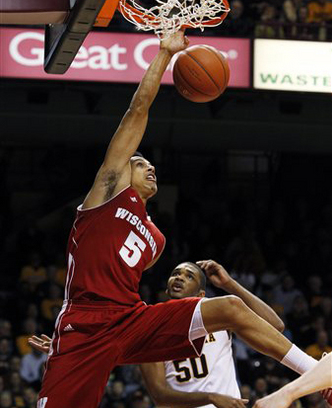 AP Photo
Wisconsin:
Ryan Evans
In terms of a second scorer to Jordan Taylor, Badger forward Jared Berrgren may have more potential, but Ryan Evans seems to give Wisconsin the extra push it needs to go from good to very good.
When the Badgers lost three of their first four Big Ten games, and it looked like the world was caving in, Evans was a mess.
Foul trouble made him a non-factor in 15 minutes against Iowa, he went 3-for-15 in a loss to Michigan State and only had six points in a blowout at Michigan.
Evans, a 6-foot-6, 210-pounds junior, can be an extremely active, athletic player when he's going hard.
He's the type of player Wisconsin needs against highly-athletic foes like Michigan State and Ohio State, and the Badgers might not be able to win the league without him being at his best.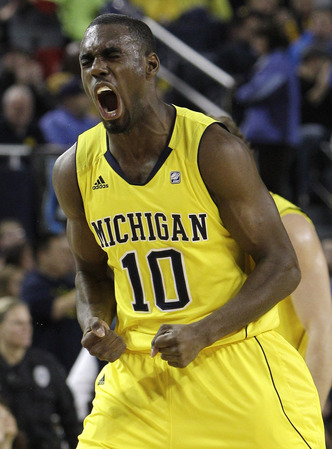 AnnArbor.com file photo
Michigan:
Tim Hardaway Jr.
With the other three teams, the key to a title run wasn't necessarily the squad's best player. With Michigan, that's exactly the case.
When everything gets broken down, sorted out and separated -- Tim Hardaway Jr. stands alone as Michigan's best offensive threat. He can take people off the dribble, shoot from deep and even work in the post.
The Wolverines don't have another player quite like him.
Hardaway's midseason struggles have been well-documented. He's shooting just 37.1 percent from the floor against Big Ten teams, and only 21.3 percent from 3-point range in league games.
Despite his rough performance, Michigan still sits at 9-4 in conference play. Imagine what type of team Michigan could have been all season had Hardaway been at his best.
Down the stretch, the Wolverines need just that.
Hardaway's their best player, and Michigan absolutely can't win this league without him playing like it.
----
Sky High:
No. 7 Michigan State (20-5, 9-3)
The Spartans shook up the Big Ten standings and snapped Ohio State's 39-game home winning streak last weekend in Columbus, and control their own fate with less than a month left to play.
Draymond Green appears to be just fine after tweaking his knee earlier this month, and the team as a whole has bought back in to Tom Izzo's defense-first philosophy of late.

Rock Bottom: Illinois (16-9, 5-7)
Fans are angry, the athletic director is talking out of turn and Bruce Weber's chair just keeps getting warmer.
Illinois has dropped seven of eight after a home loss against Purdue on Wednesday, and if the Illini aren't careful, they just may play themselves right out of a tournament spot before all is said and done.

Standout Stats

50.3
Points per game allowed by Wisconsin through 25 games this season, best in the Big Ten, and No. 1 in the country.
38.7

Penn State's team field goal percentage, 332nd nationally.
10.5
Positive rebounding margin by Michigan State this season, third-best in America.
10
Turnovers Jared Sullinger committed in a 10-point home loss against Michigan State last weekend.

Quotable

"I will assess the situation, no different than I do with the other 18 sports. No different than I did with the football program. You need to look at the total body of work." -- Illinois athletic director Mike Thomas, on the job status of Illini coach Bruce Weber.
Nick Baumgardner covers Michigan basketball for AnnArbor.com. He can be reached at 734-623-2514, by email at nickbaumgardner@annarbor.com and followed on Twitter @nickbaumgardner.
Want to stay connected to Wolverine basketball in your Facebook newsfeed? "Like" AnnArbor.com's Michigan Basketball News & Views.