Posted on
Wed, Feb 15, 2012 : 5:58 a.m.
Michigan basketball team, for the most part, controls its destiny in chase for Big Ten title
By Nick Baumgardner
An awful lot has happened to the Michigan basketball program over the past 26 years.
The Wolverines have had five coaches, won a national title, popularized baggy shorts, bald heads and black socks, raised banners with joy and lowered banners in shame.
They've seen Rumeal Robinson's free throws, the Fab Five, a Tractor and the advent of the Maize Rage.
But there's been one glaring hole in the program over the past quarter century.
A regular-season Big Ten championship.
"Winning a regular-season Big Ten championship is very unique," Michigan basketball coach John Beilein said earlier this week. "It hasn't happened here in a long time, and we'd love for our guys to believe they could be special and do something like that."
Michigan's last league crown came in 1986, when Glen Rice was a freshman, Bill Frieder patrolled the sidelines and not one member of the current Wolverine squad was alive.
Since that time, seven different Big Ten members have one title. Six teams have won multiple crowns, one has earned four (Indiana), two have captured six (Ohio State and Purdue) and one has claimed seven (Michigan State).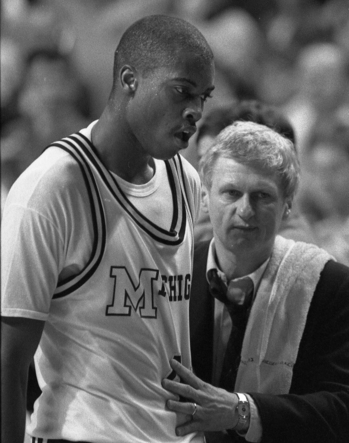 AnnArbor.com file photo
Michigan during that time? Close, but no cigar.
The 1989 national title squad finished third; Chris Webber, Jalen Rose, Juwan Howard, Jimmy King and Ray Jackson ended their sophomore season (1992-93) in second place. And Robert "Tractor" Traylor's final squad (1997-98) won the inaugural Big Ten Tournament crown, but later vacated the trophy due to sanctions.
With less than a month remaining in the regular season, this year's Michigan basketball team finally has a chance to rejoin the party.
"We feel good right now," Michigan sophomore wing Tim Hardaway Jr. said after a win over Illinois on Sunday. "We've just got to concentrate on the next one."
For Michigan, "the next one" certainly holds the key to everything.
The Wolverines currently sit with a record of 19-7, 9-4 in Big Ten play with five regular-season games to go. Michigan moved within a half game of co-league leaders Michigan State and Ohio State after beating the Illini on Sunday.
So, when Ohio State visits the Crisler Center at 9 p.m. Saturday, with ESPN's "College GameDay" serving as the backdrop, Michigan's quest for that elusive regular-season title will officially begin.
Currently, there are four teams still standing with a shot at the top prize.
Ohio State and Michigan State are tied for first, and Wisconsin (19-6, 8-4 entering Wednesday) is right behind the Wolverines in fourth place.
Of the remaining contenders, the team with the apparent easiest road to the finish wears maize and blue.
After playing Ohio State on Saturday, Michigan won't face another ranked opponent the rest of the way. The Wolverines will travel to Northwestern (Feb. 21), host Purdue (Feb. 25), visit Illinois (March 1) and close the season at Penn State (March 4).
None of those four opponents currently hold a winning record in league play, and the Wolverines have scored victories over each one of them earlier this season.
For Ohio State, Michigan State and Wisconsin, things get markedly more difficult.
The Buckeyes still have road games against Michigan, Michigan State and Northwestern. They also host Wisconsin and Illinois yet this season, the same Illini team that already beat OSU last month.
Wisconsin? The Badgers still have road games against Michigan State, Ohio State and Iowa -- with home tests against Penn State, Minnesota and Illinois.
Michigan State, meanwhile, still has to host both Wisconsin and Ohio State, and must also survive tough road environments at Purdue and Indiana.
In short, the Buckeyes, Badgers and Spartans still have to beat up on one another, while Michigan -- should it survive Saturday -- will have a much simpler row to hoe.
Lose to Ohio State on Saturday, and the battle becomes more uphill.
But beat the Buckeyes in front of perhaps the most rabid home crowd of the season, and, suddenly, the Wolverines will possibly be looking at an inside track to at least a share of a Big Ten championship.
A lot's happened to Michigan over the past 26 years.
And, if all goes well for the Wolverines in the next three weeks, that Big Ten drought won't just end.
It'll be 86'd.
Nick Baumgardner covers Michigan basketball for AnnArbor.com. He can be reached at 734-623-2514, by email at nickbaumgardner@annarbor.com and followed on Twitter @nickbaumgardner.
Want to stay connected to Wolverine basketball in your Facebook newsfeed? "Like" AnnArbor.com's Michigan Basketball News & Views.