Posted on
Wed, Jan 11, 2012 : 11:06 p.m.
Trey Burke goes the distance, and bails out the Michigan basketball team in the process
By Nick Baumgardner
After icing the 13th-ranked Michigan basketball team's 64-62 overtime win over Northwestern on Wednesday, freshman point guard Trey Burke was immediately sent into the locker room.
For more ice.
"You know why Trey Burke isn't over here?" Michigan coach John Beilein asked in the media room afterward. "I told him to get his butt in the cold tub.
"He'll be a good interview later on, not tonight."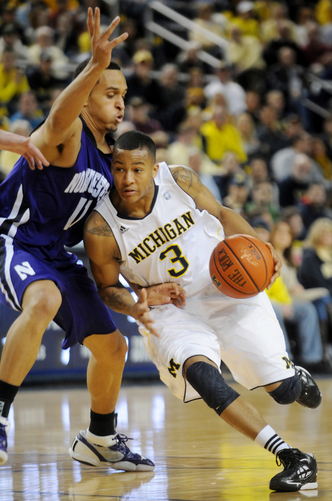 Melanie Maxwell I AnnArbor.com
Burke played the full 45 minutes Wednesday, scoring 19 points, grabbing seven rebounds and handing out seven assists.
And, as has become old hat, he seemed to be at his best when all the chips were down.
Burke went 6-for-6 from the foul line in overtime and scored the Wolverines' final eight points of the game, proving once again why he's a rookie in name only.
"We feel comfortable with the ball in his hands," said Michigan sophomore forward Tim Hardaway Jr., who also played the entire 45 minutes Wednesday. "We know he can get to the rack at any time during the game, and it's just about him being smart and the poised player he is."
Did anyone offer Burke any advice before he toed the line for his crucial late-game free throws?
"Just win the game," Hardaway said. "That's all the advice he needs."
With Michigan struggling to find any type of offensive flow for most of the night, the only successful set the Wolverines ran late was to get the ball to Burke, and watch him hit foul shots.
Burke twice attacked the rim with Michigan clinging to a one-point overtime lead, and both times, the result was two made free throws.
And when Northwestern trimmed the lead back to one with less than 10 seconds to play, Michigan's first instinct was in inbound the ball directly to Burke.
For the third time in two minutes, with the game in the balance, the freshman walked to the foul line.
And just like the previous two trips, his shots were true.
"Trey wants to win, he has that will to win and that helps us down the stretch," Michigan senior guard Stu Douglass said. "Freshman? That's out the window."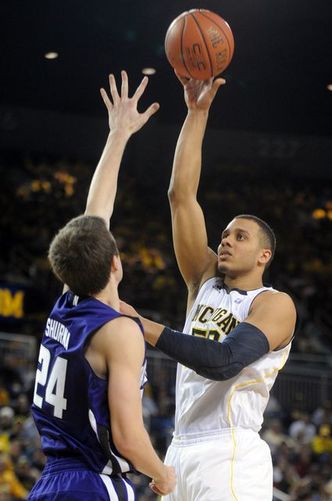 Melanie Maxwell | AnnArbor.com
Northwestern's Shurna wrinkle
The Wildcats caught Michigan by surprise to start Wednesday's game by lining up Big Ten leading scorer John Shurna at the center position, bringing regular five-man Luka Mirkovic off the bench.
The Wolverines said they were confused by the move, and had not prepared for the scenario one time during their Northwestern prep.
"It's funny, I was talking to (Michigan assistant LaVall Jordan) today, and sometimes we do that with Evan (Smotrycz)," Michigan senior Zack Novak said. "And I said 'how come they never put Shurna at the five?'
"Then we come out of the locker room, and there John is at the five."
The move paid off for Northwestern early, as the 6-foot-9 Shurna -- a threat both inside and out -- was able to take advantage of a bulkier, slower-footed Jordan Morgan while shooting 5-for-6 from the floor for 12 first-half points.
Michigan found a way to cope with the move, holding Shurna to just seven points after the break -- and only two in overtime.
"They came out with Shurna as a five man, and we didn't even have a plan (for that)," Beilein said. "Their five-mans have a total of three 3's on the year, he's got 40 or 50. He's one of the best in the country.
"When that came at us, he hit a 3 and they got out to an early start on us."

Scout team heroes

Beilein said rather than have one most valuable player stand up and take a bow during the postgame locker room celebration Wednesday, he had the entire Michigan scout team do the honor.
Beilein said Novak requested the scout team be honored afterward for their part in the gameplan against a systematic Northwestern team.
"In three days, they've played like Shurna, played like (Drew) Crawford and played like (Northwestern point guard Dave Sobolewski)," Beilein said. "They made a difference."
Melanie Maxwell | AnnArbor.com
Slow night for Smotrycz
Michigan sophomore forward Evan Smotrycz had another slow night at the office.
The 6-foot-9 forward went 1-for-7 from the floor in 29 minutes of action.
After posting three straight double-doubles in wins over Alabama A&M, Bradley and Penn State, Smotrycz has averaged 4.5 points and five rebounds in his last four games.
"With three games in seven days, it takes its toll, but we've got a day off tomorrow," Beilein said with regard to Smotrycz. "I'm not concerned (about whether or not he's worn out) right now.
"What're you going to do?"

Odds and ends

Beilein called Morgan's overtime technical foul a "great practice for mental toughness." Beilein said it was a poor reaction on Morgan's part, and added "we'll deal with that in a separate way." ... Wednesday marked the first time this season that Michigan was able to win a game after trailing at halftime. ... With two steals, Douglass became the 19th player in Michigan history to record 100 career steals. ... Michigan is now 10-1 when it out-rebounds an opponent.
Nick Baumgardner covers Michigan basketball for AnnArbor.com. He can be reached at 734-623-2514, by email at nickbaumgardner@annarbor.com and followed on Twitter @nickbaumgardner.
Want to stay connected to Wolverine basketball in your Facebook newsfeed? "Like" AnnArbor.com's Michigan Basketball News & Views.