Posted on
Fri, Mar 2, 2012 : 4:32 p.m.
Trey Burke the Big Ten Freshman of the Year? You won't hear John Beilein campaigning for it
By Nick Baumgardner
Whether or not Trey Burke is the best freshman in the Big Ten Conference isn't a concern of John Beilein's.
The Michigan basketball coach said Friday he's glad to have Burke running the point for his club, but in no way will he campaign to earn postseason recognition for him.
"I pay so little attention to that, and I would never push (for it) in any way," Beilein said. "We're such a team, team, team attitude here.
"Maybe it's a weakness, but we don't concern ourselves much with that."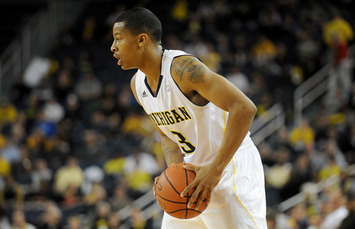 Angela J. Cesere | AnnArbor.com
The conversation for the
Big Ten's Freshman of the Year
award starts and stops with Burke and Indiana forward
Cody Zeller.
Burke has earned the league's Freshman of the Week honor six times, and so has Zeller.
The Indiana big man leads all league freshman in scoring (15.5 points per game), rebounding (6.4 per game), steals (40) and blocked shots (38).
Burke is second to Zeller in scoring (14.5 points per game), but leads all league rookies in assists (4.8), 3-pointers made (50) and minutes played (35.9).
In terms of national recognition, Zeller has more than Burke, as he was named to the watch list for the USBWA's 2012 Oscar Robertson Trophy (national player of the year).
But again, Beilein really doesn't care.
"He's had so many freshman of the weeks this year and he takes it all in stride, if he got one or 10 he's the same guy," said Beilein, whose team will wrap up the regular season at Penn State on Sunday (1 p.m., ESPN). "We'll let those who vote make their decision based on what they saw."
Hardaway's better balance

Michigan sophomore wing Tim Hardaway Jr. put together his best game of the season Thursday, dropping in 25 points and grabbing 11 rebounds.
Hardaway said he spent the bulk of Michigan's spring break week in the gym, working on the fundamental parts of his shot.
It worked, as he went 6-for-7 from the floor, 4-for-4 from 3-point range and 9-for-10 from the foul line.
Beilein wouldn't say Friday what exactly he had Hardaway focus on, but did mention that his mental state was as important as his physical fundamentals.
"He worked really hard on having balance and a good foundation before, during and after his shot," Beilein said. "Last night, his shot selection was excellent, and that also was a key point in how you can go 6-for-7.
"You take seven shots and score 25 points, that might be a new record. That was pretty darn good. It's a combination of a balance, and really working at looking to take the best shot and not necessarily the first shot."
Highly improved Tim Frazier

Beilein called Penn State point guard Tim Frazier perhaps the most improved player in the Big Ten this season.
The Nittany Lion junior is second in the league in scoring at 18.8 points per game, and his 6.3 assists per game lead the conference.
A season, ago, Beilein said Frazier was a player Michigan hardly concerned itself with in Penn State scouting reports.
"There are some fast guys in this league, and he's as fast as they get," Beilein said. "He can get into the lane and just float tear-drop runners in between spaces over big guys. He's probably one of the more improved, if not the most improved player in the league.
"Last year, we would help off of him a great deal to get to (ex-PSU guard) Talor Battle and the other good players they had there. It's unique to make a kid make such a climb in just one year, and he's so difficult to guard."
Not hanging around

Should Michigan get by Penn State on Sunday, the Wolverines will have to play the waiting game.
Apparently, they'll be doing so from an airplane.
Beilein said Michigan will not stay behind in State College, Pa., to watch the Michigan State-Ohio State game, which starts at 4 p.m. Sunday.
Should Ohio State and Michigan win Sunday, the Wolverines will clinch a share of their first Big Ten title since 1986.
"We'll just do what we normally do," he said. "We'll do everything we can to win the game, and whether they're playing or not, we'll find out (who wins) when we get back.
"Classes start back up (Monday) and hopefully we'll get back by 4 or 5 p.m., and hopefully we'll be able to catch some of it. But the big thing is just concentrating on our game."
Nick Baumgardner covers Michigan basketball for AnnArbor.com. He can be reached at 734-623-2514, by email at nickbaumgardner@annarbor.com and followed on Twitter @nickbaumgardner.
Want to stay connected to Wolverine basketball in your Facebook newsfeed? "Like" AnnArbor.com's Michigan Basketball News & Views.