Posted on
Mon, Apr 9, 2012 : 5:56 p.m.
Trey Burke was close to leaving Michigan, returned to compete for a national title
By Nick Baumgardner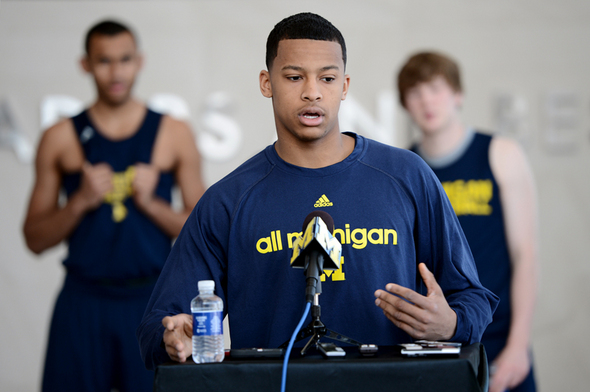 Melanie Maxwell I AnnArbor.com
Trey Burke came close to ending his Michigan basketball career.
But the freshman point guard sensation never put both feet out the door, and now, his goal is clear.
He intends to fight for a national championship.
"I just felt like I could develop more, and me coming back to this team next year, we have a great shot to compete for another Big Ten championship and to compete for a national championship," Burke said hours after announcing his intention to return to Michigan for his sophomore season. "I feel like we have unfinished business."
Burke met with reporters Monday afternoon at the William Davidson Player Development Center to discuss his decision not to enter the NBA draft.
Flanked by Wolverines' coach John Beilein, and joined by teammates Tim Hardaway Jr., Jordan Morgan, Jon Horford, Matt Vogrich and Josh Bartelstein, the record-setting point guard put Michigan fans' minds a bit more at ease about next season.
He almost left. But in the end, he's coming back.
"There was a point where I was considering leaving, (but) I was never really two feet all the way in," Burke said. "Sometimes I was (leaning) toward leaving, sometimes I was (leaning) toward coming back. But after talking with the coaches and my family, the final decision I made was to come back.
"I think that was the best decision for me. It was more of a risk for me to leave and declare for the NBA draft."
Burke sought the advice of the NBA's undergraduate advisory counsel with regard to his potential draft status if he were to declare. He declined to discuss the report the draft board gave him.
During the process, Burke stayed in close touch with Beilein and his staff, while also seeking advice from his parents, former Michigan point guard Darius Morris and his old Columbus (Ohio) Northland High School coach and teammate, Satch and Jared Sullinger.
He said he ultimately made his decision to return last Wednesday (April 4) after speaking with his mother and father and weighing both sides of the decision.
Had he opted to leave, it would've marked the third consecutive season Michigan suffered the loss of an underclassman to the NBA draft.
That's something Beilein says isn't always the worst thing in the world.
"It's a good problem to have. We have some young men that really have the potential to play in the NBA," Beilein said. "We want them to look at this and take their time the right way, we don't want them to ever have any regret. … You don't talk them into it, you don't talk them out of it. You just give them information.
"The whole time, we went back and forth, he went up and down and up and down. But I had no opinion, I just kept working."
Burke's decision to return exponentially bolsters Michigan's prospects for next season, and its overall expectations.
Within minutes of his announcement Monday, various news outlets dubbed the Wolverines a Final Four contender for next year, as Burke will join returning starters Hardaway and Morgan, along with a highly-rated signing class of Mitch McGary, Nik Stauskas and Glenn Robinson III.
Despite the nearly three-week period of uncertainty, Burke's teammates say there are no bad feelings. They wanted what's best for Burke, and they're glad he's back.
"We're behind Trey 110 percent, whatever decision he makes," said Hardaway, who told reporters he never even considered leaving after the season. "We're happy he's back in the family.
"He never really left us."
Burke said the process did bring on some unwanted stress, though he did his best to stay positive. He also said he did his best to avoid social media during the situation, since his decision was highly-discussed on Twitter by fans and even Michigan State athletic director Mark Hollis.
As far as the long-term future goes, Burke made no promises. He repeatedly said he intends on playing at Michigan for his "sophomore season," and is only focused on that.
The Wolverines received a commitment from 2012 Northfield Mount Hermon point guard Spike Albrecht last Friday, and already have a verbal from highly-rated point guard Derrick Walton for the class of 2013.
For now, Burke remains in control of the Wolverine offense for at least one more season.
And his coaches and teammates couldn't be happier.
"Time will say if it was a good decision for him," Beilein said. "(But I know) it's a great decision for Michigan basketball."
Nick Baumgardner covers Michigan basketball for AnnArbor.com. He can be reached at 734-623-2514, by email at nickbaumgardner@annarbor.com and followed on Twitter @nickbaumgardner.
Want to stay connected to Wolverine basketball in your Facebook newsfeed? "Like" AnnArbor.com's Michigan Basketball News & Views.