Posted on
Thu, Jan 12, 2012 : 12:39 p.m.
With an assist from Bo Schembechler, the Michigan basketball team grits out a win over Northwestern
By Nick Baumgardner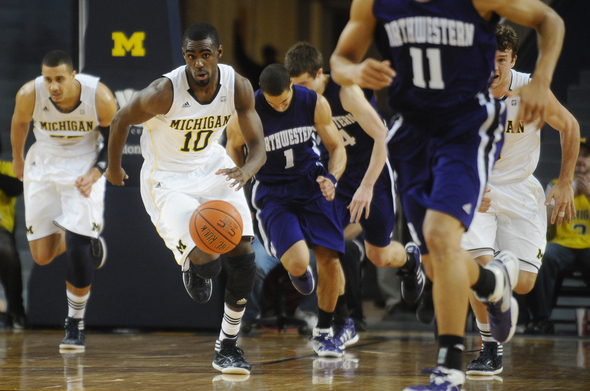 Melanie Maxwell | AnnArbor.com
With the
Michigan football
team
watching the game from the stands
Wednesday, Michigan basketball coach
John Beilein
borrowed a message from a former gridiron great to guide his team.
That man? Bo Schembechler.
With their captain on the bench, their shots falling flat and two possible overtime debacles looming, the Wolverines leaned heavily on two of Schembechler's more popular in-game words.
"Sudden change," Beilein said. "All of a sudden, things change.
"We adapted and played through it."
With an assist from former director of basketball operations Brian Townsend, a former Schembechler football player who once relayed the "sudden change" message to Beilein, the Wolverines received a lesson in adapt and advance Wednesday.
Michigan's 66-64 overtime home win over Northwestern wasn't pretty, but it was a victory. And, considering the circumstances, no one was willing to turn their nose at it afterward.
"We earned that win," Michigan senior captain Zack Novak said afterward.
The constant "sudden change" Beilein referred to began less than four minutes into the game, when Novak was whistled for his second foul, forcing him to the bench for the remainder of the first half.
Without their leader on the floor, the Wolverines struggled.
Michigan fell behind 8-0 early, managed to take a two-point lead midway through the frame thanks to 14 first-half points from Tim Hardaway Jr., but slipped again late, allowing Northwestern to close the half with a run and grab a seven-point lead at the break.
"It was frustrating," Novak said of his early foul trouble. "I was on the bench just trying to coach the guys up, yell out what they were running and try to keep everyone together from the sideline."
Novak returned in the second half, and his inspired play seemed to almost instantly spark the Wolverines.
After Stu Douglass poked a ball free near midcourt, Novak hustled to scoop it up, resulting in a breakout layup that capped an 8-0 run to tie the game at 44-44 with 11:33 to play.
Then, following a Northwestern timeout, Novak took a pass from Hardaway on the wing and sent home perhaps the loudest two-handed jam the Wolverines have seen all season.
The dunk gave Michigan its first lead of the half, proved Novak has plenty of burst in his step and sent the home crowd of 12,605 into a fever pitch.
"I've been waiting for him to unleash that," Douglass said of the dunk.
The home team had all the momentum, and Northwestern appeared rattled — but another quick timeout from Wildcat coach Bill Carmody and a built-in media timeout 16 seconds later effectively curbed the crowd noise and tempered the Wolverines' momentum.
Northwestern then scored the next six points, and went back up four.
Sudden change.
From there, the Wolverines went cold. Michigan missed eight consecutive 3-pointers during a stretch in the second half, an unusual stat for the normally solid shooting Wolverines.
So, with the shots not falling, the team went to the glass. Michigan racked up 17 offensive rebounds as a team, six coming in the final 7:20 of regulation.
The hard work eventually paid off, as Hardaway snapped the shooting drought with a game-tying triple late, eventually leading to overtime.
In the overtime, up two, Michigan was dealt another tough card to work with when Jordan Morgan was hit with a technical foul after wrestling under the basket with Northwestern guard Dave Sobolewski.
"(Morgan) feels real bad about that, he reacted poorly," Beilein said. "We'll deal with it in a separate way, but they're young kids.
"(But, again) sudden change."
Drew Crawford split the technical shots, and the Michigan defense forced a Sobolewski missed jumper on the ensuing possession, giving the Wolverines another victory in the sudden change department.
The final bout of sudden change came in the final moment, when Hardaway was whistled for fouling Alex Marcotullio on a 3-pointer with less than a second to play.
Faced with yet another unexpected road block, Michigan was bailed out by its home crowd as Crisler Center reached its loudest point prior to Marcotullio's first free throw, resulting in a miss. He made the second, missed the third. There was no putback.
Game over.
Survival at last.
"Just another lesson learned," Douglass said. "Another lesson in having to come together and keep fighting when stuff isn't going our way."
The lessons are about to get tougher and the bouts of sudden change will soon be more intense.
Hardaway and Trey Burke will have to recover physically from 45-minute performances Wednesday and the Wolverines will have to fight through some early-season road demons with four games away from Crisler Center in the next 16 days.
But, hey, winning in the Big Ten isn't easy.
Bo could tell you that much.
Nick Baumgardner covers Michigan basketball for AnnArbor.com. He can be reached at 734-623-2514, by email at nickbaumgardner@annarbor.com and followed on Twitter @nickbaumgardner.
Want to stay connected to Wolverine basketball in your Facebook newsfeed? "Like" AnnArbor.com's Michigan Basketball News & Views.