Posted on
Sun, Feb 12, 2012 : 6:02 p.m.
With Ohio State on deck, the Michigan basketball team gets 6 days of rest and other notes
By Nick Baumgardner
The last 39 days haven't been the friendliest for the Michigan basketball team.
Since Jan. 5, the Wolverines have played seven road games in six different states, including one stretch that featured four trips in 15 days.
But now, when things are ready to heat up, Michigan will get a bit of needed rest.
"We haven't had that yet this season," Michigan sophomore forward Evan Smotrycz said. "It'll definitely give us a chance to re-charge and really focus."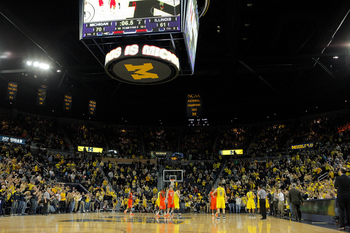 Chris Asadian | AnnArbor.com
After improving to 14-0 at home Sunday with a 70-61 victory against Illinois, the Wolverines will enjoy their first off week of the 2011-12 Big Ten schedule.
And it took them just seven weeks to get there.
Michigan won't play for six days, as its next game on the schedule comes Saturday when No. 3 Ohio State visits Crisler Center (9 p.m., ESPN).
"I wanted to see how we finished (the Illinois) game before we planned next week," Michigan coach John Beilein said. "We've got to get rest, but we've also got to get better.
"It's a great time, in some situations, to get guys two days of rest off their legs."
Following the Ohio State game, the Wolverines will play four more regular-season contests: at Northwestern (Feb. 21), vs. Purdue (Feb. 25), at Illinois (March 1) and at Penn State (March 4). From there, the Big Ten Tournament tips on March 8 in Indianapolis.
So, getting the opportunity to recharge batteries from both a mental and physical standpoint before the final push for a league championship should be beneficial.
And it'll provide Michigan with a head-start on game-planning for Ohio State, a contest that's crucial for the Wolverines' remaining hopes of a Big Ten crown.
"Coaching and scouting in college basketball is really big, so to get that extra time is an advantage," Michigan senior captain Zack Novak said. "The time off is nice, and scouting is so huge because it gives you that extra time to prepare.
"And, guys can get their legs back a bit. We've had a pretty tough stretch here."
As far as the ins and outs of how Michigan will handle the week off, Beilein says he's not sure just yet.
Beilein was also asked whether or not he's happy to be getting a week break at this point in the season.
He's not sure about that yet, either.
"I don't know, it's good today for these kids to know they don't have a game in two days again," Beilein said. "Forget about playing Ohio, though, that's something we'll address on Thursday and Friday.
"Right now, the big thing is that we need to regroup, energize and do some work. It's not like we're preparing for Ohio for five days, it's not football. But what are we going to do with those other days? I hope I choose some good things."
Sloppy fouling

At one point during the second half, Michigan had been whistled for seven fouls to Illinois' none. On the game, Michigan was called for 20 fouls, while Illinois was called for 19.
Beilein wasn't bitter, though, saying his team put itself in that situation.
"We deserved that, we were putting our hands up and we can't do that," Beilein said. "We'll watch that on film and we'll run a few sprints for that; we didn't play smart.
"I'm not going to say it was the refs, almost every one of those fouls could've been avoided with better position."
Leonard a non-factor

The biggest man on the court Sunday finished with a relatively miniature impact. Illinois center Meyers Leonard, a 7-foot-1 sophomore, finished with five points in 27 minutes.
He did grab 12 rebounds, but only just five shots after sitting out the final 12 minutes of the first half with foul trouble.
"You just try to limit his good touches," Beilein said. "It cost us a little with some foul trouble on Jordan Morgan, but it helps with Evan because he's on the perimeter and Leonard's got to chase him a little bit.
"We were very concerned about him."
Leonard entered the game averaging 13.6 points and 7.3 rebounds per game, and his five points were one shy of his season-low, set during a victory against Michigan State last month.
Sizzling Vogrich

Much of the postgame attention was paid to the scoring re-emergence of both Smotrycz and Tim Hardaway Jr., but Matt Vogrich hasn't been so bad lately, either.
Vogrich dropped in two more 3-pointers Sunday, and has hit his last five 3-point shots after a 3-for-3 performance Wednesday at Nebraska.
Prior to the Nebraska win, Vogrich was shooting 20.5 percent on the season. Now, after one solid week, he's up to 30.8 percent from downtown.
"I feel confident right now," Vogrich said. "Making that first one is huge and the rim just seems to keep growing.
"I'm confident right now shooting the ball."
Surviving the glass
Michigan was out-rebounded, 33-27, marking the 11th time this season the Wolverines have lost the battle on the boards.
It didn't matter, though.
Illinois grabbed 14 offensive rebounds, but managed just nine second-chance points. Additionally, the Wolverines out-scored Illinois 26-18 in the paint.
"Since we decided to go (with a) small (starting lineup), we're just going to give up some of those," Beilein said. "Their length got us a few times, but it's something we've just got to battle through.
"We've got to continue stressing boxing out."
Odds and ends

Michigan forced Illinois into 13 turnovers, and scored 19 points off them. ... Michigan had its highest-scoring first half of Big Ten play with 37 points. It was the largest offensive output the Wolverines have had to start a game since scoring 41 in a victory against Arkansas-Pine Bluff in December. ... Michigan is 14-3 when it finishes a game with a positive assist-to-turnover ratio. The Wolverines handed out 13 assists Sunday and committed nine turnovers.
Nick Baumgardner covers Michigan basketball for AnnArbor.com. He can be reached at 734-623-2514, by email at nickbaumgardner@annarbor.com and followed on Twitter @nickbaumgardner.
Want to stay connected to Wolverine basketball in your Facebook newsfeed? "Like" AnnArbor.com's Michigan Basketball News & Views.