Posted on
Wed, Jul 25, 2012 : 5:59 a.m.
5 questions swirling around the Michigan football team on eve of Big Ten media days
By Kyle Meinke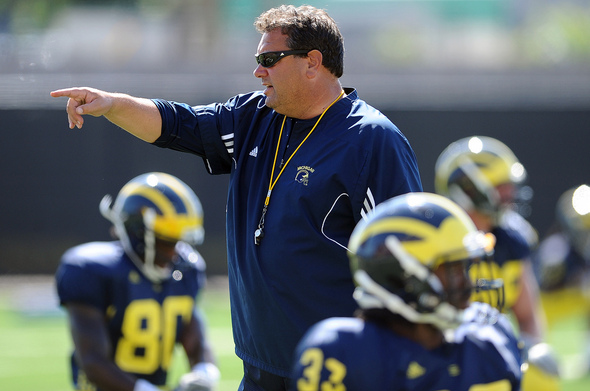 Melanie Maxwell | AnnArbor.com
The
Michigan football
team won 11 games last year, and already was named
the media's choice to capture next season's Big Ten championship
. It's the heavy favorite to win the Legends Division.
Yet, questions continue to swirl around the Wolverines as they prepare to embark on 2012, notably the status of tailback Fitz Toussaint and defensive end Frank Clark after word broke Monday that they have been suspended.
Michigan coach Brady Hoke will field those questions and more this week during Big Ten media days, which begin Thursday in Chicago. Quarterback Denard Robinson, safety Jordan Kovacs and offensive tackle Taylor Lewan also will attend.
A look at the top-five questions the Wolverines' contingent can expect to face in Chicago, with camp set to open in 12 days:
1. Will suspensions to Fitz Toussaint and Frank Clark cost them game time?
Hoke won't escape media days without being asked about the rash of arrests that have beset his team this offseason. Some were minor incidents, such as Jerald Robinson allegedly damaging a parking gate or Will Campbell denting a car. Both face destruction of property charges.
But Toussaint spent a night in jail last weekend after being arrested for operating a vehicle while intoxicated. If convicted, it's difficult to believe the Wolverines' starting tailback will play against Alabama, and could be out longer.
Then just hours after news broke of Toussaint's suspension, Michigan announced Clark, a potential starter, was suspended shortly after being arrested in June on a second-degree home invasion charge. Will he miss time, if convicted?
Starting receiver and kick return Darryl Stonum also was kicked off the team in January for another arrest.
Does Michigan have a discipline problem? Will Toussaint or Clark miss time? What will they have to do to rejoin the team? What can be done to keep players out of trouble?
These are questions Hoke won't like, but these are questions he will be asked. The answers will say a lot about Michigan's competitiveness against Alabama and beyond.
2. Can the defensive line compensate for losing three starters?
The Wolverines have two major weaknesses, one of which is the turnover that has decimated the defensive line. Starting tackles Mike Martin and Will Heininger have graduated, as has end Ryan Van Bergen.
The one returner, senior end Craig Roh, has moved from the weak to strong side.
Defensive coordinator Greg Mattison worked miracles with the defense last year, when he inherited the worst defense in school history and crafted it into a top-20 unit nationally. Michigan allowed 30 fewer touchdowns, and finished sixth in points allowed.
He'll have to start over up front, though, where junior Jibreel Black has moved from end to tackle and Campbell will be counted upon as a full-time starter for the first time in his career.
Sophomore Brennen Beyer, a converted linebacker expected to compete for the starting job at weak-side end, may have that job thrust upon him -- whether or not he's ready -- due to Clark's legal issues.
Mattison and Hoke will have their work cut out for them as they prepare the Wolverines for their opener against Alabama, which features three offensive linemen on various All-America teams.
The defensive line is Michigan's most questionable position group heading into camp.
3. Is the passing game ready to leap forward?
Brady Hoke will be speaking to the media. That means he'll be asked about Denard Robinson, his star quarterback.
The senior guided Michigan to 33.3 points per game last year, the Wolverines' most prolific season since 2003. He did it despite transitioning away -- at least incrementally -- from the spread-option he was recruited to operate.
Yet, Robinson's play was uneven. For as well as he played against Nebraska and Ohio State, he played every bit as poorly against Michigan State and Virginia Tech. Turnovers were his biggest demon, as he racked up a Big Ten-worst 15 interceptions.
Hoke and offensive coordinator Al Borges said turnover prevention was a focal point of spring camp, and that they saw growths from Robinson as he began to understand what defenses did to confuse him.
Is he ready to do it in live-action?
Robinson isn't in this alone, either. The receivers were not productive last year, chief among them Roy Roundtree, who went from catching 72 passes in 2010 to 19 in 2011. Keeping him active in the passing game is a priority.
Roundtree also has switched to Junior Hemingway's old flanker spot, a development that began in the spring, continued during player-organized workouts in the summer and will pick up in earnest in preseason camp.
Michigan also is searching for a third receiver to start alongside Roundtree and junior Jeremy Gallon. Hoke will be asked to address where his returners stand (Jerald Robinson is considered the leader), and how his freshmen might fit in (Amara Darboh and Jehu Chesson could be factors).
4. How will the offensive line shape out?
Like the defensive line, Michigan has sustained significant personnel losses on its offensive line. It has lost two starters, including the best center in the country in David Molk, and is expected to debut new starters at three spots against Alabama.
Molk's loss could be the single most significant departure on the team, rivaled only by Stonum's exit. He was a four-year starter and the ballast of the offensive line, both in play and spirit. Teammates credit him for aiding the development of younger players, notably Robinson.
Robinson will be taking snaps from a center other than Molk for the first time in his career. His chemistry with senior Ricky Barnum, Molk's replacement, will be an ongoing storyline.
Junior Michael Schofield has moved from guard to tackle, but picked up experience last year. The bigger question is who plays left guard, where sophomore Joey Burzynski started in the spring over fifth-year senior Elliott Mealer. A freshman, perhaps Kyle Kalis, could also be a factor.
Michigan relied heavily on the running game last year, and is expected to do so again next year. But with Toussaint's status uncertain, and new starters at three spots on the offensive line, there are questions about how quickly the Wolverines can pick up where they left off offensively.
5. How will Michigan react to its rising expectations?
The Wolverines were picked by the media to win the Big Ten title, and are the heavy favorite in the Legends Division, even though they have lost four consecutive times to intradivisional rival Michigan State.
How will they react?
Michigan hasn't faced expectations like these since 2007, the final year of the Lloyd Carr era. That means no current player has had to play with this kind of pressure, and its worth noting how they handle it throughout camp.
The scrutiny also will ratchet up a notch because the Wolverines don't have a tune-up game in which to iron out the kinks. They open the season in prime time against the defending national champs, and the nation will be watching.
Hoke himself is in a unique position. He built Ball State into a winner, but left before the bowl game of his banner year. He guided San Diego State to its first winning season in more than a decade, but then bolted for Michigan.
He's never had to sustain something he built, and he's never had to manage expectations like he will this year.
How does Hoke plan to keep his team sharp?
We're about to get a peek.
Kyle Meinke covers Michigan football for AnnArbor.com. He can be reached at 734-623-2588, by email at kylemeinke@annarbor.com and followed on Twitter @kmeinke.