Posted on
Sun, Aug 29, 2010 : 6 a.m.
Michigan offensive line evolves into one of the Wolverines' strengths
By Michael Rothstein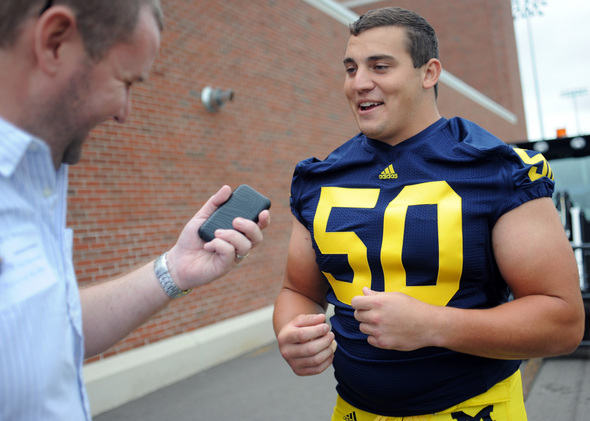 Melanie Maxwell | AnnArbor.com
David Molk crumpled to the Michigan Stadium turf last October, healthy for just four plays in the Penn State game before his season ended with an ACL tear in his right knee. At the same time, the rest of the Michigan football players couldn't help but look around and think, 'Oh, no.'
Michigan lost its last five games after Molk, a 6-foot-2, 285-pound center, went down. Molk started 15 consecutive games before a foot injury against Eastern Michigan in the third game of the 2009 season sidelined him for four games until his short return against Penn State.
Contrast that to this season, where Michigan expects to be deeper on the offensive line even after watching one preseason scrimmage. The players recognize it. So do coaches.
The Wolverines' likely starters - tackles Perry Dorrestein (senior with 12 starts) and Mark Huyge (junior with nine starts), guard Stephen Schilling (senior who has started 36 of 37 career games) and Patrick Omameh (sophomore who saw action in seven games last year) and Molk the center - all have experience. Those backing them up have talent.
"I never really go against the twos, but from watching the twos, I know the work those guys put in," fifth-year senior linebacker Jonas Mouton said. "They are getting to their blocks better and they are making plays.
"It looks pretty good."
Before practice started, Schilling, a fifth-year senior, said he believed the offensive line would be stronger this year. Now, two weeks in, he has seen evidence of it. And he believes in the line even more.
"There are more guys that are going to be able to play, which is good," Schilling said. "The full season, there are a lot of injuries. (But) it does allow us to play faster and play harder if coach (Rodriguez) feels comfortable playing 10 different guys.
"Nothing but a positive for our team."
Getting into double-digits might be stretching it, but Rodriguez certainly feels more comfortable with his blockers than he did when he arrived in Ann Arbor two years ago.
Then, Schilling was the only offensive lineman he had with experience. There was no depth.
"Two years ago, it's not even close," Michigan coach Rich Rodriguez said. "… Now, we have four or five guys that have started, guys that have redshirted in (Taylor) Lewan and (Michael) Schofield and Quinton Washington that are now ready to play.
"We still have not as quite as talented in the ones and twos as we'd like to be, but we'll have seven or eight guys when we're done with camp in a week or two that we'll feel comfortable playing."
That depth has allowed some of the Wolverines' starters to rest more during training camp. That can only be beneficial once the season starts.
"There's a few guys in there that could step in and we wouldn't miss a beat," Huyge said. "That's the key compared to the past couple years."
Michael Rothstein covers University of Michigan basketball for AnnArbor.com. He can be reached at (734) 623-2558, by e-mail at michaelrothstein@annarbor.com or follow along on Twitter @mikerothstein