Posted on
Wed, Sep 1, 2010 : 10:25 p.m.
Amid Big Ten changes, a lot stays the same for Michigan football team
By Pete Bigelow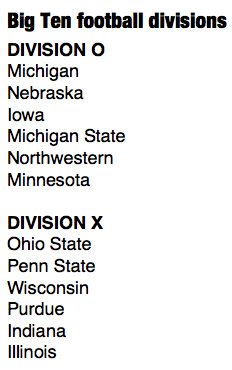 The
Michigan football
program anticipated far-reaching changes on its future schedule as a result of
Big Ten Conference
divisions.
Instead, the future, which begins in 2011, looks a lot like the past.
After much anticipation and angst, the conference announced Wednesday the Wolverines will continue to face Ohio State in the regular-season finale every year.
Michigan will face in-state - and now in-division - rival Michigan State every year. The Wolverines will play Minnesota for the Little Brown Jug every year.
As an added bonus, they'll play Big Ten newcomer Nebraska in an annual matchup of two of college football's storied programs.
"I don't know how it gets any better than that," Michigan athletic director Dave Brandon said Wednesday night on the Big Ten Network following the announcement.
Most Big Ten schools were eager to see which rivalries would be preserved in the divisional format, adopted as a byproduct of the conference adding Nebraska to its ranks in June.
It was a little different for officials at Michigan and Ohio State.
They assumed the annual meeting would still be played - the looming question was when. Bitter rivals, the two schools have played on the final weekend of the regular season every year since 1935.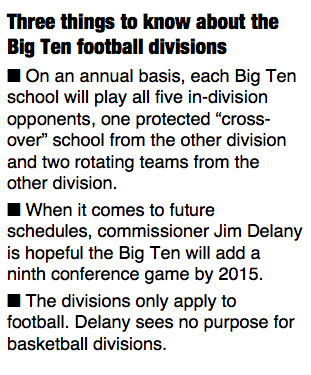 Conference commissioner
Jim Delany
said the league examined the possibility of moving the game to mid-November - never earlier - and Brandon said at one point in the negotiations, the end-of-season tradition appeared "in jeopardy."
A groundswell of angry fans opposed to that move helped convince conference officials to leave the Michigan-Ohio State game at the end of the regular-season calendar.
"I think we're off-base if we don't respect our fans," Delany said. "They're the basis of much of our success."
Fans didn't reserve their opinions for just Delany. Or for that matter, Ohio State athletic director Gene Smith and Brandon. Complaints of a potential change in the annual rivalry game reached as far west as Lincoln, Neb.
Some letter-writers blamed Nebraska's entrance into the league for the consideration, and by extension, Cornhuskers athletic director Tom Osborne.
"Some of them had been e-mailing me," Osborne said. "I'm glad that it worked out that way, because I won't be getting those e-mails anymore."
One complication presented by retaining Ohio State-Michigan at the end of the regular-season calendar is the fact the two schools could potentially meet in the Big Ten championship game.
Would a higher-stakes conference championship game de-value the regular-season meeting?
"We don't mind playing Ohio State twice in one year, if that's what the end result would be," Brandon said.
With the game's place on the calendar secure, it seemed like far less of a concern for Michigan that the two schools were split into different divisions.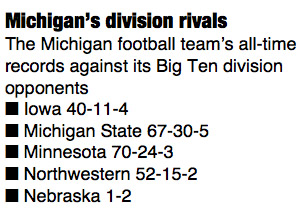 The Wolverines will play in what the Big Ten is temporarily calling the "O" division, along with Iowa, Michigan State, Minnesota, Nebraska and Northwestern, while the Buckeyes anchor the "X" division, which includes Illinois, Indiana, Penn State, Purdue and Wisconsin.
Delany said maintaining a competitive balance between the schools was the highest priority in determining the divisions, followed by retaining rivalries and traditions. Geographic factors were a third factor, so long as they didn't override the first two priorities.
Delany said the Big Ten expansion study that began in December 2009 would continue under the original 18-month guideline set to examine the possibilities.
"We'll reconsider this in December," he said. "Come December, we'll have a discussion on whether this is a pause since Nebraska was added in June or is it a period. We've done an awful lot of research and due diligence."
Another item the conference will discuss at its December meeting is where future Big Ten championship games will be held.
The inaugural event is slated for Dec. 3, 2011 at Lucas Oil Stadium in Indianapolis. Delany is open to playing the game at other venues, including open-air stadiums.
"I will tell you this," Delany said. "I think we play football outdoors for much of November, so we are not closing the door on outdoor football. I think we'd be prepared to do that if it's the right set of circumstances."
Pete Bigelow can be reached at (734) 623-2556, via email at petebigelow@annarbor.com and on Twitter @PeterCBigelow.