Posted on
Mon, Oct 18, 2010 : 4:53 p.m.
Rich Rodriguez says Denard Robinson is OK; he'd like more kickers and more
By Michael Rothstein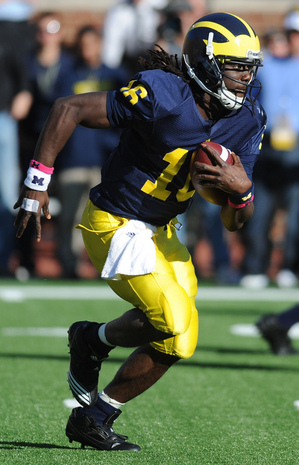 Melanie Maxwell | AnnArbor.com
Rich Rodriguez backed off, joking that he doesn't answer hypothetical questions. Then again, entering an off week, the Michigan football coach doesn't worry about whether or not his quarterback, sophomore Denard Robinson, would be ready to play.
He said he hadn't seen him as of lunchtime Monday, but he was optimistic.
"If we had a game, he could probably play Saturday," Rodriguez said, who said he expects Robinson to practice Wednesday.
Robinson, for a few weeks the Heisman Trophy frontrunner, was limited in practice last week leading up to the Iowa game after injuring his throwing shoulder.
He landed on awkwardly on his shoulder Saturday in Michigan's 38-28 loss to Iowa and sat out most of the second half.
Rodriguez is optimistic Robinson will be back by Oct. 30, when Michigan is at Penn State for an 8 p.m. (ABC, ESPN or ESPN2)
"More of a sprain," Rodriguez said. "Something in his rotator cuff that when you fall on it, it's aggravated or sore."
Robinson has 1,096 rushing yards and nine touchdowns. He's completed 97 of 143 passes for 1,319 yards, nine touchdowns and five interceptions. His 2,415 yards of offense already is the 11th-best single season of total offense in Michigan history.
Rodriguez said Robinson's injury is not like the one former starter Tate Forcier suffered a season ago, when he couldn't lift his arm after some games.
Kenny Demens impresses Rodriguez Redshirt sophomore Kenny Demens picked up his first start Saturday at linebacker against Iowa and finished with eight tackles, tied for second on the team with Jordan Kovacs.
He played enough to hold on to the spot - for now.
"He's played well enough that Obi (Ezeh) will have to beat him out in practice the next week and a half, I guess," Rodriguez said. "But Obi, he went in there and did some decent things.
"But that competition will be ongoing, for sure."
Martavious Odoms' surgery goes well Rodriguez said Martavious Odoms' surgery to repair a broken foot suffered against Michigan State went well. He doesn't know how long the rehabilitation and recovery will take.
It is unlikely, though, Odoms would return for the rest of the regular season at least.
"That's a tough blow because he was playing pretty good football and was pretty scrappy," Rodriguez said. "If we can get him back by the end of the year, then we'll use him."
Rodriguez also said he expects defensive tackle Mike Martin and center David Molk to return from ankle injuries in time for the Penn State game. The same goes for running back Michael Shaw, who tweaked his knee and played sparingly against the Hawkeyes.
The search for a kicker Michigan has one kicker, redshirt freshman Brendan Gibbons, on scholarship. Punter Will Hagerup is also on scholarship.
And Rodriguez has said several times this season he'd welcome students who want try to walk-on as a kicker.
Now, with two scholarships eaten up and a walk-on, Seth Broekhuizen, handling the kicking, Rodriguez said he's still looking for kickers.
"We can't talk in specifics about recruiting," Rodriguez said. "But we're looking, all over the country."
Michigan had its one field goal attempt blocked Saturday, and then the Wolverines watched as Iowa picked up the ball and returned it to midfield. It was a play that Rodriguez said he took the blame for because his staff didn't inform the unit of what to do.
"We talk to our defense all the time that if we block it, scoop and score," Rodriguez said. "If it is on our side, you want to get away from it.
"We didn't do a good job talking with our field goal unit on the same issue. Normally if you kick it and it is on their side, they'll get away from it because it becomes a live ball if they touch it. We had guys just stand around, but the whistle's not going to blow until someone puts their hand on the ball or the official deems it's a dead play. So we learned our lesson from that, but it wasn't a good play for us."
Pros and cons of the Alabama game When Michigan athletic director Dave Brandon had a conversation with Rodriguez about scheduling Alabama in a one-off game in 2012, there was some hesitation.
The schedule, from looking at it in 2012, could be difficult with road games at Notre Dame, Ohio State and Nebraska along with a neutral site game against the Crimson Tide.
Then Rodriguez thought about it and realized the positives would outweigh the difficulty of playing a tough schedule and losing a home game in 2010.
"Pretty tough road schedule," Rodriguez said. "But weighing the pros and cons, we did that and I'm sure Dave did that as far as, let's see, Denard will be a senior, these young guys playing now will be juniors, so we looked at that a little bit.
"The hesitation we probably had was giving up a home game to do that. Would our fans be excited about going? I think there will be a lot of excitement about that because people will talk about it over the summer. And it's a great venue, from what I understand, and, obviously, two well-known programs."
This and that Michigan will be off Monday and Tuesday before practicing Wednesday, Thursday and Friday. … Rodriguez said he'll watch film with coaches Saturday and then watch opponents play. He's also hoping to get to his son Rhett's junior football game. … Michigan's assistant coaches are recruiting Monday and Tuesday.
Michael Rothstein covers University of Michigan basketball for AnnArbor.com. He can be reached at (734) 623-2558, by e-mail at michaelrothstein@annarbor.com or follow along @mikerothstein