Posted on
Wed, Feb 1, 2012 : 4:36 p.m.
Anchored back in Michigan, Fred Jackson stresses importance of recruiting 'your backyard'
By Nick Baumgardner
Fred Jackson's journey on the 2012 recruiting trail had bittersweet results.
Normally a recruiter who excels at pulling kids from Louisiana and Texas, the longtime Michigan football running backs coached was forced by head coach Brady Hoke to spend more time at home this season.
The Wolverines' 2012 recruiting class benefited from the move. Jackson's frequent-flyer miles, though, didn't share the same fate.
"That's killing me," said a grinning Jackson, who began his career at Michigan in 1992. "That, and (I'm losing) my Marriott points.
"That's been real rough."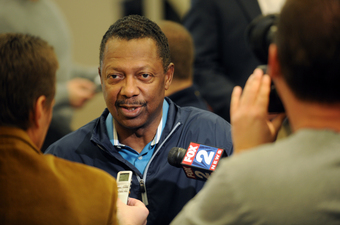 Melanie Maxwell | AnnArbor.com
Hoke's first full recruiting season at Michigan resulted in a top 10 class nationally. But, perhaps just as important, it featured a great deal of local talent.
Michigan signed nine players from the state of Michigan and nine from Ohio, meaning 18 of the Wolverines' 25 announced signings Wednesday came from their own backyard.
Under former coach Rich Rodriguez, Michigan signed five in-state players in 2008, four in 2009 and four in 2010.
This season, Hoke, with a big assist from Jackson, netted seven of the top 10 in-state prospects, according to Rivals.com.
"I don't think you can build a core to your football team, unless you take care of your back yard," said Jackson, who was also a member of Rodriguez's staff. "To me, you've got to canvas the Midwest, like Brady did, and cherry pick everywhere else. There's enough good football players in Michigan, Ohio and Illinois to build a team.
"That's the way we used to build it when I first got here. Obviously Bo (Schembechler) knew what the hell he was doing. And then (Gary Moeller) and Lloyd (Carr), that's what they did."
With Jackson planted back home, Hoke was successful in out-dueling Michigan State for local prospects. In total, the Spartans scored just three commitments from Rivals' top 15 in-state players.
Jackson said he recruited eight players from Michigan, and was able to score a signing from seven of them. And, interestingly enough, all seven of those prospects had MSU offers.
"Michigan State offered every kid (I got a commit from), and Ohio State offered most all of them," Jackson said. "With a school like Farmington Hills Harrison, all the kids from there (usually) go to Michigan State. But if I hadn't gone into that school, (Mario) Ojemudia and (Devin) Funchess wouldn't have come here.
"I don't care what happened in the past, I was going to go in there and do the best job I could do."
In addition to Jackson's success in Michigan, Hoke and the rest of his staff also seemed to have a field day in Ohio.
The Wolverines scored the top overall recruit in Ohio, five-star offensive lineman Kyle Kalis. And with the signing of linebacker Joe Bolden, Michigan grabbed two of Ohio's top five players, per Rivals.
"Over the years, Michigan coaches have taken a lot of pride in how they recruit northwest Ohio," Hoke said. "And those relationships with coaches have been built up over many years."
Hoke didn't really get into specific detail about recruiting battles with MSU coach Mark Dantonio and new Ohio State coach Urban Meyer, just saying "we're going to run into them, and we're going to compete."
Jackson was a bit more specific about the fierceness of local battles, but admitted it's simply part of the recruiting experience.
"I'm telling you, to be able to hold on to a kid from June to February, it's tough," Jackson said. "When a kid tells you he's going to Michigan, then all the other schools can shoot at you, and it's difficult.
"It (can get dirty), but you know what, I'm used to it."
Under Rodriguez, Michigan was criticized for its inability to maintain its footing in the state.
With Hoke, and Jackson's frequent-flyer sacrifice, the Wolverines seemed to have gotten back to their local focus.
"This was the first time I really had an opportunity to recruit the Detroit area," Jackson said. "But I went in there, and all the coaches knew me.
"But, hell, since I coached Tom Harmon, everyone probably knows me anyway. ... It was easy for me."
Nick Baumgardner covers Michigan sports for AnnArbor.com. He can be reached at 734-623-2514, by email at nickbaumgardner@annarbor.com and followed on Twitter @nickbaumgardner.