Posted on
Mon, Aug 26, 2013 : 3:11 p.m.
Ann Arbor ranked top Big Ten city for football fans
By Pete Cunningham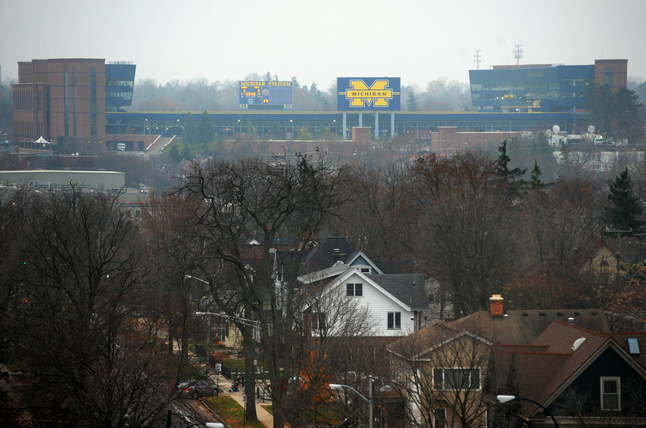 Melanie Maxwell | AnnArbor.com
Ever wonder which of the Big Ten cities is the best to live in if you're a college football fan? No need to block off the fall for a road trip,
the Moveto Real Estate blog has done the leg work for you.
According to the blog, which explores the "lighter side of real estate," Ann Arbor is the best city in the Big Ten to live in if you are a fan of college football. The author of the post, David Cross, is an Ohio State alumnus and fan, so any talk of the evaluation being biased can be thrown out the window.
"It is with a heavy heart and downcast eyes that I report to you the findings of the latest Movoto Real Estate's Big Deal List," Cross writes. "I found that Ann Arbor, the birthplace of Michigan State, OSU's nemesis, was, in fact, the best city for Big 10 football diehards."
We'll forgive Cross the typo of claiming that Ann Arbor is the home of Michigan State rather than Michigan, and assume again that this is a sign that the decision making process was without the bias of fandom.
According to the post, factors that did influence Cross's very formulaic decision were the city's sports bars per capita, and the number of sports radio stations available in the area.
Science at its best!
Pete Cunningham covers sports for AnnArbor.com. He can be reached at petercunningham@annarbor.com. Follow him on Twitter @petcunningham.