Posted on
Tue, Jun 5, 2012 : 5:59 a.m.
Brady Hoke, Jim Delany don't agree on notion of college football mega conferences
By Nick Baumgardner
Jim Delany admits his crystal ball doesn't feature 20-20 vision, but when asked Monday if he believes college football is headed toward a four-league super conference model, he said no.
Or, at least, he hopes not.
The Big Ten commissioner surely can't predict the future, and neither can Brady Hoke. But count the Michigan football coach among the crowd who disagrees with Delany about where things are headed across the college landscape.
"I think really, in about three years, you'll see four super conferences, and I think the Big East will go away and maybe the ACC," Hoke told the Dayton Daily News last week, "But look, I'm just a coach. I don't know all of it."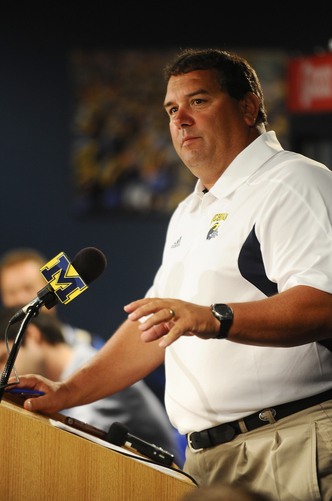 Melanie Maxwell | AnnArbor.com
While answering questions from reporters during a teleconference, Delany said he's not a "consolidationist" by nature, and doesn't foresee a scenario involving four super leagues -- with everyone else left out in the cold.
"I read it on the blogs, but personally, I'm not a consolidationist," Delany said. "I think what you'll see is some conferences grow and some stay where they are (but nothing more)."
Delany went on to explain how history proves that it's not simple for high-volume leagues to maintain full membership and success over time.
He cited the Western Athletic Conference, a league that once featured 16 teams but now sits at eight. Without actually naming it, he also cited the Big 12 as a conference that struggled to find stability and grow during constant realignment shifts.
"We had one 16-team conference, it was the WAC, and it didn't stand very long," he said. "We had another conference that went to 12 members, and then had to add two to get back to 10. We've seen the Big East morph in a variety of ways.
"I think one of the most underrated qualities of any conference is its stability and the glue that holds it together."
Delany has maintained for some time that the Big Ten has no current plans to expand any further, consistently explaining how the league is comfortable playing its current members on a year-to-year basis.
With 16 teams in a league, teams don't get the opportunity to play one another year in and year out. That, in turn, hurts traditional rivalries, and -- at least in Delany's opinion -- hurts the league as a whole.
"The larger you are, the less you play each other," he said. The less you play each other, the less tradition you have and the less those games tend to mean unless they're repeated over and over.
"I'm not a consolidationist, I expect some people will continue to grow, but I don't expect to see the ultimate four 16-team leagues and somehow that feeds into a postseason. I don't think that's likely, but who's to say? My crystal ball's not that clear."

Big Ten to distribute $284 million
Big Ten member schools will see a record level of money enter their coffers courtesy of the league itself.
Delany announced Monday that the Big Ten will spread a record $284 million over its 12-school membership.
According to an ESPN report, the league spread $251.9 million over its 11-team membership in 2010-11. Last week, the Southeastern Athletic Conference announced it was spreading $241.5 million to its 12 teams, also a record.
While the rich are seemingly getting richer, the league's newest member -- Nebraska -- won't get its full share of the wealth just yet.
On a conference call Monday, Nebraska chancellor Harvey Perlman declined to reveal the exact percentage that the Cornhusker programs will receive this season and also declined to say when, exactly, Nebraska will get an even share.

BTN becoming a true national network
Also on Monday, Big Ten Network president Mark Silverman outlined some of the new numbers being enjoyed by the league's official television outlet this past season.
Silverman explained how BTN is now seen in more than 50 million homes, and actually has more viewership outside the nine Big Ten-based states than it does within the conference's current footprint.
Silverman added that BTN has more than 30 million subscribers to "BTN2Go," the network's mobile application. In addition, BTN programming is now seen in more than 20 countries across the world.
And, finally, he confirmed that BTN will introduce a football-based version of the popular program "The Journey," which is set to begin this fall.
Nick Baumgardner covers Michigan basketball for AnnArbor.com. He can be reached at 734-623-2514, by email at nickbaumgardner@annarbor.com and followed on Twitter @nickbaumgardner.
Want to stay connected to Wolverine basketball in your Facebook newsfeed? "Like" AnnArbor.com's Michigan Basketball News & Views.