Posted on
Mon, Jul 30, 2012 : 5:58 a.m.
Brady Hoke breaks down Michigan's tailback options if Fitz Toussaint misses time
By Kyle Meinke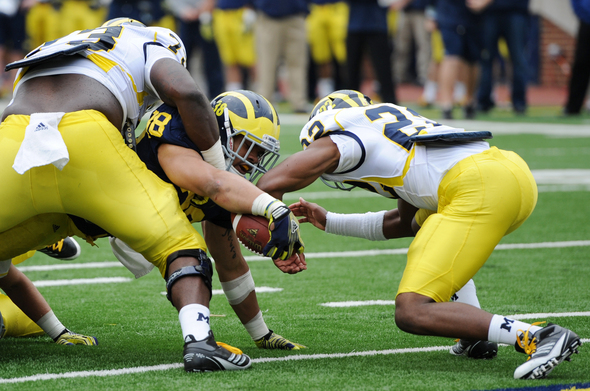 Melanie Maxwell | AnnArbor.com
It took the
Michigan football
team an entire offseason, then three-quarters of the season itself, to find a lead tailback last year.
Now, it might have to retrace those steps.
Fitz Toussaint won the derby to be Michigan's featured tailback, but his status for this year's opener against Alabama is unknown after he was arrested a week ago on a drunken-driving charge.
He has yet to be cleared to practice when Michigan opens camp in a week.
Coach Brady Hoke said he would make determinations on both accounts "down the road."
So, what is the contingency plan if Toussaint isn't available Sept. 1?
The leading candidates appear to be sophomore Thomas Rawls and senior Vincent Smith, and likely in that order. But each brings something to the table, and it's not out of the question they share snaps if Toussaint misses time.
Rawls is a sophomore from Flint who has been lauded profusely since arriving on campus last year. He received only 13 carries as a freshman, 10 of which came in the 58-0 blowout of Minnesota, but showcased his toughness in the spring game.
He scored Michigan's only two touchdowns of the day, making him the game's biggest surprise.
"I actually didn't know the guy could run like that until I saw him this spring," left tackle Taylor Lewan said last week at Big Ten media days in Chicago. "He runs angry, he runs mean and he runs fast. And I feel like you should do that, if you play running back, so I like that.
"I guess you could say a light came on."
Asked to describe Rawls' running style, Hoke simply said he's "hard to tackle. I wish I could really describe it more so, but he's hard to tackle. He's got some strength to him, and I think his vision's good."
But Rawls will be pushed for duties by Smith, who was Michigan's second-best tailback last year at 50 carries for 298 yards. The senior has logged 234 career carries, which makes him the team's most experienced back.
Hoke says he's "pound for pound" Michigan's toughest player, which makes him a force as a blocker.
"Smitty is one of those guys who can do about anything for ya, and he does a tremendous job," Hoke said.
Hoke made it clear either Rawls or Smith -- or both -- could earn Toussaint's snaps if the starter's a no-go against Alabama, but coordinator Al Borges said in the spring he sees Smith more as a third-down back, not an every-down back.
Rawls is considered a more forceful runner, which Michigan will need to complement quarterback Denard Robinson against the Crimson Tide's reigning No. 1-ranked rush defense.
"Vince plays a different role -- he's kind of a slash number, if that makes any sense to you," Borges said in the spring. "He'll come in the game and carry the ball a little bit, but he's situationally in the game a lot. Just as you'd put a third wide receiver in the game to replace a tight end, Vince goes into the game on third down.
"That doesn't fit as much into our first-down (scheme) as much as I'm talking about."
So, it comes down to whether Michigan wants to go with the less-experienced Rawls, who is a more capable runner, or the more-experienced Smith, whose potential is more limited.
Freshman Justice Hayes also is in the mix after redshirting last year, but Hoke said "he's probably the guy I want to see a little more out of still."
Hoke said he likes the athleticism of true freshmen Drake Johnson and Dennis Norfleet, but is waiting to see them in fall camp before making determinations.
That camp opens in seven days, and it appears there could be more jostling at tailback than first believed.
Kyle Meinke covers Michigan football for AnnArbor.com. He can be reached at 734-623-2588, by email at kylemeinke@annarbor.com and followed on Twitter @kmeinke.