Posted on
Tue, Jan 11, 2011 : 4:02 p.m.
'Passionate, enthusiastic' Brady Hoke named Michigan football coach
By Pete Bigelow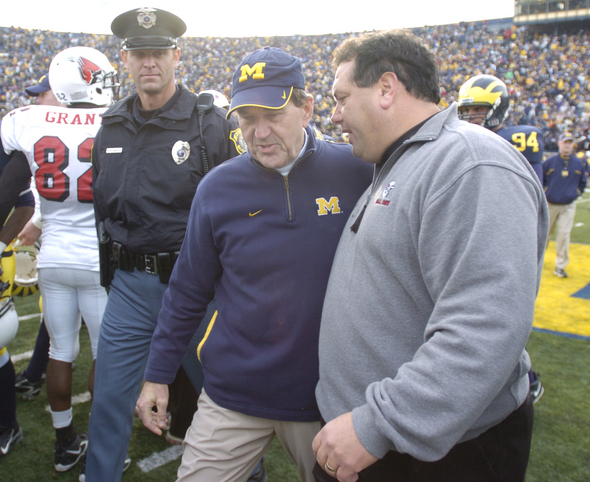 If there's one thing former Michigan football players remember about Brady Hoke's eight-year stint as an assistant coach at the school, it's his passion for coaching. "He's just a very passionate, very enthusiastic guy," former Michigan linebacker Jarrett Irons said. "I don't think I've ever heard anybody say they don't like him. He knows his stuff, too." Hoke was hired Tuesday afternoon as Michigan's next football coach. In eight years as a head coach, he turned around programs at Ball State and San Diego State while compiling a 47-50 record. Michigan made the announcement on its website at 4 p.m.
As a member of the Michigan's national championship staff in 1997, he helped the Wolverines lead the nation in rush defense in 89 yards per game. Under Rich Rodriguez, who was fired last Wednesday after compiling a 15-22 record in three seasons, Michigan's defense slumped to the worst in the school's 131-year history. Hoke will be formally introduced as Michigan's coach on Wednesday at 1 p.m. Brandon told the Michigan football players that he hired Hoke at a 4 p.m. meeting at Schembechler Hall.
Michigan President Mary Sue Coleman will not have a comment until the press conference, a university spokesman said, noting that Coleman has said all along that she'll support Brandon's decision. The Big Ten Network will televise and live stream Hoke's press conference.
"From what I understand, Hoke is a talented up-and-comer with a deep passion for the block M," said Michigan Regent Andrew Richner, R-Grosse Pointe Park. "He'll do well." He was named the Mountain West Conference coach of the year in 2010 after guiding San Diego State to a 9-4 overall record and a 5-3 mark in the conference. He led the Aztecs to their first bowl game in 12 years, a 35-14 win over Navy in the Poinsettia Bowl.
Hoke came to San Diego State a year after his Ball State team won its first 12 games and was ranked as high as No. 12 in the country. The Cardinals reached bowl games in back-to-back seasons under Hoke for the first time in school history. Hoke, a former All-MAC linebacker, said he understands what it takes to turn a program around."
"We have to believe we can win," Hoke told The Ann Arbor News in 2003. "Being at a program that's been really down, that's one of the biggest things. We have to go into it with the belief we can win this football game every time we take the field."
Hoke has a $1.5 million buyout clause in his contract at San Diego State. Even with Wolverines who didn't directly play for his unit, Hoke left an impression. "He was the D-line coach my redshirt freshman year, and he actually put it in Lloyd's head that I would have made a decent d-lineman," laughed Rueben Riley, a former Michigan offensive lineman who went on to play three years in the NFL. "I'm glad Lloyd didn't listen to him, but I know a lot about Coach Hoke," Riley said. "He's a very passionate man, and that's just a guy who can inform the players on why some of these games are so important. He has so much passion out there, and that's what was lacking these last three years."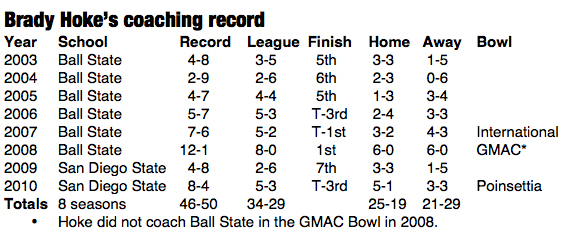 This story will be updated.
- Jeff Arnold contributed to this article
Pete Bigelow covers the Michigan football team for AnnArbor.com. He can be reached at (734) 623-2551, via e-mail at petebigelow@annarbor.com and followed on Twitter @PeterCBigelow.