Posted on
Sun, May 29, 2011 : 5:45 a.m.
Catching up with...former Michigan tight end Aaron Shea
By Michael Rothstein
Catching Up With ... is an occasional feature at AnnArbor.com where we chat with former Michigan athletes. If you have a suggestion for a future Catching Up With ..., email michaelrothstein@annarbor.com
After Aaron Shea left Michigan, he spent seven seasons in the NFL — six of them with the Cleveland Browns. He was a fourth-round pick by the Browns in the 2000 NFL Draft after catching 68 passes for 574 yards and five touchdowns during his career as a tight end/fullback for the Wolverines. He also ran the ball 27 times for 106 yards and two touchdowns.
After retirement and a year off, Shea began working as a suite salesperson for the Browns. He also had a prominent role in the "Brady 6" ESPN documentary and came to Ann Arbor earlier this month for the Hutchinson/Griese/Woodson charity golf tournament, which is where AnnArbor.com caught up with him.
Q: What have you been up to since you retired?
Aaron Shea: "Randy Lerner, the owner of the Browns, has been great. I came back, was a stay-at-home dad for a year and I went to a practice. Living in Cleveland, you're a Cleveland Brown. (He said) 'You went to Michigan and you have a degree in sport management and communication, why don't you come work for me?' That just says a lot about the Michigan degree. A lot of guys go play there and I'm sure they want jobs, but that whole Michigan thing, Randy is one of the reasons they hired me. He said my personality, and that had a lot to do with what coach (Lloyd) Carr instilled in me. Be accountable, be on time, be a great person, a family person who people respect."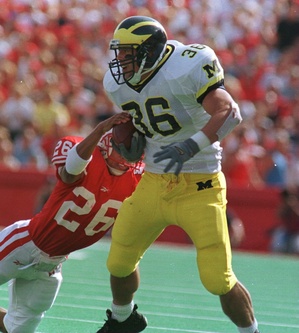 AnnArbor.com file photo
Q: Did you ever want to be involved in front office stuff and selling suites?
AS: "It's funny how people are like 'How did you get into selling suites?' I'm like, 'Well, I did a TV show on Browns.com, a show there. I help out with free agency, so I'm still around the game of football and then on game days I kind of walk the suites and I make sure the food's hot and the beer's cold."
Q: You like that job?
AS: "I love my job, love being around the game of football, getting to know (Browns head coach) Pat Shurmur. I've known Pat and I know Pat's a Michigan State guy, but he's a great guy. He recruited me. I've known Pat since 1994 and I couldn't be more happy with the way Michigan's headed and the way the Cleveland Browns are headed. Being around guys like Pat Shurmur, coach (Mike) Holmgren, (general manager) Tom Heckert, these are football guys. I'm a football guy. Who knows what the future holds, but as long as I'm working for the Browns, I'm a happy guy."
Q: What are those aspirations? Do you want to be higher in the front office?
AS: "I think you always want to move up. I set goals for myself but I've been told you have to be patient with your goals, work hard, keep your mouth shut and just do your job and things will take care of themselves."
Q: What did you think you'd be doing when you retired?
AS: "For a little while I thought I would be a stay-at-home dad. I have two in diapers, one out of diapers, taking one to preschool and going back, doing a nap and doing this ... so every stay-at-home mom and dad that are out there, much love and much respect. I did it for a year and I'm done."
Q: That was enough?
AS: "I was ready. Now, I'd love to be a stay-at-home dad. The kids are in school, but I've got my son coming (soon). This will be three and we'll be done. Well, 99 percent done. You never know."
Q: So between the suites and the show, what's your favorite part of the job?
AS: "I just think working for the Browns, being around football. I'm a football guy, love the game. How I watch a game, my wife makes fun of me. I could sit there and tell you the coverage and the front snapping my fingers. Even my dad, like most people, he follows the quarterback, follows the ball. I'm looking at fronts, possible blitzes, why you're audibling and I'm on Scout.com, Rivals.com watching high school film of these kids, of course on my lunch time, but I love the game."
Q: So you've turned into a superfan then?
AS: "I've turned into the guy I used to make fun of. You know what I mean. Give me a break, I love it. It's my passion. It's a lot of fun and Michigan, yeah. Yeah."
Michael Rothstein covers Michigan sports for AnnArbor.com. He can be reached at (734) 623-2558, by email at michaelrothstein@annarbor.com or follow along on Twitter @mikerothstein.