Posted on
Fri, Jun 3, 2011 : 5:58 a.m.
Catching up with ... former Michigan tight end Bennie Joppru
By Michael Rothstein
Catching Up With ... is an occasional feature at AnnArbor.com where we chat with former Michigan athletes. If you have a suggestion for a future Catching Up With ..., email michaelrothstein@annarbor.com
Bennie Joppru was a Michigan football captain in 2002 and an All-American tight end. During his Michigan career, he caught 85 passes for 800 yards and five touchdowns.
A second-round draft pick by the Houston Texans, Joppru spent six seasons in the NFL, from 2003-08, Houston, Chicago and Seattle.
After that, Joppru took a few years to figure out there rest of his life. AnnArbor.com caught up with him to find out what he's up to now.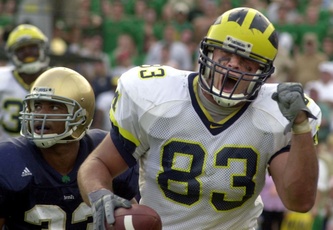 AnnArbor.com file photo
Q: What have you been up to the past few years?
Bennie Joppru: "I've kind of been wandering around, tried my hand at a couple different jobs, but started a job (in Minnesota) three months ago for a quote-unquote recruiting service, NCSA, out of Chicago. So that's been pretty rewarding, getting kids some college placement, especially kids that otherwise wouldn't ever ... get in touch with the colleges they end up going to. Or their parents don't even know they could have the opportunity to play in college. It's been a pretty unique experience for me just because in college I did a lot of growing up and learned a lot of valuable lessons and I want everybody who can to experience the college life, learning life's lessons you learn playing a sport in college, and I'm trying to pass that word along and help people out. Plus I found a job I actually like."
Q: How'd you find that?
BJ: "My younger brother had been working for them for about six or seven months and he said 'You need to check this out.' He works for them in a different capacity and so I checked it out and it felt really cool. There's a stigma with some of the recruiting services, obviously, so I did my due diligence and they've been around for 11 years, have a A-plus rating from the Better Business Bureau. Talked to some coaches that deal with them and they are respected. It's a pretty cool thing they have going on there."
Q: So what is your exact role?
BJ: "I'm a national scout, basically. Talk to families that are interested in the recruiting process. Talk to them on the phone and it ranges from 45 minutes to an hour. Talk about the recruiting process and see if their son or daughter is qualified academically and athletically for us. Sometimes people reach a little too far and their son or daughter is not a college athlete, athletically or academically. I show them what we do and the unique process that we offer and show it is something that can be mutually beneficial for both. Last year, over 90 percent of our student-athletes were placed with a college and the average first year financial aid was over $18,000. It's awesome to see it works. It's pretty cool."
Q: Are you working mostly with D-II, D-III type kids?
BJ: "It covers all, everything. We've worked with everybody from Division I all the way down to NAIA and junior college. We have relationships with all the schools and we have it down pretty good. You have to make sure just that academics are the biggest thing to qualify for this. If you're a hard-working kid and you have good grades and you want to play your sport in college, there are places to do that. The problem is that the smaller schools don't have the means to reach out across the country to go finding these kids. So it's where we come in, connect kids to schools that otherwise they'd never find."
Q: Are you dealing mostly with football?
BJ: "I deal with every sport but obviously I feel a lot more comfortable with football. It's just because that was what I had done. Talking to a women's softball player, it's the same thing because it's the recruiting process and the fear of the unknown with not knowing how the process goes. I've gotten familiar with a lot of obscure NCAA dates and whatnot. But it's been cool. It's amazing how many good families are out there that just don't know about the recruiting process."
Q: Besides that, what else have you been up to?
BJ: "I've been literally trying to start the next chapter. I had been spinning my wheels a little bit the past two or three years trying to find the right working situation. It's been kind of funny. I didn't get the two or three years out of college to kind of figure out what I wanted to do so I've been doing that. Lived in Las Vegas for a little while. Lived in Chicago. Worked with the Board of Trade up in Chicago for around a year."
Q: When you were in Vegas what were you doing?
BJ: "I was finding myself. I was out there, just out there settling in. I lived way off the strip and didn't do much of the whole strip thing, but it was interesting."
Q: Wasn't sure if you were going to say you were a blackjack dealer or something?
BJ: "Yeah, actually it crossed my mind to do that out there for a little while, but it's actually quite the process to get into that. It wouldn't have been a bad gig. Some of those guys make a good bit of money."
Q: Looking at Michigan, what are your thoughts on the future?
BJ: "I couldn't be more excited. I've been up there twice in the past two months, for the spring game and also for the Mott Children's, the golf outing that never happened. It feels like the way it should. They did a great job of reaching out to former players, everyone feels involved and everyone feels welcome. There was a weird feeling around there for the last couple of years and I don't blame coach (Rich) Rodriguez or anyone else for it. It just wasn't the right situation for anyone involved, I don't think. They are going around giving all these meet-and-greets across the country and coach (Brady) Hoke is going around and I think that's unbelievable, an unbelievable idea. I think we have an unreal athletic director in David Brandon out there and he just seems like he's pushing to move forward, move forward, move forward and every day we're making steps to move forward. On the other end of this, I think we're going to come out a better program when this is all set and done."
Michael Rothstein covers Michigan sports for AnnArbor.com. He can be reached at (734) 623-2558, by email at michaelrothstein@annarbor.com or follow along on Twitter @mikerothstein.