Posted on
Wed, May 16, 2012 : 2:40 p.m.
Michigan football players, Dave Brandon back 4-team playoff that includes bowl system
By Kyle Meinke
CHICAGO -- The Big Ten is sure to encounter pushback from fans, media and other conferences over its preference to include the bowls -- specifically, the Rose Bowl -- in any football playoff.
But there's at least one prominent group who favors it: The guys who will play the games.
Michigan athletic director Dave Brandon spoke extensively with reporters Wednesday after the Big Ten concluded its three-day spring meetings in Chicago, and, like his colleagues, said he supports a four-team playoff that includes the Rose Bowl.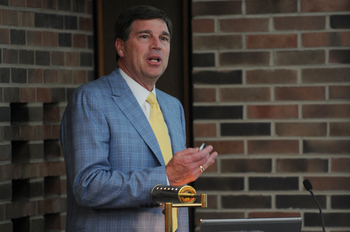 Melanie Maxwell | AnnArbor.com
Brandon had been a noted dissenter of implementing a college football playoff. He and Michigan president Mary Sue Coleman were some of the last holdouts against scrapping the BCS, according to recent comments by Big Ten commissioner Jim Delany.
Brandon, though, said his opposition has been mischaracterized. He said he's always favored a "plus-one" model, and opposed eight- and 16-team fields.
He said he backs including the bowls -- rather than hosting semifinals on campus, which could benefit the Big Ten against teams from the South because of the cold weather -- after conducting an informal survey of Michigan players.
Brandon said there was a consensus that favored including the existing postseason system, largely because of the bowl venues and their warm locales. He hopes to formally poll the players as the process unfolds.
"There's a strong bias of student-athletes to go to nice, warm locations to play in bowl games that are hosted by bowl committees," Brandon said. "They are treated great, and they get to play a competitor they don't normally play. I mean, that is a huge benefit to our student-athletes, and we're trying to be respectful of that."
It is somewhat surprising players back that model. The Big Ten previously discussed a system in which schools would host semifinals, a model that seemingly would favor the league.
Ostensibly, the Big Ten is better conditioned to play in cold-weather games than Southern teams. And, they've been disadvantaged in the current system, in which they're often playing in the South, against Southern teams.
"Frankly, it's about our student-athletes," Brandon said. "They love going to these warm climates."
Aside from the players' sentiment, Brandon said he wouldn't favor on-campus semifinals anyway because it wouldn't be a "fair fight" for Southern teams, and they likely wouldn't agree to such a model.
"I'm a big advocate for playing as many games as possible on campus, but I'm also a realist to know when you get to the point where you got those kinds of national games, with teams coming to various regions of the country, playing outdoors in the Midwest in January probably is not going to be a salable option," Brandon said.
Brandon said he knows travel could become expensive if bowls are included in a playoff, and would be a "big advocate" for providing families with financial assistance. That's already done in the men's basketball tournament.
Kyle Meinke covers Michigan football for AnnArbor.com. He can be reached at 734-623-2588, by email at kylemeinke@annarbor.com and followed on Twitter @kmeinke.