Posted on
Sat, Apr 28, 2012 : 6:24 p.m.
Michigan center David Molk falls to Chargers in final round of NFL Draft
By Kyle Meinke
This story was updated at 7:20 p.m.
David Molk was a first-team All-American last year, and won the Rimington Trophy as the top center in the country.
But that didn't make him the best pro candidate in the country. Size and injury issues led analysts to project the former Michigan football captain to land in the middle rounds of the NFL Draft -- and he fell even later than that.
Molk's wait finally ended Saturday when the San Diego Chargers selected him with the 19th pick of the draft's seventh and final round.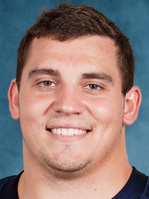 He was the second Michigan player off the board, following the Tennessee Titans' third-round selection of defensive tackle Mike Martin.
It has been an overall poor draft for the Wolverines, who had only one player taken in the first six rounds. That had happened only three times in the common draft era (1968, 1985, 1994).
Molk and receiver Junior Hemingway were thought to be mid-round picks, and defensive lineman Ryan Van Bergen was expected to be picked late after a strong pro day. But only Martin and Molk have been picked, and Molk dropped a long ways before he finally found a home.
Molk's fall was perhaps the most noticeable because he was such a fixture for the Wolverines. He was a captain, a four-year starter and won the Rimington last season.
He was projected as the second- or third-best center in this draft, but slipped to fifth following the selections of Wisconsin's Peter Konz (second round, Falcons), Georgia's Ben Jones (fourth round, Texans), Baylor's Phillip Blake (fourth round, Broncos) and Western Oregon's Jason Slowey (sixth round, 49ers).
The last one was surprising, as San Francisco -- and its coach, former Michigan quarterback Jim Harbaugh -- elected to go with the Division II Slowey.
"There are always obstacles that I've had to face," Molk told Chargers.com. "There's always limitations that people put on me and there's always something that people can say that I don't do well enough and something that I don't have that sets me back, and it's just proving them wrong over and over and over again until finally there's nowhere else to go."
Hurting Molk's stock were two factors. First, he suffered four right leg injuries at Michigan, most recently severing a tendon in his foot during warmups for the Sugar Bowl. He played through the pain in the game, but underwent postseason surgery and was not able to run for scouts.
Also, Molk's 6-foot-1 frame puts him among the shortest 10 percent of NFL centers. No player shorter than 6-2 has been drafted before the sixth round since 2001, when the Detroit Lions selected Nebraska's Dominic Raiola in the second round.
Even Jeff Saturday, who at 6-2 made five Pro Bowls with the Indianapolis Colts, went undrafted out of North Carolina. ESPN's Mel Kiper Jr. says Molk could have a similar career arc.
"David Molk, you thought, could be like Jeff Saturday. At least he was selected in this draft process," Kiper said on ESPN shortly after Molk's selection. "David Molk will, I think, make the football team and could be a starting center in the NFL."
Molk acknowledged in a recent interview all that was working against him, but maintained he believed he was the most talented center in the draft.
He's eager to show he is, once he's healthy enough to practice with his new team.
"I don't follow projections, but I know what people say," Molk said. "Stuff like that pisses me off. Any scout who denies me pisses me off. 'Oh, this is what you got. You're not good enough.'
"Well, (to hell with) you, let me show you what I got."
Molk is the first Michigan center to be selected since David Baas was chosen by the San Francisco 49ers with the opening pick of the second round in 2005.
When he joins the Chargers, he'll be reunited with former teammates Stephen Schilling (an old offensive linemate) and linebacker Jonas Mouton. They were drafted by San Diego last year.
Three of Michigan's past four draft picks have been selected by the Chargers.
Kyle Meinke covers Michigan football for AnnArbor.com. He can be reached at 734-623-2588, by email at kylemeinke@annarbor.com and followed on Twitter @kmeinke.