Posted on
Thu, Aug 2, 2012 : 5:59 a.m.
DC Greg Mattison to finish his career at Michigan, OC Al Borges could do same
By Kyle Meinke
Melanie Maxwell | AnnArbor.com
College football coaches put in hours that would make heads of state blush. And yet, given a few days off last month to vacation at his lakehouse on the state's west side, Michigan defensive coordinator Greg Mattison couldn't help himself.
He cut his holiday a few days short to return to his Schembechler Hall office early -- even though he knew he would be relegated to watching film, since he can't yet work with players.
And that's how he knows he's still got it.
Mattison said in a recent interview he plans to coach at least a few more years. At 62 years old, though, he also knows he's in the twilight of his career.
He acknowledged what many already believed: His career will end at Michigan.
"The good thing that happens when you're older and you've been a lot of places is, a lot of (coaches) want to win so they can move on," Mattison said. "Me? Hey, this is my last stop. I just want to win because it's Michigan."
Mattison is one-half of a coordinating tandem that has been heavily lauded for its work in Year 1 of the Brady Hoke era. But the other half, offensive coordinator Al Borges, is younger than Mattison and could have more opportunities before him.
The 56-year-old reportedly garnered interest from other schools this past offseason. Borges would neither confirm nor deny whether he received an offer, but did say he has given up his head coaching aspirations and is happy with his post at Michigan.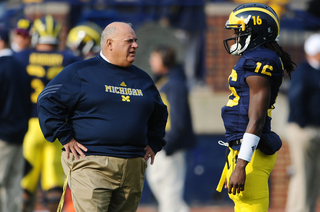 Melanie Maxwell | AnnArbor.com
MICHIGAN FOOTBALL LIVE CHAT
Join AnnArbor.com Michigan beat writers Kyle Meinke and Nick Baumgardner on Thursday for a pre-fall camp live chat. Come with questions about preseason camp, season expectations, and any other burning Michigan football topic. The chat will begin at noon.

"Now that I'm here, not really -- not like I did 10, 15 years ago," Borges said in a recent interview when asked if he still hoped to be a head coach. "I never say never, but by the same token, I don't go looking for them. Used to be I did, but I'm done hunting down head coaching jobs. I'm in a place where I'm very happy and I just want to make this job the best job I can make it.
"This is a great place to coach and to be, and for someone to leave here, you better be able to justify it. And I just don't see any scenarios that could justify me leaving the University of Michigan."
Hoke kept his staff intact after Michigan's highly successful 11-2 season, and it appears the guys at the top are in it for the long haul.
Mattison is entering his 36th season as a football assistant, a career that spans 15 jobs with 10 teams. He started as a graduate assistant at Illinois, then worked his way up to defensive coordinator posts at Notre Dame, Florida and twice at Michigan.
He also spent three seasons with the NFL's Baltimore Ravens before leaving last year for his current position with the Wolverines.
Mattison's work was cut out for him, after Michigan posted the worst defensive season in school history in 2010. But he proved to be the right man for the job.
The Wolverines allowed a scant 17.4 points per game, sixth fewest in the country, only a season after allowing 35.2 with the same core players. That resurgence was instrumental to the team's Sugar Bowl run.
"That's why I'm still here -- because I know how important it is for 'Michigan Men' to win," Mattison said. "That's what made this last year so special, for Mike Martin and Ryan (Van Bergen) and all those guys to be able to walk into a restaurant and everybody go, 'Wow.' If they wouldn't have won, it would have been bad because they would have been here four years and not had that, and that's not Michigan.
"That's the same thing that's going to be with this next group. Are you good enough to keep that thing going? That's why I coach."
Mattison did not provide a timetable for when he would step away from the game for good, but said he plans to continue coaching as long as his health holds up.
He already has had his left knee replaced, and now needs to have the right one replaced. Other than that, though, he says his health is good.
Mattison has lost 25 pounds this offseason in an effort to keep going. He rides a stationary bike daily at Schembechler Hall.
He's not yet ready to sail off into the sunset.
"At first, I thought I might do this for a few years," he said. "But after this last season ... my wife, she said it me, 'What else are you going to do? You are going to go golfing for about two weeks, and then you're going to go crazy.'
"'I said, 'You're right. I'm going to coach, as long as my health holds up, and as long as they want me, and as long as I can still keep doing the job.' "
Borges had similar success last year, when there were questions entering the season regarding how well his West Coast offense would mesh with dual-threat quarterback Denard Robinson.
The pairing proved to be a fruitful one, though, as Michigan culled together its best offensive season since 2003. It scored 33.3 points per game, 0.5 more than in 2010.
Borges received a lot of credit for bending his offense to suit the personnel. That, along with his more youthful age, led to his name being circulated for coaching vacancies.
Instead, he signed a new contract this offseason that is worth $650,000 annually, an 86-percent raise that makes him the third-highest-paid assistant in the Big Ten (not counting Northwestern and Penn State, which don't have to disclose financials).
That should help to keep Borges at Michigan for the foreseeable future.
He said he can't make a declaration such as Mattison's to stay with the Wolverines for the rest of his career, but did say he would be happy if his career ended that way.
"I would ride off into the sunset very happily if my last job was at the University of Michigan, without any real reservations about anything," Borges said.
Kyle Meinke covers Michigan football for AnnArbor.com. He can be reached at 734-623-2588, by email at kylemeinke@annarbor.com and followed on Twitter @kmeinke.