Posted on
Thu, Apr 19, 2012 : 5:59 a.m.
Denard Robinson cuts down turnovers, grows passing game 'immeasurably' in Michigan spring camp
By Kyle Meinke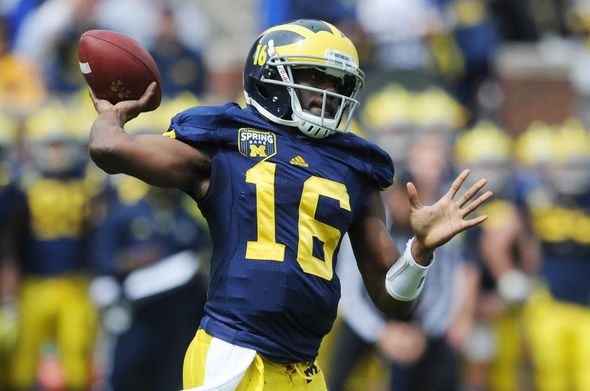 Melanie Maxwell | AnnArbor.com
Ask quarterback Denard Robinson how he's doing, and he'll say he feels more comfortable than ever in the passing game.
Ask offensive coordinator Al Borges, and he'll say Robinson has made drastic strides in his decision making and mechanics.
Ask coach Brady Hoke, and he'll say the senior has curtailed his turnovers in a big way.
It appears Robinson, already a dynamic runner, has made significant progress in the passing game after turning over the ball at an alarming rate last season. But for now, that's as good as we can do.
Ask.
Because, for the first time in Robinson's career, he had little to prove during the spring. Michigan took advantage of that stability and sat the dual-threat quarterback for most of its public scrimmage last weekend.
"It was swell watching the guys play," Robinson said.
TURNING IT OVER

Denard Robinson's one interception per every 17.2 pass attempts last season was the worst ratio for a Michigan quarterback since 2001.
2011: Denard Robinson 17.2

2010: Denard Robinson 26.5

2009: Tate Forcier 28.1

2008: Steven Threet 28.6, Nick Sheridan 27.4

2007: Chad Henne 30.9, Ryan Mallet 28.2

2006: Chad Henne 41.0

2005: Chad Henne 27.9

2004: Chad Henne 20.0

2003: John Navarre 27.0

2002: John Navarre 35.4

2001: John Navarre 15.9

Despite the mystery surrounding Robinson's passing, he didn't equivocate when asked why, exactly, he thinks he made so much progress this spring.
"Lack of interceptions, because as a quarterback, you have to (have) no turnovers," he said. "You have to be the No. 1 person that tells the team there's no turnovers, and we have to keep the team going.
"Turnovers were a big factor last year that kept a lot of teams in games. We hope to decrease the turnovers."
Robinson threw 15 interceptions last year, sixth most in the country. That's a high turnover rate for any quarterback, and especially for one who operates in a run-heavy scheme such as Michigan's.
That equates to one turnover every 17.2 throws, the worst rate by a Michigan quarterback since John Navarre threw one every 15.9 passes in 2001 (minimum 100 attempts).
It tied for the third-highest clip in the country last year (minimum 100 attempts). Only South Carolina's Stephen Garcia (13.1 passes) and Ole Miss' Zack Stoudt (15.0) were worse, and their teams went a combined 5-5 in games played by them.
The other teams with a quarterback who threw at least 15 interceptions went a combined 50-62.
The Wolverines went 11-2 and won the Sugar Bowl.
They also managed to field the 26th-best scoring offense in the country at 33.4 points per game.
Now, imagine if they didn't give away 15 possessions -- and valuable field position -- via interceptions?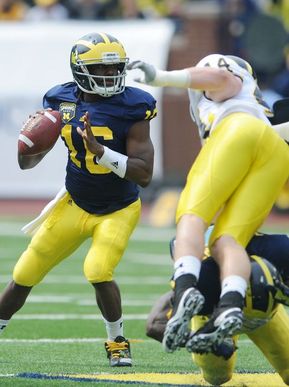 Melanie Maxwell | AnnArbor.com
Robinson intensified his film study in the offseason, trying to identify what precipitated his turnover woes. He found two things: He wasn't recognizing coverages quickly enough, and he threw off his back foot on many of his interceptions.
He's worked to correct those issues. In fact, Robinson said after the spring game he threw off his back foot only one time all of camp, and that was because of a blitz.
The result: Borges said Robinson threw one-fourth the interceptions this spring that he had in last year's camp.
"The two things that have gone away in Denard's game is falling off throws, or throwing off your back foot, as you say, and No. 2 is indiscriminate decision making," Borges said. "He had very, very few interceptions this spring. Very few.
"That's not unusual, now, for a guy that didn't understand the offense. I said that, last year, our passing game was a drastic disparity from what they had done in years past, and there's going to be some growing pains."
Robinson said he's made other strides as well, including with "getting into the fight," which basically means stepping up in the pocket.
It seems counter-intuitive because of his athleticism, but Robinson actually is a more effective quarterback in the pocket. His passing was much sharper there last year, as opposed to when he bounced outside.
Robinson also evolved off the field, where he has shed his soft-spoken persona as he takes on a senior leadership role. That becomes of increasing importance now, as the Wolverines enter the summer period.
Coaches can't organize or supervise workouts until the start of fall camp in August, which means the responsibility falls on players such as Robinson to expand on what was gained during spring camp.
"We have to take the step into the fall, because it's all irrelevant if you don't," Borges said. "But our passing game has enhanced immeasurably."
Kyle Meinke covers Michigan football for AnnArbor.com. He can be reached at 734-623-2588, by email at kylemeinke@annarbor.com and followed on Twitter @kmeinke.