Posted on
Sun, Feb 19, 2012 : 5:59 a.m.
Michigan's David Molk responds to issues hurting his NFL stock: Size, injury history
By Kyle Meinke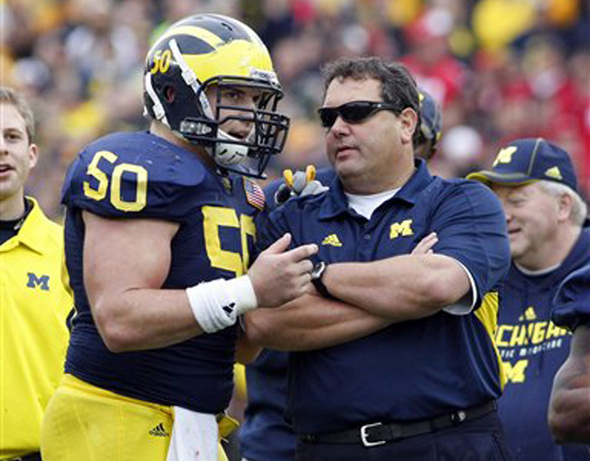 David Molk won the Rimington Trophy last season as the nation's best college center. It's clear he's not considered such by NFL scouts.
Once ranked the No. 2 pro center prospect by ESPN, the former Michigan football star has fallen to No. 5. He's No. 6 at the position according to CBS.
Molk even is slotted behind Wisconsin's Peter Konz and Ohio State's Mike Brewster, both of whom he beat out for Big Ten Offensive Lineman of the Year honors last season.
Molk said shortly after Michigan's season ended that he was hearing he'd be an early-round pick. However, NFL Network draft expert Mike Mayock said last week he doesn't expect him to be taken until the middle-to-late rounds.
Clearly, his stock is slipping.
That means Molk has something to prove this week at the NFL Combine -- only, after having surgery Jan. 13 to repair a ruptured tendon in his right foot, he will be limited to just the bench press. No running.
He's frustrated.
"You can see speed on film -- and I do have a lot of film, which will help me -- but putting numbers on paper is what the combine is all about and, frankly, that's what a lot of scouts and GMs will use to make their decisions," Molk said during a recent interview. "I just wish I had those on paper for them."
Molk arrives in Indianapolis on Wednesday and begins with media interviews, psychological testing and team interviews Thursday. He'll be joined later in the week by former teammates Mike Martin and Junior Hemingway.
Each has something to prove. The difference between Molk and the others, however, is he won't have a full complement of combine drills to swing things in his favor.
"It sucks I can't prove what I have," he said. "I've watched what the combine numbers come in at. I've seen it every year, and I can beat every single guy. I feel as if I could have gone into the combine and set a record in every single event, and that kills me."
Instead, Molk is relegated to team interviews and mental tests to answer the two biggest issues that are impacting his stock: His size and injury history.
Concern high regarding size

Mayock said his chief concern regarding Molk is how he will match up against bigger defensive linemen. He cited a particularly poor performance last season against Michigan State's Jerel Worthy, who stands 6-foot-3, 310 pounds.
Molk is listed by Michigan as 6-foot-2, 286 pounds. That's smaller than three-quarters of the NFL's centers. However, zone-blocking clubs such as the Green Bay Packers or Atlanta Falcons have employed small centers in recent years and could be interested.
"He's a little bit of a grabber instead of a puncher and very much a finesse guy," Mayock said. "I think what you're going to see is one of those zone teams, they like that kind of player."
Size concerns are nothing new to Molk, who faced them coming out of Lemont Township (Ill.) High School and again at Michigan. Yet, his size never seemed to bother him en route to becoming a four-year starter and one of the greatest centers in school history.
"I'm not worried about it," he said. "Let me put it this way: I've never had an issue with the length of my arms playing a football game. There hasn't been a single person I've played against where I've reached to grab him, and he has kept me away because his arms are so long and mine are so short."
Injuries to right leg mounting

Molk also will have to answer questions about his injury, and growing injury history.
The ruptured tendon will cost him a shot to run at the combine, and his status for the Wolverines' pro day March 15 is uncertain. He said he hopes to be at full speed in time for organized team activities (OTAs) with his new team.
More concerning, though, is the fact the tendon tear is not an isolated injury. Molk now has suffered four injuries to his right leg since breaking his foot in a 2009 game.
He returned to the lineup five weeks later, only to tear his ACL after four plays. He missed the rest of the season.
After working his way back to health for the 2010 season, a piece of bone chipped off in his right foot during preseason workouts. He played that season with the bone floating in his foot, then had a January surgery to remove it.
He never made that injury public.
Finally, after a healthy 2011 regular season, Molk suffered the ruptured tendon in pregame warmups for the Sugar Bowl.
Molk said he expects to face questions about his injury history during team interviews at the combine, and is ready for them. He'll also have the surgeon who performed his latest procedure, Dr. David Porter, in Indianapolis to lend support.
Asked if he thinks he's injury prone, Molk said, simply, "No, I'm not. I had one season (messed) up because of injury. Other than that, how many games did I miss? None."
For now, Molk is focusing on the one drill he can compete in: Bench press.
He's shooting to break the record of 49 reps (225 pounds) set last year by Oregon State's Stephen Paea. If he comes anywhere close to 50 -- and his trainer, Mike Barwis, says he has a shot at it -- it'd be a big step toward proving his mettle.
The top center at last year's combine, Syracuse's Ryan Bartholomew, posted 34 reps.
Molk appears primed to blow that away.
Will it be enough to climb back into the early rounds?
Kyle Meinke covers Michigan football for AnnArbor.com. He can be reached at 734-623-2588, by email at kylemeinke@annarbor.com and followed on Twitter @kmeinke.