Posted on
Sun, Feb 26, 2012 : 5:59 a.m.
Ex-Michigan receiver Junior Hemingway eyes 40-yard dash as he jostles for draft position
By Kyle Meinke
Updated: Junior Hemingway meets goal for 40-yard dash at combine
INDIANAPOLIS — Injury, illness and scheme prevented receiver Junior Hemingway from posting the kinds of numbers he would have liked in his Michigan football career.
So, he will try to post the right kinds of numbers Sunday at the NFL Scouting Combine. Low ones.
"I need to run faster than a 4.6, I know that much," Hemingway said Saturday of competing in the 40-yard dash. "I need to come out and just do what I do best, show what I've been doing all year. Run good routes and catch the ball."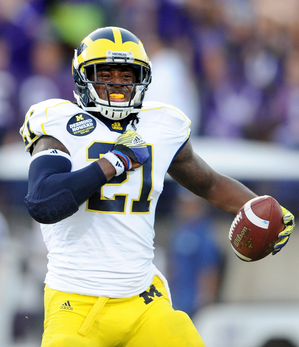 Melanie Maxwell | AnnArbor.com
Hemingway is a big-bodied wideout at 6-foot-1, 225 pounds, and is trying to break into the NFL at a time when pro clubs are looking for those kinds of receivers. He's strong, too, evidenced last season by his ability to consistently beat defensive backs to jump balls, then again Saturday when he posted 21 reps in the bench press at the combine.
That was only one rep off the lead among receivers.
But Hemingway remains a fringe candidate for the draft due to doubts about his speed, and whether he'll be able to create separation at the next level. He knows that, too.
So, since concluding his Michigan career by being named MVP of the Sugar Bowl, he's focused on wooing scouts with the 40-yard dash. And that day has arrived.
"I think I'll open a lot of eyes because, to be honest with you, I don't know what teams think I can run," Hemingway said at Lucas Oil Stadium. "I think they all think I'm slower than 4.6."
Hemingway has spent his postseason working out at Competitive Edge Sports, a training facility located near Atlanta in Duluth, Ga. That's about a six-hour drive from his hometown of Conway, S.C.
He is training with several other NFL prospects, including former Virginia Tech receivers Jarrett Boykin and Danny Coale, whom he beat in the Sugar Bowl.
Hemingway said he's shooting for around 4.5 seconds in the 40-yard dash. His fastest test run was around 4.63 seconds, but that was with a weighted vest.
He'll find out more today about his true time, and he's feeling good about it.
"I'm just going to go, and try to prove everyone wrong," he said.
Hemingway said he had interviewed with the Houston Texans, Minnesota Vikings, Pittsburgh Steelers, Cincinnati Bengals, Kansas City Chiefs and Tennessee Titans by Saturday afternoon, with more one-on-ones planned for that night.
He said teams haven't asked much about his injury and illness history, which sidelined him for stretches of his first four seasons with Michigan. He finally was able to stay healthy last season, and he put together a career year.
Hemingway hauled in 34 catches for 699 yards and four touchdowns, all career highs. However, those are modest numbers compared to those put up by a lot of the receivers against whom he's jostling for draft position.
He also played three seasons in the spread-option of former coach Rich Rodriguez, a system that de-emphasized the downfield passing attack -- which proved last year to be Hemingway's forte. However, he doesn't think that experience diminishes his draft positioning.
"I don't think it really hurt me, being that I played in three different offenses," Hemingway said. "I think it's pretty good, because I was able to learn three (systems). ... That might help me out on the learning curve."
It might help him in the NFL, but could hurt him getting there.
That makes his 40 time this week all the more significant.
No luck locating stolen valuables
Hemingway said there have been no leads as authorities try to track down the bowl valuables that were stolen last month from his father's home in South Carolina.
"We're just going to have to see what insurance will do at this point," he said. "Sucks, man."
Looking back on Iowa
Hemingway's lasting impression from this past season was his MVP performance in the Sugar Bowl, but ranking not far back is a play that wasn't ruled a catch at all.
In the closing seconds against Iowa, Hemingway caught a pass in the back of the end zone with Michigan trailing by eight. However, the officials ruled the play an incomplete pass and the Wolverines went on to lose the game two plays later.
That play still sticks with Hemingway.
"I was inbounds," he said. "Inbounds. My foot and knee was down. Inbounds.
"I watched it (later). I was so mad about that game. I was mad. I watched it. I thought I was in, but the referee thought something else. Can't argue with that."
Kyle Meinke covers Michigan football for AnnArbor.com. He can be reached at 734-623-2588, by email at kylemeinke@annarbor.com and followed on Twitter @kmeinke.