Posted on
Sat, Jul 31, 2010 : 1:45 p.m.
Football fans angry over bottled water ban at Michigan Stadium this fall
By David Jesse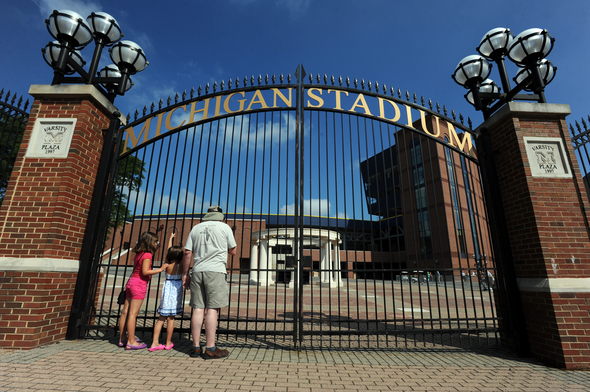 Lon Horwedel | AnnArbor.com
The entry was enough to make Don Ulisse read the letter multiple times.
Each time, it was there.
According to the letter accompanying his Michigan football season tickets, Wolverines fans will be prohibited from bringing bottled water into Michigan Stadium this fall.
"I thought it was a mistake, so I called to check," he said. "The lady who answered the phone said it wasn't. She said they had been getting a lot of calls on it."
Starting with the season opener against UConn on Sept. 4, bottled water is banned, university officials confirmed. They said the policy was enacted for a variety of reasons and free water will be inside for the 100,000-plus fans attending each game.
"I understand why they are doing it," Ulisse said. "They just spent all that money on the stadium. I'm sure they want to get some money back from the concession stands."
That's not the case, said athletic department spokesman Bruce Madej.
He said the ban is being implemented to speed the process of getting fans through gates and into the stadium. In years past, workers checked to make sure every bottle was sealed.
He said "many" football stadiums across the country have similar rules. Madej said the university is not looking to make money off the change.
Recent stadium renovations have added water fountains around the concourses, although the number of additions was not immediately known.
In addition, free cups of water will be available at each concession stand. Madej said the number of concession stands has also been increased. He said wider aisles will allow for faster trips to the concession stands.
Ulisse isn't buying it.
"The lines are going to be longer. Who's going to miss half a quarter of football just so they can get a drink of water? It's absurd."
He feared the university opened itself up to a lawsuit if someone passed out on a hot day and claimed they weren't able to get water.
Ulisse isn't the only one raising concerns. Madej said the university has received a "number of emails" and calls complaining about the change.
"I understand why they prohibit a lot of the things they do," said season-ticket holder Mary Erickson. "But I just don't get this. I don't see how it could be any kind of a security concern. I think they're just trying to get you to stand in line at the concession stand in hopes that you'll end up buying something else.
"I think some people won't want to go there just for a cup of water. I worry that people will get dehydrated and have issues, especially during the first couple of games when it's always still hot."
Madej said the university also wants to make sure its fans have a good experience at the game, and that includes having access to water.
"We want everyone to be hydrated while they are at the game. There will be lots of water available."
David Jesse covers education for AnnArbor.com. He can be reached at davidjesse@annarbor.com or at 734-623-2534.