Posted on
Mon, May 31, 2010 : 12:07 p.m.
Former Michigan athletic director Bill Martin adjusts to life outside his old office
By Michael Rothstein
For 10 years, Bill Martin spent his days and nights in the second-floor corner office of Weidenbach Hall, running one of the nation's largest athletic departments.
When Dave Brandon took over for Martin as the University of Michigan athletic director three months ago, Martin moved a few blocks north to the Fleming building - the university's main administration building - and into a temporary role working on short-term projects for university president Mary Sue Coleman.
It's been a smooth transition. Except for a few moments of misdirection.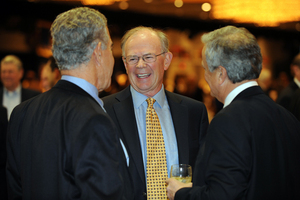 "I can't tell you the amount of times I missed the turn to the Fleming building and was on my way to Weidenbach Hall," Martin said over coffee last week at the Michigan Union. "I mean, I missed it a lot. I go, 'Damnit, I have to back up and go around again.'
"You do the same thing every day and I would miss the turn. I would laugh to myself, so that was kind of funny. You get in a pattern. So I had to break the pattern."
New driving directions merely underscore Martin's adjustment to life without the constant demands of an athletic department to run.
He took it from a unit in debt to a self-sustaining one. He rebuilt the university's athletic facilities, including his final project and part of the reason he'll be around until September.
Martin's career at Michigan will be complete after Michigan Stadium - his biggest project in his term as athletic director - opens on Sept. 4 against Connecticut.
After taking the job in a pinch in 2000, Martin figures it's about time he does something else with his life. He has no interest in staying on at the school, although he will remain in Ann Arbor.
"Not at all," Martin said. "It's time for me, at that stage, to say that it's been an honor and privilege to work at Michigan for over a decade but it's time for me to move on and let new blood sit in the chair."
The new blood, Brandon, already has implemented change. He announced the first night game in Michigan football history against Notre Dame in 2011 and has been the face of the athletic department during the university's investigation into the school's football team - a topic Martin declined to discuss.
Martin instead focused on his future. He said he received an offer from another university he refused to name to become its interim athletic director. He turned that offer down.
In September, he'll step aside and return to running the Bank of Ann Arbor, which acquired a new bank in Plymouth earlier in May. He'll stay on with the National Football Foundation as well as reapply himself to his sailing roots by working with the United States Naval Academy and its sailing program.
Martin is also going to travel - something he put aside while he ran the Michigan athletic department.
He hasn't decided on the first destination for himself and his wife, Sally, but Sweden is a viable option. Martin studied at the University of Stockholm for graduate school, earning a degree in 1963.
He said he hasn't been back since.
Making plans to return - and having the time to do so - is all part of the transition. "It's weird," Martin said. "It's a period of adjustment but I'm looking forward to it." Michael Rothstein covers University of Michigan sports for AnnArbor.com. He can be reached at (734) 623-2558, by e-mail at michaelrothstein@annarbor.com or follow along on Twitter @mikerothstein