Posted on
Fri, Apr 27, 2012 : 5:59 a.m.
Former Michigan DL Ryan Van Bergen told he'll be selected in 6th round
By Kyle Meinke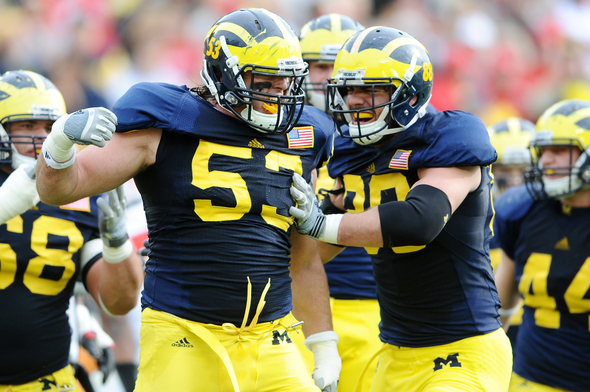 Melanie Maxwell I AnnArbor.com
Ryan Van Bergen was one of the most productive defensive linemen in the Big Ten the past four seasons. He also hurt himself in the Sugar Bowl this year, wasn't invited to the combine and couldn't run until two weeks before his pro day.
No matter.
The former Michigan football player still posted a time of 4.90 seconds in his 40-yard dash at the pro day. More than 40 scouts from 29 teams attended the workout -- and that, apparently, was all they needed to see.
Van Bergen says he has been told by the Houston Texans they intend to select him in the sixth round, if he's still on the board. Other teams have expressed similar intentions.
The first round was held Thursday night, with no Michigan players selected. The second and third rounds begin at 7 p.m. Friday, then the draft wraps up with the final four rounds Saturday.
Van Bergen knows a lot can happen between now and the sixth round, and being told he will be taken is a lot different than actually being taken. But for a guy who was expected to be an undrafted free agent by every major analyst, he's feeling optimistic about his chances.
And a little nervous.
"I'm anxious. Kind of nauseated, actually," Van Bergen said by phone Thursday night. "Once this thing is over, I'll be happy. Once we're past this, it'll be on to the next challenge."
Associated Press
Nerves aside, Van Bergen also is brimming with confidence, knowing he's in a great position to exceed every expectation set for him.
The Whitehall native played in every game of his Michigan career, and missed only one start in the past three years. He was productive in that time, too, finishing with 134 tackles, 26.5 tackles for loss and 13.5 sacks.
His senior season was his best yet. He finished with 12.5 tackles for loss and 5.5 sacks -- both of which ranked among the top 10 players in the Big Ten and more than doubled linemate Mike Martin, who is projected to be selected Friday during the second or third round.
But any chance Van Bergen had of being drafted appeared to disappear after he sprained a ligament between the first and second metatarsals in his foot during Michigan's Sugar Bowl victory on Jan. 3. He played admirably through the pain, but then was sidelined the next two months as he returned to health.
Already considered a fringe draft choice, Van Bergen sunk out of mock drafts entirely. But then he had the strong pro day -- his 40-yard dash time would have placed in the middle of the pack for defensive linemen at the combine, even though he had been running for only two weeks -- which enticed several teams to look at his tape.
"Then my phone started ringing off the hook," Van Bergen said.
Twelve to 14 teams called, with Kansas City, Indianapolis, Seattle, Houston and Baltimore expressing high interest.
The Texans loved what they saw, and told Van Bergen they intend to draft him in the sixth round.
The Ravens, though, could beat them to it. Van Bergen said he recently was called by a different Baltimore coach on three or four consecutive days. That included head coach John Harbaugh.
Van Bergen says it was his most memorable conversation he's had in his draft process. They spoke for only about 15 minutes, but hit it off while chatting about their Michigan connection.
Harbaugh grew up in Ann Arbor and his brother, Jim, played quarterback for Michigan. John Harbaugh also coached at Western Michigan with Wolverines defensive coordinator Greg Mattison, then hired him to his Ravens staff in 2008.
Mattison coached in Baltimore for three seasons, and coordinated its defense for two years before joining Michigan.
As a result, the Wolverines used the same defensive terminology and playbook as the Ravens last year, which Harbaugh loves about Van Bergen. He quizzed the lineman on the playbook, and Van Bergen says he nailed it.
"It was just an awesome conversation, definitely the one that stands out to me in all this," Van Bergen said. "I think Coach Mattison's connection to Baltimore really helps my chances of being drafted there, and I'd love to go there because of that familiarity. I'd already know the playbook, which would be huge."
Until then, he waits.
Van Bergen will spend the weekend at his parents' house in Whitehall, a small town located 15 miles north of Muskegon. No parties, no excursions -- and no ESPN or NFL Network.
He'll watch movies instead, or play cards and Tiger Woods Golf with his family.
He'll check Twitter periodically, to keep tabs on how his Michigan teammates are faring in the draft. Martin could go as soon as Friday, with center David Molk and receiver Junior Hemingway projected to be selected Saturday.
But that's as close as he will follow the draft while waiting for his phone to ring.
"Watching the draft, waiting for my name to be called or whatever, would be brutal," Van Bergen said. "I mean, torture. How could I just sit there and watch it?
"I'm just going to chill. It's going to be a long couple of days, but I'm not going to lie: I'm feeling pretty good about this."
Kyle Meinke covers Michigan football for AnnArbor.com. He can be reached at 734-623-2588, by email at kylemeinke@annarbor.com and followed on Twitter @kmeinke.