Posted on
Thu, Sep 2, 2010 : 7 a.m.
From 'never' to walking: Brock Mealer will lead Michigan football team onto field Saturday
By Pete Bigelow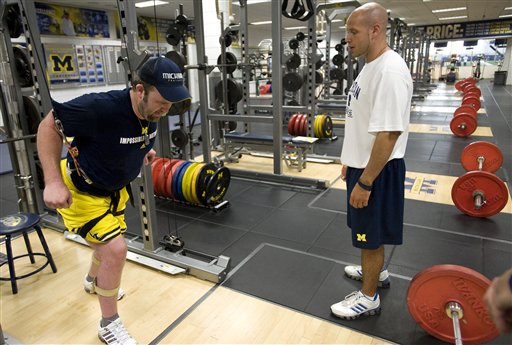 Associated Press
Doctors delivered the grim news. Brock Mealer would never walk again.
In the weeks after a car accident paralyzed him from the belly button down on Christmas Eve 2007, they said they could manage his pain. But he fractured his T-12 and L-1 vertebrae, and would be confined to a wheelchair for the rest of his life.
His mother insisted her son would walk, but doctors politely told Shelly Mealer that she didn't know anything about medicine. Don't live in denial, they said.
That's the line Brock remembered.
"One of the most vivid memories I have is the surgeon just giving me the news that this is the best I could hope for," he said. "They always wanted me to accept that fact."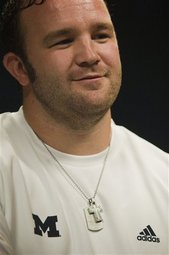 Associated Press
He did.
Pain diminished whatever resolve remained following the accident that killed his father and a brother's girlfriend. Brock believed the doctors. His mother's voice faded.
But in her bedside eyes, he saw something he could not see himself.
"When he got to Michigan and the hospital, he never believed me," Shelly Mealer said. "But he said that, looking in my eyes through the pain, he knew that I believed it."
In October 2009, nearly two years after the accident, Brock visited his brother Elliott, a survivor of the accident and football player at the University of Michigan.
An impromptu meeting with the team's coaching staff led to an invitation. The strength and conditioning staff didn't have experience treating paraplegics, but would Brock like to rehab with them?
This Saturday marks a milestone in that experiment.
Maybe Brock will use two canes, maybe one, maybe none. But before the season opener against Connecticut, he will walk under his own power through the Michigan Stadium tunnel and lead the Wolverines onto the football field.
Gut feelings
Shelly Mealer, 50, swears she's possessed just two gut feelings in her entire life. She had no idea the second - that her middle son, Brock, would walk again - would directly result from the first.
As early as fourth grade, she believed her youngest, Elliott, would be a Division I-A football player.
Her husband, Dave, tempered her enthusiasm with reminders of reality, but she just knew. It was almost funny to her, Dave's reluctance to share her confidence.
It was Dave who dressed Elliott from head to toe before every midget football practice and scrubbed his pants clean afterward. It was Dave who watched every snap from his parked truck.
Ultimately, it was Dave who pushed Elliott to separate himself from other big kids by jumping rope in the driveway, a challenge Elliott devoured.
"His dad said to him, 'Son, you want to be an Ohio State Buckeye? You have to jump rope twice a day,'" Shelly said. "Elliott would do it four times a day. If a kid asked him to spend the night, he'd say, 'No, I have to be a Buckeye.'"
Melanie Maxwell | AnnArbor.com
Scarlet runs deep through the Mealer family's northwest Ohio roots.
His grandfather carries a Buckeye in his wallet. Four uncles all cheer for the Buckeyes. His dad loved Ohio State.
Brock received an undergraduate degree in economics from Ohio State, and as a matter of fact, is still a student there, pursuing a master's degree in public affairs.
None rooted for Ohio State more fervently than Elliott, his bedroom a de facto shrine built to honor Brutus the Buckeye.
As he grew into high school, his mom's vision turned into reality and scholarship offers arrived - 14 in all, including one from the Buckeyes. Elliott Mealer was ready to realize his childhood dream. He took an official visit to Columbus.
"He just didn't feel it," his mother said.
Elliott had started attending church with his girlfriend, Hollis Richer. Unsure of what to make of the sudden doubt in his college destination, she urged him to place his trust in God.
Lloyd Carr called. He urged Elliott to consider Michigan. After an official visit, Elliott emerged from Schembechler Hall, climbed into his dad's truck and threw his head against the headrest.
"Oh, my God. Oh, my God," he told his stunned family. "God wants me to go to Michigan."
December 24, 2007
Weeks after Elliott verbally committed in November 2007, the Mealers celebrated Christmas Eve at the home of a cousin in Stryker, Ohio, no more than a 15-minute drive from their home in Wauseon.
Richer had accompanied Elliott, but been sick all night. On the way home, Elliott offered her the window seat so she could have fresh air.
At approximately 9:35 p.m., a car driven by T. Edward Johnson, 90, ran a stop sign at the intersection of Fulton County Road 19 and State Road 2. He collided with the Mealer's sport-utility vehicle, sending it spiraling into a ditch on its side.
Christmas music continued playing on the radio while chaos ensued.
Police pronounced Dave Mealer, 50, and Hollis Richer, 17, dead at the scene. Although Shelly's rear passenger seat bore the brunt of the collision with Johnson's Skylark, she and Elliott emerged with only bruises. Brock was trapped in the wreck.
Elliott raced to his brother's side, trying to tip the SUV upright and free Brock so fiercely that he tore his rotator cuff.
Later that night, the family, joined by oldest brother Blake, gathered at Toledo's St. Vincent Hospital. There, they learned from doctors that Brock suffered a spinal-cord injury and was paralyzed.
Amid their grief, the family prayed the doctors were wrong.
"The boys and I grouped together and decided if we sent Daddy and Hollis to Heaven, we just knew our prayers would be answered," Shelly Mealer said.
Living on a prayer
After 10 days at St. Vincent's, Brock transferred to the University of Michigan Health System, where he stayed for four months. On April 4, 2008, he moved home and began his life in a wheelchair.
On October 1, 2009, a letter from his insurance company arrived in the mail. He reached his limit of 200 outpatient medical visits. No more were covered.
Shelly Mealer was crushed.
She had endured weak moments before, hiding in her bathroom and calling Blake and Elliott for support. When Brock was in her presence, the eyes that promised so much in the hospital had never wavered.
But now, with no insurance, she felt hopeless. She wondered if her resolve hadn't been a façade. The Mealers were out of options. "We just lived on a prayer every day," Shelly said.
Three weeks after the letter arrived, the Mealers bumped into Michigan football coach Rich Rodriguez. Oblivious to the insurance turmoil, Rodriguez ended the meeting by asking Brock to come watch a practice and meet with the Michigan strength and conditioning staff.
Their hope was restored, and the timing took their breath away. It wasn't the first time the Mealers confronted circumstances surrounding the accident and its aftermath they could not explain.
Christmas gifts awaited survivors of the accident. Upon opening his gift from Hollis, Elliott found a brand-new Bible, with specific verses tabbed, telling him what to read should he feel scared, alone or frightened.
Shelly often joked with Dave that their Midwestern family was too perfect, that they hugged too much. She worried. "I'd say, 'Wow, something's going to go wrong,'" she said.
After allaying her fears, Dave would always tell her that should anything happen, he'd come back to earth as a red-tailed hawk.
She knows how it sounds. But she and her children see red-tailed hawks not just at random moments, but specifically at times when they're hurting the most or already talking about the family patriarch.
"It's just absurd, but we've had so many things like that happen," she said. "Trust me."
Dueling banjos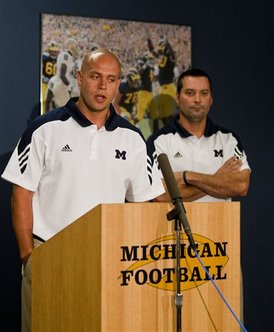 Associated Press
"Hey, you want to walk again, you know? I hear you've been trying rehab and stuff."
Brock Mealer isn't sure what startled him more: The question itself or the gravel-in-your-gut voice that accompanied it.
Before Brock can answer, the man with the Brando rasp says, "Why don't you hop on this," stuffs a core ball underneath him and starts an abdominal exercise. By the end of the meeting arranged by Rodriguez, Mike Barwis, Michigan's strength and conditioning coach, invites Brock back for more training.
"We were looking at the things physiologically that were wrong with him, and trying to identify what type of training we were going to do to try and encourage the response we wanted from the body," Barwis said.
Elliott warned his brother.
"I said, 'He's not going to take it easy on you," he said of Barwis. "He's on a different level in the weight room. He's crazy. Brock said, 'I'll try it.'"
At first, they meet twice a week.
Then three.
Brock, 25, drives from his graduate school classes at Ohio State to Ann Arbor, so exhausted he pulls over to sleep at rest stops along the way.
Then five.
Barwis and Parker Whiteman awaken Brock. They're unlike any of the rehabilitation specialists he worked with at hospitals who told him to accept his condition. Barwis and Whiteman not only believe he can walk, they demand it.
"They expected that and nothing less," Brock said. "I just wanted to catch some of that attitude, I guess."
The attitude, he caught. The determination, he already possessed. Brock earned his pilot's license in high school, attended grad school in the winter semester right after the accident. His mother says he's the hardest worker she's ever seen.
Other Wolverines stopped in the weight room to watch the spectacle unfolding. They arrived for their workouts when Brock had already been lifting for three hours, already had sweat through three outfits.
They'd find him zoned into his favorite musical selection, "Dueling Banjos." They cheered him on.
Elliott watched his teammates surround his brother, watched the Michigan family adopt him. It almost overwhelms him.
"I look back on it, and there' s a reason I grew up a Buckeye fan and I wind up at Michigan," he said. "I came to the conclusion there's a reason I'm still alive."
Although she's not in the weight room, Shelly Mealer is equally grateful.
"You go up to Michigan, and we hate to come home, because you don't get all that love," Shelly Mealer said. "They have all cheered my son on every day. It is an atmosphere that will carry me all the days of my life."
Big House debut
In the middle of spring football, Brock Mealer received a message. Rodriguez wanted to see him in his office. He thought he was in trouble. He entered the coach's office and closed the door.
Two weeks later, on the final day of spring ball, Rodriguez huddled the team on the practice field and told the Wolverines he had a surprise.
"We look over, and Brock is over there walking toward us, unassisted," said tight end Kevin Koger, Elliott's college roommate and a Toledo-area native who played AAU basketball with the Mealers growing up.
Rodriguez tells the assembled Wolverines that he and Barwis have hatched a plan. Brock approved it two weeks earlier in his office.
Rodriguez tells them that before the first game of the season against UConn, Brock Mealer will walk the Wolverines through the tunnel and onto the football field.
Michigan hopes the 109,901 fans expected in the Big House will join him on his feet.
Elliott and Blake will walk beside their brother. Shelly, directly behind her son.
At some point in the march toward midfield, the Mealers will look above the crowd toward the sky and search for a glimpse of a red-tailed hawk, soaring with a perspective all its own, seeing things they cannot see.
Pete Bigelow can be reached at (734) 623-2556 or emailed at petebigelow@annarbor.com. Follow him on Twitter @PeterCBigelow.