Posted on
Sun, Jan 29, 2012 : 5:59 a.m.
War-time orphan to big-time football: Michigan recruit Amara Darboh survives to become Freetown's Finest
By Kyle Meinke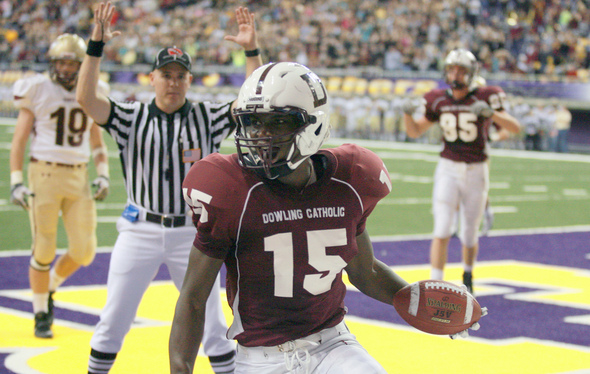 Bill Neibergall | The Des Moines Register
Amara Darboh
will sign a letter of intent Wednesday to play receiver for the
Michigan football
team.
It also happens to be his birthday, marking 18 years since he was born into carnage.
He entered this world Feb. 1, 1994, just as the civil war in Sierra Leone was beginning to escalate. More than 35,000 people died in his first five, war-torn years of life. His parents, Solimon and Kadita, were among them.
Solimon was a member of the military. Amara doesn't remember much else about either of them.
Meet Amara Darboh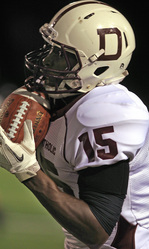 Bill Neibergall | The Des Moines Register
Size: 6-foot-2, 200 pounds
Hometown: Freetown, Sierra Leone
Nicknames: AD, Black Panther, Freetown's Finest
College number: 15
Ann Arbor arrival: June
Official visit player hosts: Roy Roundtree, Jeremy Gallon
Future teammate most excited to play with: Roy Roundtree
Favorite sport besides football: Basketball
Favorite athlete: Carmelo Anthony
Favorite team: New York Knicks, Oklahoma City Thunder
Favorite band: Wale, Maybach Music Group, Redd Kross
First CD he owned: 50 Cent's "Get Rich or Die Tryin'"
Favorite movie: : "Remember the Titans"
Favorite TV show: : "SportsCenter," "Family Guy"
Coolest campus he visited during recruitment, besides Ann Arbor: Notre Dame
Coolest place he's been to in Ann Arbor: Motivation (boutique store)
Hobbies: Video games, ping pong
Pairs of shoes he owns: 40 (lots of Air Max and Nike)

The 2-year-old was taken in by his aunt, older sister and other relatives in Freetown, the capital of the Western African country. They moved often, seeking refuge from the surging violence around them.
He recalls little about those years. Just the rain.
"I don't know why I remember playing in the rain," Darboh said in a lengthy telephone interview this week. "I can't remember much of anything, but I can remember that.
"It's hard for me to sleep sometimes, but whenever it's raining, it seems like I sleep better. Maybe that's it."
Darboh, now 17, has grown to become one of the finest high school football players in the country. He is a four-star wideout, ranked by Scout as the No. 32 overall player at his position.
He stands a taut 6-foot-2, 200 pounds, the kind of size Michigan will lack at that position next season. He could play right away.
It's another break in what is turning into a very fortunate life, thanks to football and the kindness of one Iowan family.
Heading west
After bouncing around Freetown, Darboh and members of his circle sought refuge in Gambia, then shortly in Senegal before finally securing a trip to the United States. They were among an estimated 2.5 million people who were displaced during the 11-year war -- or, almost half the country's population.
About 500,000 left the country all together.
A Christian group sponsored Darboh's clan, setting them up in a home in Des Moines, Iowa. Darboh, then 7, was cared for by his sister, Lovetta, who is 12 years older. Fourteen people lived in the house.
Life was hard for Darboh as a child as he adjusted to a new town, new people, new way of life. There was a language barrier.
He spoke Krio, a type of Creole language.
"I'd have to repeat words over and over and over for my teachers, so they would understand me," Darboh said. "It was frustrating. You think you're saying it right, but other people are like, 'Where are you from?'"
Grade school is difficult for those who stick out. That's especially so when you're a young African with broken English.
"There were times when I didn't know what to say to people," he said. "'Yeah, I'm from Africa, I just moved here a couple nights ago.' What else could I say?"
Meeting the Schaefers

Courtesy of Dan Schaefer
Things got better, though. His improving English gave him strength.
He was likeable, with a wide smile. He was athletic, too. Always athletic. That's how he met Max.
Darboh, now 8, received a scholarship to the Beaverdale Little League, where he was put on the same team as Max Schaefer. Max's father, Dan, was a parent assistant.
Amara and Max became like brothers.
Dan became close to him as well, noticing the unique bond between his son and Darboh. But he also sensed there was a need in Darboh's life.
One time, Dan asked Darboh to join the basketball team he coached. Darboh jumped at the opportunity, but didn't have shoes. They went to Foot Locker for a pair, and Darboh was adamant he already knew his size. They settled on a pair of Air Jordans.
"I don't remember the size he wanted, but it turns out the size we bought him was, like, two sizes too small," Dan said. "I thought to myself, 'What the heck is going on with that?'
"Well, come to find out, he didn't want the other guys in his household wearing his shoes. He wanted to make sure they were smaller than everybody else's so they wouldn't want to take them."
Darboh was living with six people in a two-bedroom apartment at the time, Dan said.
It wasn't much longer before Lovetta, Darboh's sister, approached Dan and his wife about adopting Amara.
"It didn't take us more than a couple hours to decide," Dan said. "We were pretty surprised. It's not every day you're asked to adopt a child.
"But when she approached us -- I don't want to get spiritual or anything, because I'm not a spiritual guy -- but it's kind of like it was meant to be. It felt right, and it's always felt right, looking back on the years we've had together."
Finding football
Darboh's bond to the Schaefers, and especially Max, continued to grow over the years, even as he developed into one of the top talents in the country.
He played soccer first. Dan says that probably was Darboh's best sport, one he used to play in cloth sandals back in Sierra Leone.
Later, it became basketball, before football finally came around at the start of his freshman year at Dowling Catholic High School.
Darboh originally didn't intend to play, but the varsity coach, Tom Wilson, had noticed his athleticism. Wilson approached Darboh a couple of weeks into the season about joining.
"To be honest, I just started playing because Max did, and some of the guys we hung out with did," Darboh said.
He joined the team several weeks late. He scored three touchdowns in his first game, Dan Schaefer said.
"Funny thing is, he still needed to get eye glasses," Schaefer added. "His vision wasn't great, and we knew that, and I'm like, 'Gosh, who knows how good you could be?'"
After becoming a star his sophomore season, Darboh, still big on basketball, traveled the country for football camps at schools such as Nebraska, Iowa and Notre Dame.
As the offers started to roll in, Darboh began to realize his future was in football.
Notre Dame. Florida. Iowa. Wisconsin. Nebraska. Michigan.
The one-time war-time orphan had earned a ticket to the big time — and a free education.
"The best way I can describe him is he's a survivalist," Schaefer said.
Looking forward to Ann Arbor
Darboh said he chose Michigan mostly because of the coaching staff, and how genuine he felt they were during the recruiting process. He also developed a close rapport with current players, including fellow receiver Roy Roundtree and his future quarterbacks, Denard Robinson and Devin Gardner.
He could be catching passes from them sooner rather than later.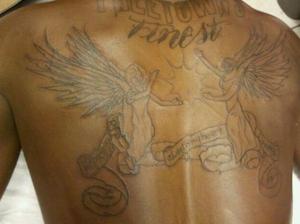 Darboh has been clocked as low as 4.42 seconds in the 40-yard dash, which is terrific speed, especially for someone of his frame. He also is praised for having sure hands, and his attention to the blocking game.
"I think he does have some potential to play right away," Scout Midwest recruiting analyst Allen Trieu said. "He's pretty filled out. He's good after the catch, that's the one thing I've really noticed about him.
"He can catch a lot of passes in traffic, and he's not afraid to go over the middle."
With so much ahead of him, Darboh doesn't dwell on the past, nor does he ask for sympathy.
"I'm more about moving forward, and not about the past," Darboh said. "I haven't even really asked about my parents and going through war. My sister isn't really that comfortable talking about it.
"I don't like to ask about the past, because bad memories come back, and I don't want my sister to think about that. I kind of just move on."
Same time, he's accepted who he is, and where he comes from.
In fact, he recently got a large tattoo on his back with the words "Freetown's Finest" hanging over two angels. The nickname comes from a cousin.
One angel represents his sister, who watched over him in his journey to America; the other, the aunt who took care of him after his parents' death in Sierra Leone.
"I stayed with her most of the time," Darboh said of his aunt. "I was more quiet and shy, so I was mainly with her when I was growing up. ... I feel like she's the one that taught me a lot of stuff about becoming a man."
That aunt stayed behind in Sierra Leone. She died in a car accident two years ago.
Darboh got the tattoo to honor her and his sister.
"They raised me to be Freetown's Finest," he said. "They raised me to be who I am."
Kyle Meinke covers Michigan football for AnnArbor.com. He can be reached at 734-623-2588, by email at kylemeinke@annarbor.com and followed on Twitter @kmeinke.