Posted on
Sun, May 16, 2010 : 2:19 p.m.
Griese/Hutchinson/Woodson golf outing raises more than $1 million and looks to the future
By Michael Rothstein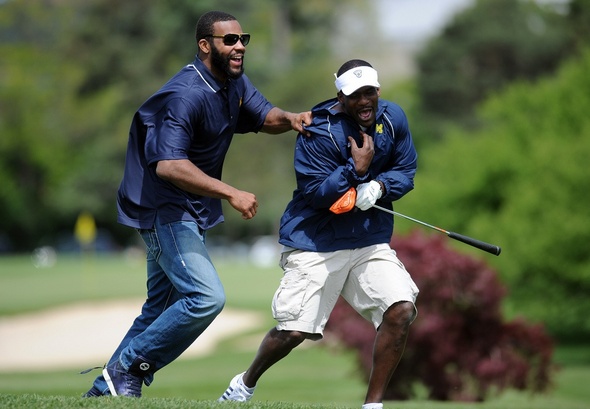 Melanie Maxwell | AnnArbor.com
It began as a one-day Monday event in 2007 with a round of golf and a banquet in a tent at the University of Michigan Golf Course.
What it has become, though, is what Brian Griese and Steve Hutchinson hoped.
The Griese/Hutchinson/Woodson Champions for Children's Hearts Weekend now is one of the marquee events within the Michigan football family. Part golf tournament, part fundraiser and total Michigan football reunion, it's also something else - a million dollar event.
After raising $1.2 million in its first three years combined, more than $1 million will go to C.S. Mott Children's Hospital this year, Griese said before he teed off Sunday morning.
"To raise a million dollars, in this economy, in this state, is not a small feat," said Griese, Michigan's starting quarterback on the 1997 national championship team. "… That was our goal. It was clearly stated, a lot of things came together to accomplish it, but that was a goal of ours."
With the new Mott Children's Hospital funded and being built to open in 2012, Griese, Hutchinson and Charles Woodson and the group's steering committee - which also includes Drs. Rick Ohye and John Charpie of the Michigan Congenital Heart Center and Michigan athletic director Dave Brandon - are searching for the next goals.
Griese said they are thinking about taking the event to multiple golf courses to "continue to build this thing out" and keep raising money for Mott and, potentially, other causes.
"We were talking the other night, when the hospital is built and 18 months from now when it is opening and running, what direction are we going to go with it," said Hutchinson, an offensive lineman who played 1998-2001 at Michigan and is currently with the Minnesota Vikings. "We have some options, whether it is going to continue to fund research, whatever the next step or option might be.
"I think people expect this and look forward to being able to contribute, so we'd be doing a lot of people an injustice if we were to not to continue."
The event has inspired other former players, like Philadelphia Eagles safety Marlin Jackson, to start golf outings. Jackson said he's putting together a fundraiser for his foundation in Indianapolis.
The banquet Saturday evening included a silent auction and live auction. It's also where many of the who's who of Michigan's recent football past often congregate. Besides the charity component, this is what Hutchinson and Griese envisioned when they put this event together in 2007.
Michigan has no official football reunion. With many players in the NFL, coming back for games in the fall isn't an option for 10, sometimes 15 years.
But they have this weekend. And it is a weekend of fun that isn't going to go away. Former quarterback Drew Henson, in the middle of an interview, had his stash of Twizzlers attacked by his former teammates.
Take Tim Biakabatuka. Now based in the Carolinas, the former Michigan running back came up for the event and spent breakfast Sunday morning chatting with former teammate Jarrett Irons.
"That's why it's enticing," Biakabatuka said. "But you shouldn't forget the basic reason for it and the basic reason has been achieved so the other stuff is a bonus.
"The bonus is that you get to see guys you played with who you haven't seen in a while and raise money for a good cause."
Michael Rothstein covers University of Michigan sports for AnnArbor.com. He can be reached at (734) 623-2558, by e-mail at michaelrothstein@annarbor.com or follow along on Twitter @mikerothstein