Posted on
Thu, Sep 23, 2010 : 11:37 a.m.
How 'SportsNation' became an ESPN staple and developed an emerging star in Michelle Beadle
By Michael Rothstein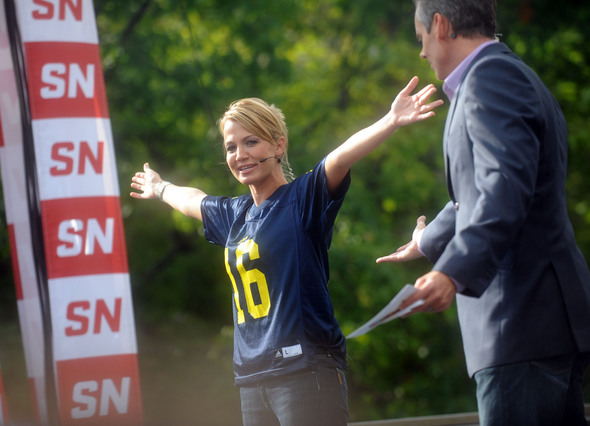 Melanie Maxwell | AnnArbor.com
The yelling started as soon as the crowd saw Michelle Beadle and Colin Cowherd walk out of the Michigan League and out into the sunny Ann Arbor afternoon on the University of Michigan campus.
"We love you, Beadle," a college-aged man in a maize T-shirt yelled. Another quickly added, "Colin, we love you, too."
The phenomenon of "SportsNation," the ESPN television show on 4-5 p.m. on ESPN2, arrived in Ann Arbor on Wednesday as part of the year-old show's first venture into live broadcasts away from their Bristol, Conn., studio.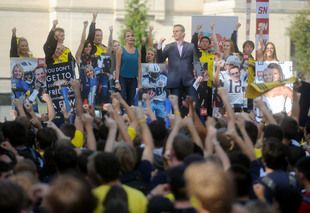 Melanie Maxwell | AnnArbor.com
It was the third consecutive day of shows at Big Ten schools. On Monday, in Madison, the first show went well but was almost more of a test run. A day later, lightning and a downpour cut short the show at Iowa.
Wednesday, "SportsNation" drew a large, enthusiastic crowd made up mostly of young men for its live show at Ingalls Mall at Michigan. The show, co-hosted by Beadle and the long-time ESPN Radio host Cowherd, blends sports and pop culture, has been on ESPN2 for over a year and uses suggestions and input from viewers through e-mail, Facebook and Twitter to construct the show. Through the social media and when in studio, the show uses technology throughout its hour-long broadcast.
The appeal has been immediate. The show has over 241,000 people liking it on Facebook. Beadle has over 111,000 followers on Twitter and the show's feed has more than 737,000 followers. Jamie Horowitz, one of the show's co-creators and the coordinating producer of the show, said it is the youngest and most male-skewing show on ESPN or ESPN2.
That is why the producers chose to visit college campuses during football season.
"It's an ambitious schedule," Beadle said while eating lunch in the second floor of the Michigan League. "Four stops in four days is something. The closest thing is an NBA schedule, you do have back-to-backs, but not very many, so you usually travel to the city, have a night off. Little, little easier.
"I don't think it's rough, but I think we'll be exhausted when we get home and back to normal."
Today's stop: Penn State. The travel, though, is worth it. It is part of the evolution of a growing show and a growing personality.
Birth of a sports show
"SportsNation" is the brainchild of Horowitz, Kevin Wildes and Dave Jacoby, who started working on it in January 2008 in the ESPN Content Development offices in the Midtown East section of Manhattan.
Horowitz and Wildes wanted to capture on air the natural conversations they'd have combining sports and pop culture in their cubicles and after work in bars. Games and segments were tried out in conference rooms, with one person watching as the other two acted the parts of host and co-host.
"We failed a lot," Horowitz said. "And drank a lot of coffee."
Soon, the concept took shape. The group met with Cowherd on a trip to Bristol and he was sold.
With Cowherd on board, they worked harder, once refusing to leave the office on a Friday before finishing plotting the "B Block," or second segment, of the new show.
"We had to figure out a seven-minute segment in five days and it would take all five days," Horowitz said. "A little bit because we were a bit of perfectionists, but we have high standards for what makes good TV. Our rule is, anyone can create a good TV show in an afternoon.
"The goal is to create a compelling TV show, so that's a lot different."
The three also traveled to Washington, D.C., and studied with Erik Rydholm, the executive producer of "Pardon The Interruption." The "Ten Rules of SportsNation" hangs on a wall of Horowitz's office. On it is "WWRD" - What Would Rydholm Do.
With the show green-lit and the rules set, one agenda item remained: finding a co-host.
Michelle Beadle impressive from the start
Horowitz and the "SportsNation" team started with 142 names. They interviewed 78 candidates, tested 12, cut the list to six and then, finally, two.
Beadle was one of the last to audition.
"She was a unique person. Like, 'Oh, this one,' " Wildes said Wednesday. "All these ones sort of, kind of felt the same, but she was brand new."
Beadle, a 34-year-old Texan, worked for the San Antonio Spurs, Fox Sports Net, The Nashville Network, Animal Planet, Discovery Channel, People Magazine, CSTV and the YES Network. She's covered the NBA, Professional Bull Riding and hosted a show called "I Want Your Job" on the Fine Living Network.
In 2008, Beadle was living in Manhattan and working as the pre- and post-game reporter for the New Jersey Nets on YES.
When she auditioned for "SportsNation," it looked nothing like the flash-and touch-screen world she now lives in.
"Everything was still in theory," Beadle said. "So what is now this fancy 82-inch touch screen was poster board with sticky notes on it. I was like 'What the hell? This is weird.'
"But I knew I liked Colin right away. The guys that started it, I met them in New York months before they even started it and I knew I liked them. But you have a million meetings in this career, and most of them don't turn into anything."
Despite the conceptual nature, Beadle was hooked. She pestered her agent, asking whether ESPN had called. Eventually the network did -- and asked her to write something about 'What would you do to make this show better?'
Thinking it was a joke, she wrote "a sarcastic list of 10 stupid things." Then she found out it was real, but Horowitz said the list ended up being submitted anyway.
It helped her land the job. Beadle started at ESPN on June 1, 2009.
Nervous on Letterman
Today Beadle is one of the most recognized people at ESPN. In April, the a second show featuring Beadle - "Winners Bracket" - was launched on ABC. Horowitz is the producer.
And on Sept. 2, almost 15 months to the day from when she was hired by ESPN, she was a guest on "Late Show with David Letterman."
"I was nervous as hell," Beadle said, smiling. "I remember standing there, Donald Trump walked off and introduced himself. Biff, the stage manager, was there. I was so dry-mouthed on the set while Dave was talking and actually said (whispering) 'Water,' and drank water during the interview.
"Saw that the next day and was like, 'That's probably not cool.' But I was nervous. Once I got out there, it was OK, better than I had hoped."
The Letterman experience boosted her profile, yet she still doesn't feel like a star.
Walking down the stairs from lunch, two security guards surrounded her. This week, she said, is the first time she's had security assigned to her.
"This is what Chelsea Clinton must feel like," Beadle deadpanned.
It is what Wildes and Horowitz expected when they chose Beadle. She had chemistry with Cowherd. And she had comedic timing and a disarming, one-of-the-guys-but-a-girl way about her.
Taking the show on the road
The show is the hippest show among young males a key ESPN demographic -- on the network. Now the executives decided to take it on the road, which meant reinventing the show.
Wildes brainstormed everything again. How could they keep the show the same without the technology?
All last week, Horowitz took care of daily production. After "SportsNation" wrapped at 5 p.m., the two met in Bristol like they would in New York two years before.
"We have an audience of six people in Bristol, just a handful of people hanging out," Wildes said. "Now we have hundreds. We have to sort of do everything different. Every time we're ready to vote something, people are yelling and we have to feed on this."
Horowitz met with "College GameDay" coordinating producer Lee Fitting on Wednesday in Bristol. Horowitz bought lunch. Fitting gave advice.
With "GameDay," the crowd is behind the talent. Horowitz wanted Beadle and Cowherd to perform, so they put the crowd in front.
They coordinated with Bristol for the "SportsNation" poll results segment on the JumboTron to the right of the stage on Ingalls Mall. They used Michigan cheerleaders, who found out Tuesday about their role in the show, to hold placards for the "pop culture game" and "number crunch." Instead of Horowitz announcing the show, "SportsNation" contacted Boobie Smooth, the in-game announcer for And1 Streetball, to be the master of ceremonies.
"I was like, 'All right, I'm in man,'" Smooth said. "Because I knew it'd be fun. It's been fantastic."
A loud crowd in Ann Arbor
The show wasn't without problems Wednesday. The female Michigan cheerleaders arrived. No male cheerleaders. Welcome to live television.
Crisis averted -- the first male cheerleaders showed up minutes later. In the next hour, Beadle and Cowherd ran through each segment, getting acquainted with their props and standing markers. They showed the cheerleaders where to hold the placards, learned "The Victors" for the third segment of the show and entertained a growing crowd.
During rehearsal, a Michigan student yelled out a marriage proposal to Beadle. Showing her comedic timing -- she said earlier in the day she wouldn't be opposed to trying out late night television at some point -- Beadle deadpanned, "I don't believe in marriage."
The banter was free flowing and easy. Cowherd and Beadle needled each other non-stop. As the crowd grew, Beadle and Cowherd warmed up more. Cowherd told the students they are smarter than those that showed up at Wisconsin on Monday.
"When we did the rehearsal I was a little like 'I don't know if anyone's coming,'" Beadle said.
By 4 p.m., the metal barricades ESPN set up at Ingalls Mall overflowed with students and other curious onlookers. By the final segment, Cowherd and Smooth had to ask the crowd to be quiet at points so Smooth could hear himself ask questions.
As they left the set after the show ended -- Cowherd said they "hit it out of the park" -- both were besieged for autographs. Cowherd had a group of students throwing a football around toss him the ball as he walked back to the Blagdon Room in the Michigan League, which served as the temporary on-campus nerve center for the show. He made a basket catch and tossed it back.
"This was definitely the loudest so far," Beadle said, making her way back to the Michigan League. "My ears are ringing right now, so I don't hear anything.
"… I've never been a rock star, and I would imagine that would be awesome. It sounds so loud, I don't know how people do that every day in front of a live crowd like that."
With that, Beadle walked back into the Blagdon Room. Horowitz, Cowherd and Wildes were already inside.
They needed to get to the airport. A charter plane waited for State College, Pa. One more show remained.
Michael Rothstein covers University of Michigan basketball for AnnArbor.com. He can be reached at (734) 623-2558, by e-mail at michaelrothstein@annarbor.com or follow along on Twitter @mikerothstein