Posted on
Tue, Apr 23, 2013 : 4:17 p.m.
Students upset over increased Michigan football ticket prices and seating policy changes
By Kyle Austin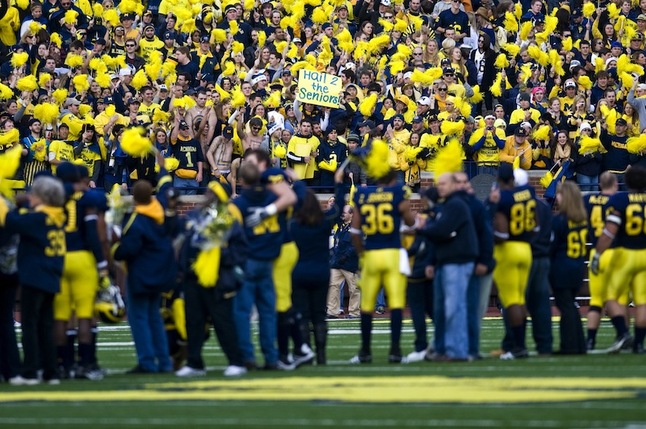 Joseph Tobianski | AnnArbor.com file
Like thousands of Michigan third-year undergraduates, Alex Edema has spent the last three years as a football season ticket holder, tailgating and cramming into the maize-clad masses of the student section.
But when he heard this week that student ticket prices are going up and seating is changing from reserved to general admission, he decided he's had enough.
"I feel like I'm getting shafted," Edema said.
Edema, said he doesn't plan on buying season football tickets next year after a lifetime spent as a Michigan fan. Tyler Phillips, another senior who sat with Edema Tuesday afternoon in the Michigan Union, said he's on the fence about whether or not to buy tickets next year.
Edema and Phillips are just two of many Michigan students who are outraged by the new ticket policies unveiled this week. The price for 2013 season tickets is going up to $280 for seven games. Each game will now cost $40, up from $32.50 last year.
To some student budgets that are already tight, the increase is significant.
"We're students, we don't have a lot of money to play with," said Kenneth Engeling, a sophomore who said he plans on buying tickets next year despite the increase.
But to most of a handful of students surveyed Tuesday on campus, the bigger issue was the change in seating. Students are currently assigned a specific seat, and those who have held student tickets longer are assigned seats lower in the stadium. Next year, seating will be on a first-come, first-serve basis.
That means students heading into their fourth football season like Edema and Phillips will sacrifice the seniority they've built up over three years, and be on the same plane as incoming freshmen.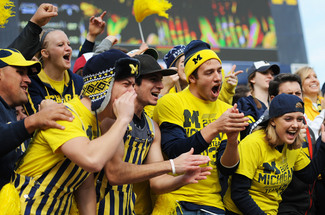 Melanie Maxwell | AnnArbor.com file
"It's fine for anyone that's going to be a freshman, or maybe sophomores, but upperclassmen are upset about it because they had to wait the two years to get up front," Engeling said.
As of mid-afternoon, more than 3,200 students had signed a petition against the general admission policy on UPetition, a student government-sponsored site.
The petition claims the university is alienating upperclassmen, and requests that students who had assigned seating in the past be grandfathered in and new ticketholders be assigned general admission.
"As upperclassmen, we have worked for the past several years to earn the best seating in the big house. We were sequestered to the upper reaches of the stadium with the promise of better seats the next year. We put our time in, and it is disheartening to learn that we will not reap the benefits," the petition reads.
A similar petition on ThePetitionSite.com had nearly 1,500 signatures.
The topic has been a popular one in conversation and on social media. Phillips said he and his housemates spent two hours debating the new prices and policies on Monday night. Edema said that of the seven other students he lives with, two of them have decided not to buy tickets next year and two others are undecided.
But of the other students Monday who spoke about the policy changes, none planned on canceling their tickets because of it, and said they didn't know of any others who planned to.
"I'm still going to buy them," Curtis Westbrook, a senior who will attend graduate school at Michigan next year, said. "It sucks, but oh well."
According to the university, the change in the seating policy is to encourage students to arrive at the stadium in time for kickoff. The release did not say how long before game time gates would be opened for the general admission tickets or details about the line and simply said details would be released at a later date.
Most students surveyed agreed the fact that the student section rarely being filled at kickoff is an issue. Josh Kraus, a graduating senior, said he regularly didn't get to his seat until 10 minutes after the game started.
"It makes sense and I think it's good," Kraus said. "It's a good way to force people to be there early."
But others questioned whether the new policy would really induce students to arrive at their seats any earlier than they already do.
"Whether it's general admission or not, I don't think people will care too much," Engeling said.
The increase in ticket prices will go toward improving student recreational facilities, according to the university.
Westbrook works for the recreation department, and said that while he isn't happy about the price increase, he understands the university's recreation facilities could use upgrades.
"I know our rec sports facilities suck compared to Ohio State's," Westbrook said.
Yet the fact that students would be footing the bill for those upgrades is something not everyone agreed with.
"I'm sure they can find some donors to make their recreational facilities better, because that's how they do all their expansions," Phillips said.
Kyle Austin covers sports for AnnArbor.com. He can be reached at kyleaustin@annarbor.com or 734-623-2535. Follow him on Twitter @KAustin_AA.