Posted on
Sat, Oct 1, 2011 : 11:43 a.m.
In-game updates: It's Minnesota at Michigan football
By Jim Knight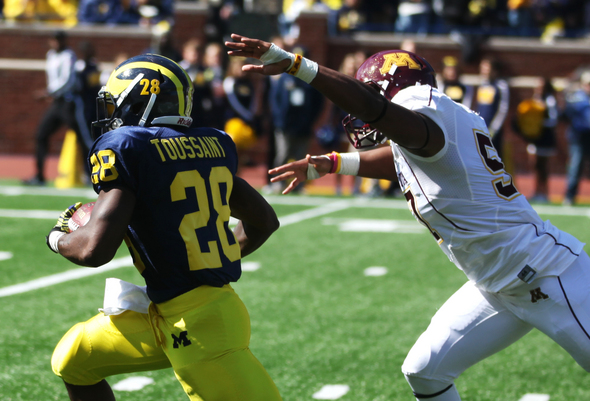 Jeff Sainlar | AnnArbor.com
FINAL SCORE: Michigan 58, Minnesota 0

FOURTH QUARTER
Michigan 58, Minnesota 0: Cornerback Courtney Avery returned a fumble by Minnesota's David Cobb 83 yards for a touchdown. Freshman linebacker Brennen Beyer forced the fumble.
Michigan 51, Minnesota 0: Brendan Gibbons kicked a 38-yard field goal to cap a 58-yard, 10-play drive that featured backup quarterback Devin Gardner and freshman running back Thomas Rawls. Rawls rushed five times for 38 yards. Gardner is 2-of-4 passing for 31 yards.
THIRD QUARTER
Michigan 48, Minnesota 0: Brendan Gibbons kicked a 32-yard field goal. Michigan, with Devin Gardner at quarterback, moved 38 yards in nine plays.
Michigan 45, Minnesota 0: Fitz Toussaint scored on a 1-yard run as Michigan added to its rout. Michigan went 54 yards in five plays. Michigan has a chance to equal or surpass its 55-0 victory against Eastern Michigan in 2005.
Streak over: Michigan went three-and-out on its first drive of the second half, and Will Hagerup had his first chance to punt this season after serving a four-game suspension.
HALFTIME
Halftime stats of note: Michigan averaged 9.6 yards per play in the first half, gaining 385 total yards. ... Minnesota was limited to 69 yards and four first downs. ... Michigan had 21 first downs ... Michigan running back Fitz Toussaint had 85 yards on seven carries ... Three Michigan players (Jibreel Black, Ryan Van Bergen and Jake Ryan) recorded sacks in the first half.
SECOND QUARTER
Michigan 38, Minnesota 0: Denard Robinson found Kevin Koger wide open in the middle of the field and hit him with an 18-yard touchdown pass. Michigan has scored on each of its six possessions. Robinson is 13-of-16 passing for 153 yards and two touchdowns.
Michigan 31, Minnesota 0: Brendan Gibbons kicked a 25-yard field goal, the first time Michigan settled for less than a touchdown on any of its possessions. With 5:07 left in the first half, Denard Robinson was 11-of-11 passing for 129 yards and a touchdown. He also had five carries for 44 yards and a touchdown.
Michigan 28, Minnesota 0: Denard Robinson rolled right, looked to his left and passed to Vincent Smith, who outran the Minnesota defense for a 28-yard touchdown play. The game isn't half over, and Smith has run for a touchdown, passed for a touchdown and caught a touchdown pass.
Michigan 21, Minnesota 0: Vincent Smith threw a 17-yard halfback pass to Drew Dileo on the first play of the second quarter. Michigan put together an 85-yard, nine-play drive. The last time a player other than a quarterback to throw a touchdown pass was wide receiver Adrian Arrington's game-winning TD to Mario Manningham against Illinois in 2007.
FIRST QUARTER
First-quarter notes: Denard Robinson was 8-of-8 passing for 93 yards. ... Backup quarterback Devin Gardner took three snaps and ran once for 15 yards. ... Michigan outgained Minnesota 223 yards to 4. ... Minnesota was limited to 4:27 of possession time.
Michigan 14, Minnesota 0: Denard Robinson, working from the shotgun, shook off Minnesota linebacker Aaron Hill and ran 9 yards for the touchdown on Michigan's second drive of the day. Michigan went 75 yards in six plays, the biggest a Robinson-to-Stephen Hopkins pass for 28 yards to open the drive.
Michigan 7, Minnesota 0: The Wolverines scored on their opening drive. Vincent Smith reached the end zone untouched on a 4-yard run, capping an 80-yard, seven-play drive. Denard Robinson had runs of 13 and 18 yards and Fitz Toussaint had a 35-yard run.
Michigan's first drive: The Wolverines opened the game on offense and immediately moved the ball. Quarterback Denard Robinson competed his first pass of the day, a 9-yard to Jeremy Gallon, and then had a 13-yard run. Fitz Toussaint broke off a 35-yard run to move Michigan to the Minnesota 38.
PREGAME
The numbers favor the Michigan football team today.
The Wolverines are favored by 20 points against Big Ten rival Minnesota, they're off to a 4-0 start and are ranked No. 19 in the Associated Press Top 25 poll.
Minnesota enters 1-3, and the Golden Gophers lost by 13 points last week to North Dakota State. Their defense has recorded one sack this season.
And more numbers: Check out the Michigan helmets today. Like the helmets the Wolverines wore for the Notre Dame game, they now have small uniform numbers on each side of the helmet. Michigan spokesman Dave Ablauf said Michigan will use these helmets for the rest of the season.
The game starts at noon (BTN) at Michigan Stadium. We'll update this file throughout the game.
MORE PREGAME NOTES
Denard's arm: Michigan quarterback Denard Robinson wore a larger pad than normal on his right arm in warmups.
Minnesota quarterback: MarQueis Gray was listed as questionable for much of the week because of a toe injury. Today, Max Shortell took all of the warmup throws for the Golden Gophers.
Ready to play: Michigan freshman running back Justice Hayes is back on the dress list. He sat out last week's game. Linebacker Cam Gordon is dressed, too. Out are Ricky Barnum, John McColgan and Terrance Talbott.
Join our live chat: Rich Rezler is your friendly host
Read our mega guide to the game: Catch up on everything you need to know.
Updates from the AnnArbor.com sports staff on Twitter: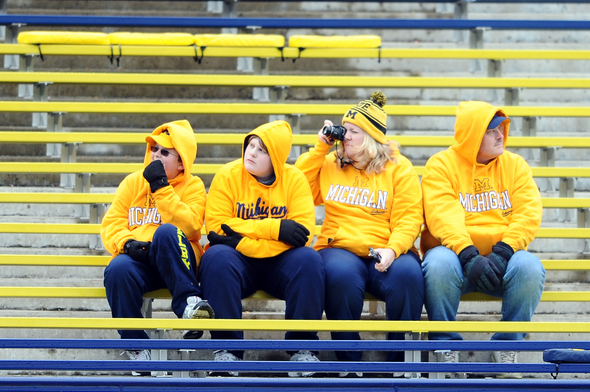 Melanie Maxwell | AnnArbor.com
Jeff Sainlar | AnnArbor.com