Posted on
Sat, Oct 29, 2011 : 11:38 a.m.
In-game updates: It's Purdue at Michigan football
By Jim Knight
Melanie Maxwell | AnnArbor.com
FINAL SCORE: Michigan 36, Purdue 14
FOURTH QUARTER
Michigan 36, Purdue 14: O.J. Ross scored with 15 seconds left in the game, reaching the end zone on a 19-yard pass from Robert Marve.
Michigan 36, Purdue 7: Michael Shaw broke through some tackles and ran up the middle for a 37-yard touchdown. Michigan, in full control of the game, went 86 yards on seven plays.
THIRD QUARTER
Michigan 29, Purdue 7: Fitz Toussaint weaved his way through traffic to score on a 59-yard run after taking a pitch from Devin Gardner. Michigan scored quickly on a drive that lasted just four plays and went 80 yards.
SECOND QUARTER
Michigan 22, Purdue 7: Brendan Gibbons kicked a 22-yard goal as Michigan's 47-yard, 11-play drive stalled on the Purdue 5-yard line.
Michigan 19, Purdue 7: Fitz Toussant scored on a 2-yard run, bulling into the end zone through a face-mask penalty. He scored one play after Denard Robinson hit Jeremy Gallon on a 42-yard pass. The drive started when Courtney Avery intercepted Purdue quarterback Robert Marve on the Michigan 17-yard line. Michigan went 83 yards in five plays.
Michigan 12, Purdue 7: Brendan Gibbons kicked a 37-yard field goal as Michigan scored five plays after taking the kickoff following the safety.
Michigan 9, Purdue 7: Mike Martin tackled Caleb TerBush in the end zone one play after Gardner's interception. It was the first Michigan safety since 2003 against Houston.
Turnover: One play after Denard Robinson hit Roy Roundtree with a 49-yard pass on a third-and-20 play from the Michigan 12-yard line, backup quarterback Devin Gardner threw an interception to Purdue's Josh Johnson on the Purdue 5-yard line. It was the second turnover for Michigan — Robinson threw an interception in the first quarter.
FIRST QUARTER
First-quarter stats: Michigan held the ball for 10 minutes, 1 second. ... Michigan had seven first downs and limited Purdue to two. ... Denard Robinson is 5-of-7 passing for 56 yards. He's has minus-1 yard rushing on five attempts. ... Fitz Toussaint leads Michigan with 23 yards on four carries. ... Purdue quarterback is 4-of-5 passing for 64 yards and a touchdown.
Michigan 7, Purdue 7: Denard Robinson scored on a 2-yard run as Michigan answered Purdue's opening drive with a 70-yard, 12-play scoring drive.
Purdue 7, Michigan 0: Gary Bush caught a short pass from Caleb TerBush and went 48 yards as the Boilermakers scored on their first possession. Purdue went 67 yards in five plays. The 48-yard play is the longest the Wolverines have allowed this season.
Pregame
For the second consecutive week, the Purdue football team takes on a Top 25 team.
Last week, the Boilermakers (4-3, 2-1 Big Ten) beat then No. 23 Illinois, 21-14. Today, they face No. 17 Michigan (6-1, 2-1) at Michigan Stadium.
Can Purdue, a 14-point underdog in today's game, pull off another upset?
We'll update this post throughout the game. In the meantime:
Check out our pregame coverage: Read the Purdue-Michigan mega guide
Join our live chat: Rich Rezler is your friendly host
Jordan Kovacs is injured: Knee injury sidelines safety
Updates from the AnnArbor.com sports staff on Twitter: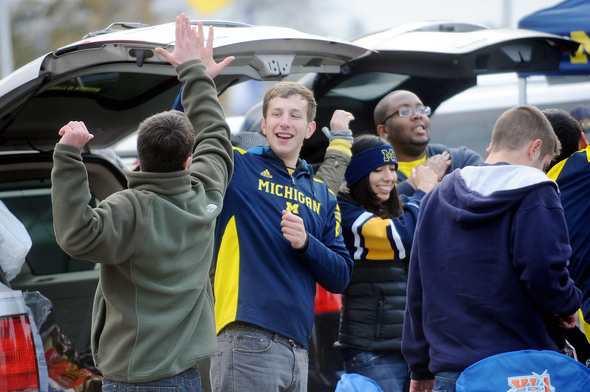 Melanie Maxwell | AnnArbor.com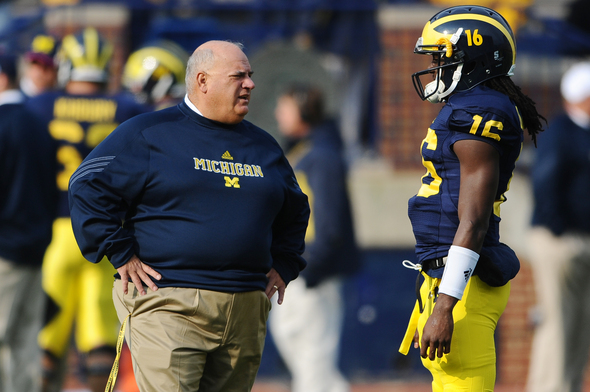 Melanie Maxwell | AnnArbor.com