Posted on
Sat, Apr 28, 2012 : 7:02 p.m.
Junior Hemingway, once a fringe draft prospect, selected by Chiefs in final round of NFL Draft
By Kyle Meinke
Junior Hemingway remembers sitting on a trainer's table early in his Michigan football career. He had undergone ankle surgery, and couldn't escape one thought.
"I just remember sitting there, waiting for the guy to come back, and thinking, 'I probably won't come back from this, and be (as) explosive again," Hemingway said by phone Thursday, just hours from the start of the NFL Draft. "And then I had mono and all that, and I thought no positives were going to come out of that.
"Just stayed positive through it all, kept fighting kept fighting, and now I'm here."
Here, meaning the NFL.
The Kansas City Chiefs selected Hemingway on Saturday with its final pick of the draft (31st in the seventh round, No. 238 overall). He is the third player off the board for Michigan, joining defensive tackle Mike Martin (third round, Titans) and center David Molk (seventh round, Chargers).
Molk was taken just minutes before Hemingway. Now, they will see each other at least twice per year as AFC West rivals.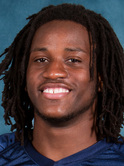 Martin hit his projection on the head, while Molk slipped. Overall, it's been a relatively poor draft for the Wolverines, who had only one player taken in the first six rounds.
Hemingway, though, exceeded expectations.
He played five years at Michigan, but was frequently beset by injury, illness and offensive system. He had a solid senior year, though, establishing career highs of 34 catches for 699 yards and four touchdowns.
He was a virtuoso on deep balls, ranking third in the country in yards per catch.
"Being able to be productive, graduate, and now have my shot in the pros, it kind of makes me feel like I can do anything," said Hemingway, who watched the draft with his family in his hometown of Conway, S.C.
Hemingway was the 30th receiver chosen. He was ranked the 23rd receiver by CBS and 37th by ESPN.
He is the first Michigan receiver to be selected since the New Orleans Saints took Adrian Arrington with the 30th pick of the seventh round in 2008. Another wideout, Mario Manningham, was selected earlier in that draft as well.
In Kansas City, he joins a receiver corps that already includes former Michigan star Steve Breaston.

Previous Michigan draft choices:
Mike Martin selected by Titans in 3rd round of NFL Draft
Center David Molk falls to Chargers in final round of NFL Draft

Kyle Meinke covers Michigan football for AnnArbor.com. He can be reached at 734-623-2588, by email at kylemeinke@annarbor.com and followed on Twitter @kmeinke.