Posted on
Tue, Jul 10, 2012 : 5:58 a.m.
Michigan AD Dave Brandon: Big Ten not currently looking to expand, but will keep 'options open'
By Kyle Meinke
Nebraska was the first major domino to fall in the conference realignment movement, which has now touched every FBS conference in the country, and its marriage to the Big Ten helped stabilize the league during a period of volatility.
But as the conference landscape continues to shift -- 24 schools have changed leagues in the past 14 months -- some believe the future of collegiate sports are in so-called superconferences.
In that corner is Michigan football coach Brady Hoke, who believes there could be four superconferences in as few as three years. He said the Big East will "go away," and "maybe" the ACC as well.
Could that movement sweep up his conference as well?
Big Ten commissioner Jim Delany has said the league currently is standing pat on expansion, but Michigan athletic director Dave Brandon said the conference also won't rule anything out.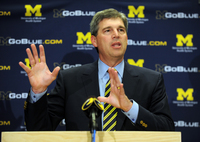 "We're in the enviable position of not having to do anything (right now)," Brandon said last month when asked about superconferences. "We don't have schools that are broke, we're stable, the Nebraska thing has worked out really well.
"But, I think there's a round of change ahead, and you can almost feel it. And as change occurs, I'm sure everybody is going to take a hard look and say, 'All right, how are we going to react to this change?'
"We're in the good position of being able to sit it out, find out where we are, but I think we're of the mind we have to keep our options open and make sure we're doing the right thing for the future of the conference."
The Cornhuskers were the first program to join the Big Ten since Penn State was added in 1990. Their entrance signaled seismic changes to the league, most notably the divisional split in football and the creation of a championship game.
The ripples of Nebraska's move extended beyond the Big Ten footprint, though, with each of the 11 FBS conferences shuffling its lineup since the Cornhuskers announced their plans in the summer of 2010.
Twenty-four programs have swapped leagues since May 2011, including notable football schools such as Boise State (leaving the Mountain West for the Big East in football), Missouri (Big 12 for SEC), Texas A&M (Big 12 for SEC) and West Virginia (Big East for Big 12).
In perhaps the most apropos move of all, TCU officially entered and exited the Big East without actually playing a single season there. It will join the Big 12 next year.
Programs have shuttled between conferences in the past, but this kind of clip is unprecedented. Brandon said he doesn't think it's over, either.
"There's more to come," he said. "I think the world of college athletics continues to change, and I sense there's going to be another round of alignment and realignment and expansion, and that's something that all the conferences will be looking at, and probably many will be part of."
Kyle Meinke covers Michigan football for AnnArbor.com. He can be reached at 734-623-2588, by email at kylemeinke@annarbor.com and followed on Twitter @kmeinke.